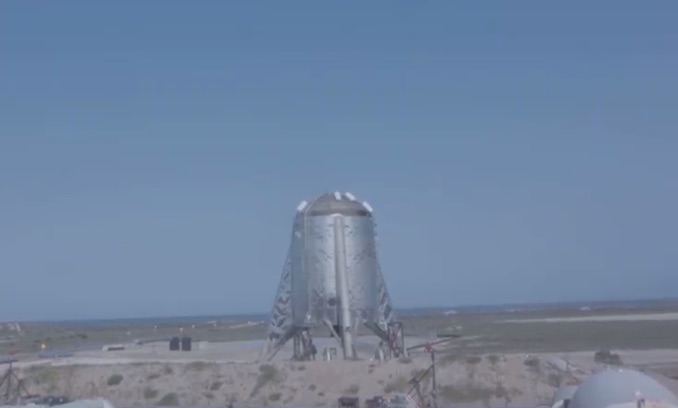 SpaceX aborted an attempted flight Monday of the company's Starhopper test rocket, a prototype for the company's next-generation Starship vehicle. The hop test was to fly to a height of around 500 feet (150 meters) over SpaceX's launch site at Boca Chica, Texas.
SpaceX said teams could mount another attempt for the Starhopper test flight Tuesday.
A live video feed provided by SpaceX showed the squat, 30-foot-wide (9-meter) Starhopper vehicle counting down to a planned liftoff shortly after 6 p.m. CDT (7 p.m. EDT; 2300 GMT) Monday from the company's facility in South Texas. The vehicle's single methane-fueled Raptor engine could be seen swiveling side-to-side in a preflight steering check, as the Starhopper pad's sound suppression system dumped water under the vehicle.
But the Raptor engine did not ignite as the countdown clock reached zero.
"Test aborted just after T-0," read a text banner on SpaceX's webcast. "Teams evaluating next test opportunity."
SpaceX later announced the Starhopper team was standing down for the day. Another "hop" attempt could occur Tuesday.
"Igniters need to be inspected," tweeted Elon Musk, SpaceX's founder and CEO. "We will try again tomorrow same time."
Musk later tweeted that the problem that caused Monday's abort appears to involve a wiring or connector issue.
"Raptor uses dual redundant torch igniters," he tweeted. "Better long-term, but more finicky in development."
The upcoming 500-foot hop test will be the second untethered test flight by SpaceX's Starhopper vehicle after a July 25 hop that took the rocket to an altitude of about 65 feet (20 meters).
SpaceX's next-generation Raptor engine will power the Starhopper off the ground to an altitude of about 500 feet, then steer it toward a landing site adjacent to the vehicle's takeoff location. The throttleable engine is the biggest powerplant ever built by SpaceX, with more than twice the thrust of the Falcon 9 rocket's Merlin engine.
The Raptor uses a technically complex full-flow staged combustion design intended to maximize performance and make the engine relatively easy to reuse.
Early versions the Raptor engine can produce up to 440,000 pounds of thrust at sea level, consuming super-cold methane and liquid oxygen propellants chilled to near their freezing points, a measure intended to increase efficiency, thrust and propellant density, allowing more fuel to be loaded into the launch vehicle.
SpaceX engineers working on competing teams at Boca Chica and in Cocoa, Florida, are building higher-fidelity versions of the Starship vehicle — designated Mk. 1 and Mk. 2 — for higher-altitude, higher-speed test flights.
Future Starship test flights from Florida will take off from launch pad 39A at NASA's Kennedy Space Center, a former Apollo and space shuttle launch pad now leased by SpaceX.
SpaceX is designing the Starship to fly in orbit, and eventually reach the moon, Mars, and other deep space destinations. The Starship is designed to land vertically on planetary surfaces using retro-propulsion, and then take off again, ferrying people and cargo between Earth and other locations in the solar system.
The final Starship design, at least as currently understood, will use six Raptor engines for deep space missions. The new Starship prototypes under construction in Texas and Florida will each fly with at least three Raptors for suborbital jaunts.
SpaceX officials have said the company aims for the first orbital flight of the Starship vehicle in 2020.
For more ambitious voyages deeper into space, or carrying heavier cargo, the Starship will be coupled with a new booster design SpaceX calls the Super Heavy, with 35 Raptor engines clustered at its base.
SpaceX planned to conduct a 200-meter (660-foot) hop of the Starhopper vehicle earlier this month, but Musk said difficulties obtaining an experimental permit from the Federal Aviation Administration delayed the test flight. The FAA is responsible for ensuring the protection of the public, property, and U.S. national security and foreign policy interests during commercial launch or re-entry activities.
"Need a bit more hazard analysis & should be clear to fly soon," Musk tweeted Aug. 15.
The FAA issued the permit for the Starhopper's 500-foot test flight Friday.
Musk says a presentation on the status of SpaceX's Starship and Super Heavy projects, previously planned for Aug. 24, has been put on hold until the Starship Mk. 1 vehicle in South Texas has its three Raptor engines installed, along with moving body fins and a landing gear.
He said that milestone will "hopefully" be complete by mid-September.
Email the author.
Follow Stephen Clark on Twitter: @StephenClark1.