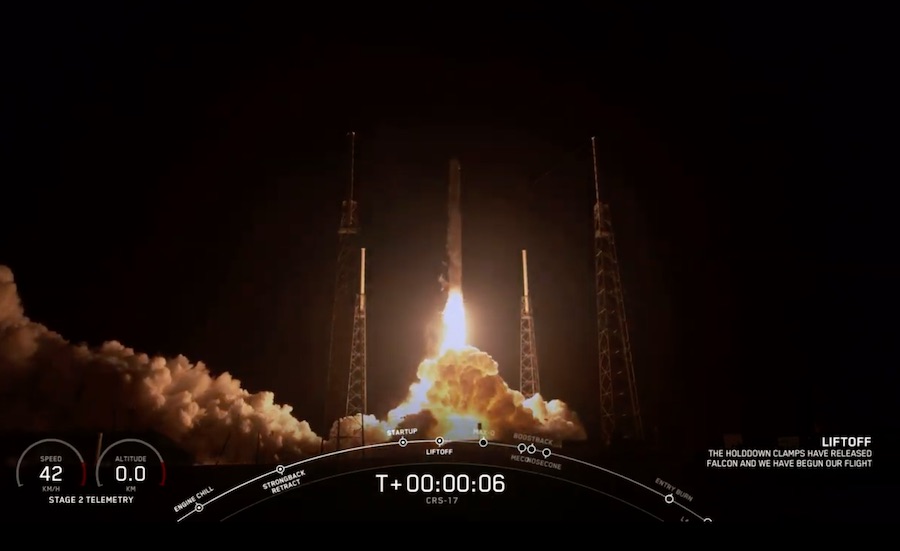 With a thundering, sky-lighting predawn blastoff from Cape Canaveral, a Falcon 9 rocket fired into orbit early Saturday with a Dragon cargo capsule in pursuit of the International Space Station.
Less than nine minutes later, the rocket's first stage booster fell from the sky and executed a pinpoint propulsive landing just offshore, setting the stage for another resupply mission for NASA using the same rocket this summer using the same vehicle.
The 213-foot-tall (65-meter) rocket lifted off with a flash from its nine Merlin 1D main engines at 2:48:58 a.m. EDT (0648:58 GMT), roughly the moment Cape Canaveral rotated under space station's orbital plane.
The Falcon 9 tilted toward the northeast to align with the space station's flight path, riding 1.7 million pounds of thrust as roared into a starry sky. Less than two-and-a-half minutes later, the rocket's first stage booster shut down and separated to begin a descent back to Earth, targeting SpaceX's drone ship "Of Course I Still Love You" parked around 14 miles (22 kilometers) east of Cape Canaveral in the Atlantic Ocean.
The first stage lit three of its engines to begin a boost-back burn to reverse course and head back toward Florida's Space Coast, while the Falcon 9's upper stage continued with the primary objective of Saturday's mission — the delivery into orbit of a Dragon cargo craft packed with 5,472 pounds (2,482 kilograms) of supplies, provisions and experiments for the station and its six-person crew.
The interaction exhaust plumes from the Falcon 9's first and second stage Merlin engines produced a spectacular lighting effect, giving the appearance of a cosmic nebula high above the Florida spaceport.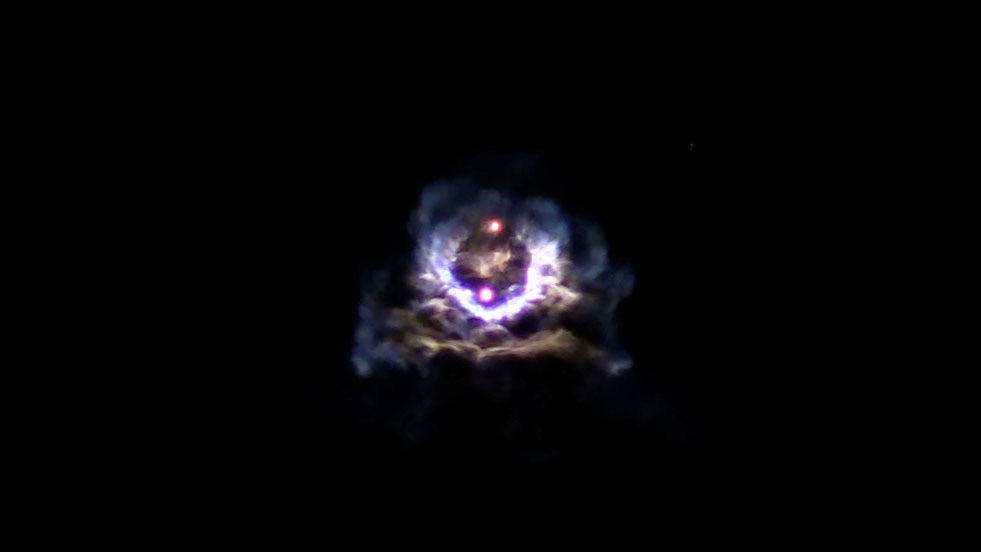 The second stage fired for six minutes to place the Dragon supply ship in a preliminary orbit. Moments later, the automated spaceship deploy from the Falcon 9's upper stage and unfurled two power-generating solar panels, setting the stage for a sequence of thruster firings over the next two days, culminating in the spacecraft's approach to the space station early Monday.
Astronauts on the station will use a robotic arm to grapple the Dragon spacecraft, which will be berthed to a port on the Harmony module for a nearly one-month stay.
The Dragon cargo craft, which uses the same pressurized section that previously flew to the space station in August 2017, is carrying crew supplies, spare parts, and a host of experiments, ranging from biological investigations into spaceflight's effects on the body, to an instrument measuring carbon dioxide in Earth's atmosphere, to a U.S. military experiment developed in concert with NASA to demonstrate X-ray communications in space for the first time.
The resupply mission is the 17th cargo launch to the station by SpaceX under a $3.04 billion contract for 20 cargo deliveries through early 2020. SpaceX has a separate follow-on contract for at least six more resupply missions to the station through 2024, along with a $2.6 billion contract to build an upgraded Crew Dragon spaceship to ferry astronauts to and from the space station.
The Dragon spacecraft is scheduled to depart the space station June 3 and head for splashdown in the Pacific Ocean, bringing home research specimens and other equipment.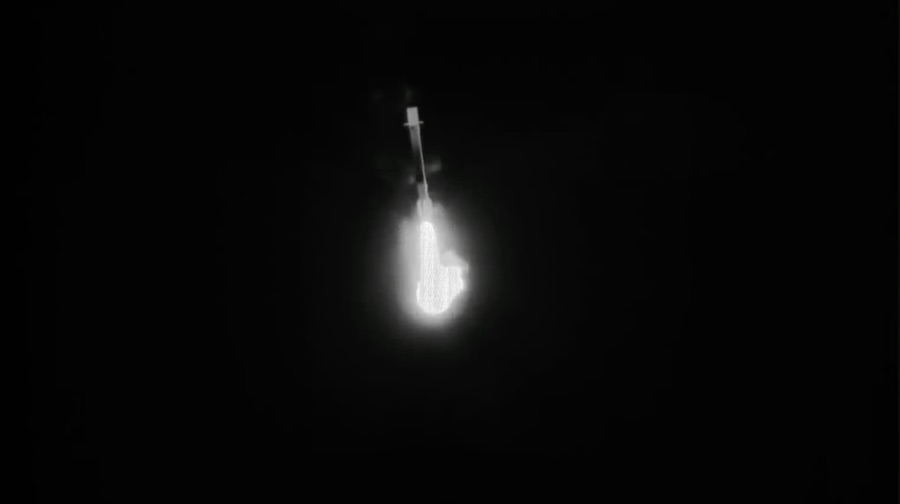 The successful landing on the drone ship of the Falcon 9 rocket's first stage booster after Saturday's liftoff signaled the start of SpaceX's launch campaign for the next resupply flight to the space station, currently scheduled for no earlier than July 8 from Cape Canaveral.
NASA and SpaceX have agreed to use the same first stage that flew Saturday on the next cargo mission, designated SpaceX CRS-18, and possibly on the following CRS-19 launch in December, officials said in a press conference Saturday morning.
The rocket's first stage, which stands 15 stories tall, made its first trip to the edge of space and back on Saturday's flight. SpaceX has reused first stage boosters up to three times before, and the company says the latest generation of Falcon 9 boosters can fly up to 10 times before requiring major refurbishment.
SpaceX called off a launch attempt early Friday to resolve an electrical issue on the drone ship, a football field-sized ocean-going platform used for rocket landings at sea. It was the first time SpaceX delayed a launch to ensure the recovery of the first stage for reuse, a practice the company says reduces costs and eases the cadence of rocket production at the company's headquarters in Hawthorne, California.
"This is a case-by-case decision," said Hans Koenigsmann, SpaceX's vice president of build and flight reliability. "This is a new vehicle. The booster is worth a lot of money. We want to recover it, obviously. This is more and more part of the mission, and important to keep the manifest going. This particular one is planned, right now, for the next CRS mission. We'll see how it goes, depending on inspection and some other refurbishment items."
SpaceX has given up on landing its Falcon 9 boosters before, most recently on a mission last year. Bad weather and rough seas prevented SpaceX's drone ship from reaching a distant offshore landing site in the Atlantic Ocean for a launch in March 2018 carrying the Hispasat 30W-6 communications satellite.
SpaceX elected to proceed with the launch on schedule without recovering the first stage booster.
After the abort of Friday's launch attempt, SpaceX returned the drone ship to Port Canaveral for repairs. The vessel depart port again Friday afternoon.
The landing location for the Falcon 9's first stage on Saturday's mission was unusual. Most resupply missions to the space station do not use the full capability of SpaceX's Falcon 9 rocket, leaving ample leftover propellant for the first stage to reverse course and return to Cape Canaveral for an onshore landing.
But SpaceX's Landing Zone 1, located at Cape Canaveral Air Force Station, is unavailable for this launch after the explosion April 20 of SpaceX's Crew Dragon capsule during a ground test. Parts of the landing zone are still off-limits for safety reasons, according to Hans Koenigsmann, SpaceX's vice president of build and flight reliability.
Read our earlier story for the latest details on the Crew Dragon accident.
For heavier missions that require more of a boost from the first stage, SpaceX typically positions the drone ship hundreds of miles offshore, allowing the rocket to arc on a ballistic trajectory downrange, then slow down for landing without having to return to Florida.
The parking spot for the drone ship in the Atlantic Ocean around 17 miles (28 kilometers) southeast of launch pad 40 allowed the Falcon 9 first stage to follow a return profile similar to the one originally planned to bring the booster back to Landing Zone 1.
A "close-in" drone ship landing had been accomplished before, after a launch from Vandenberg Air Force Base in California in December.
Because the drone ship was so close to shore, SpaceX had time to resolve the electrical issue on the landing platform in time for another launch attempt Saturday.
NASA agreed with the decision.
Kenny Todd, NASA's manager of space station operations, told reporters after Saturday's launch that the one-day delay would have no meaningful impact to the station's science or maintenance schedules.
"In the end, when they said this is what they wanted to do, knowing that we had today (and) the (weather) conditions were going to look much better today, I certainly thought it was an OK trade," Todd said. "From a space station program standpoint, if we got off the pad today, it would be OK for our research and we would be able to move forward with our mission.
"Had the situation been different from a station perspective, we certainly would have engaged that conversation at a different level," Todd said. "But it certainly didn't feel like it was necessary yesterday."
SpaceX's launch team also contended with the threat of storms during Friday's countdown, and a helium link in ground equipment at the launch pad. It turned out neither issue would have likely prevented launch Friday, but SpaceX wanted to recover the first stage booster.
The Falcon 9's first stage on the previous cargo launch, SpaceX CRS-16, in December suffered a malfunction during descent, forcing it to autonomously divert from a planned return to Landing Zone 1 at Cape Canaveral to a water landing offshore.
The booster landed intact, but it tipped over in the sea. SpaceX towed the stage back to port, but the rockets are not designed to be reused after landing in salt water.
SpaceX planned to re-fly that booster earlier this year from Vandenberg Air Force Base in California on a mission to deploy three Canadian Radarsat observation satellites into orbit. That launch was scheduled for February, but the booster's landing mishap in December forced SpaceX to find a different rocket for the Radarsat mission, delaying its liftoff by months.
The Radarsat Constellation Mission's launch from California is now scheduled for June 11, using a Falcon 9 booster that first flew in March on a launch from Florida.
Todd said NASA had a "vested interest" in a successful first stage recovery after Saturday's cargo launch.
"We're going to require it, and the intent is to use it for us for SpaceX-18, for sure, and potentially 19," Todd said. "So from our standpoint, it made a difference. That was in the back of minds as well."
Email the author.
Follow Stephen Clark on Twitter: @StephenClark1.