STORY WRITTEN FOR CBS NEWS & USED WITH PERMISSION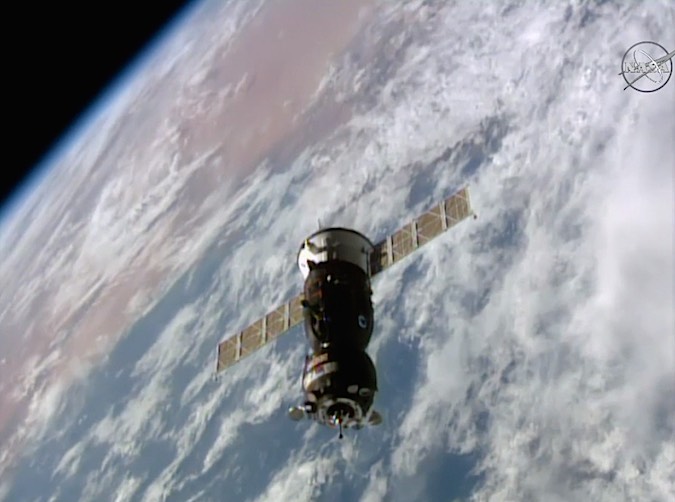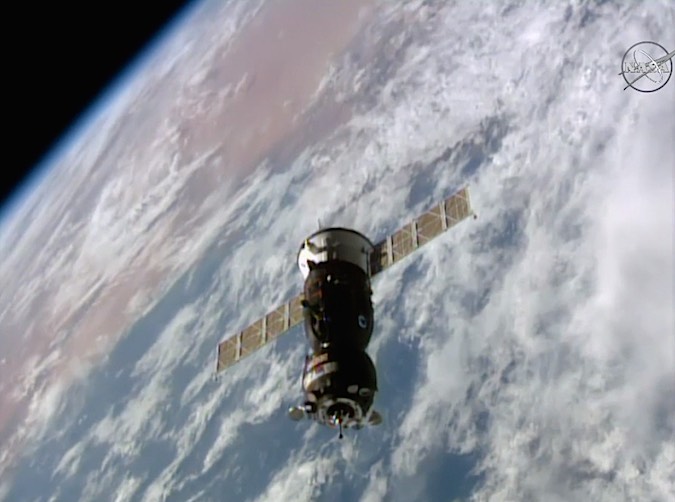 An upgraded Soyuz ferry ship, the second in a new series featuring improved avionics, navigation and other systems, glided to a flawless docking with the International Space Station early Friday, bringing three fresh crew members to the outpost and briefly boosting the lab's crew back to six.
With commander Sergey Ryzhikov monitoring an automated approach, flanked on the left by flight engineer Andrey Borisenko and on the right by NASA astronaut Shane Kimbrough, the Soyuz MS-02/48S spacecraft docked at the station's upper Poisk module at 5:52 a.m EDT (GMT-4) as the two spacecraft passed 250 miles above southern Russia.
Hooks and latches then engaged, pulling the nose of the Soyuz firmly into the docking mechanism and locking the spacecraft in place.
"Congratulations on (a) successful docking," a Russian flight controller radioed.
After verifying an airtight seal and equalizing pressure between the station and the Soyuz, Expedition 49 commander Anatoly Ivanishin, Japanese astronaut Takuya Onishi and NASA astronaut Kate Rubins welcomed their new crewmates aboard at 8:20 a.m., two days after launch from the Baikonur Cosmodrome in Kazakhstan.
Floating in the Russian Zvezda module, all six crew members took a moment to chat with family, friends and program officials in the Moscow mission control center during a traditional post-docking video conference.
"Andrey dear, we're wishing you and your entire crew, and the Anatoly Ivanishin crew, all the very, very best, every success in your work," Borisenko's mother called up. "We love you very, very much, we're wishing you all the very best. Remain in good health."
"Thank you, mother," her son replied from orbit. "We're doing really well, everything is great. Please, don't worry about any of us."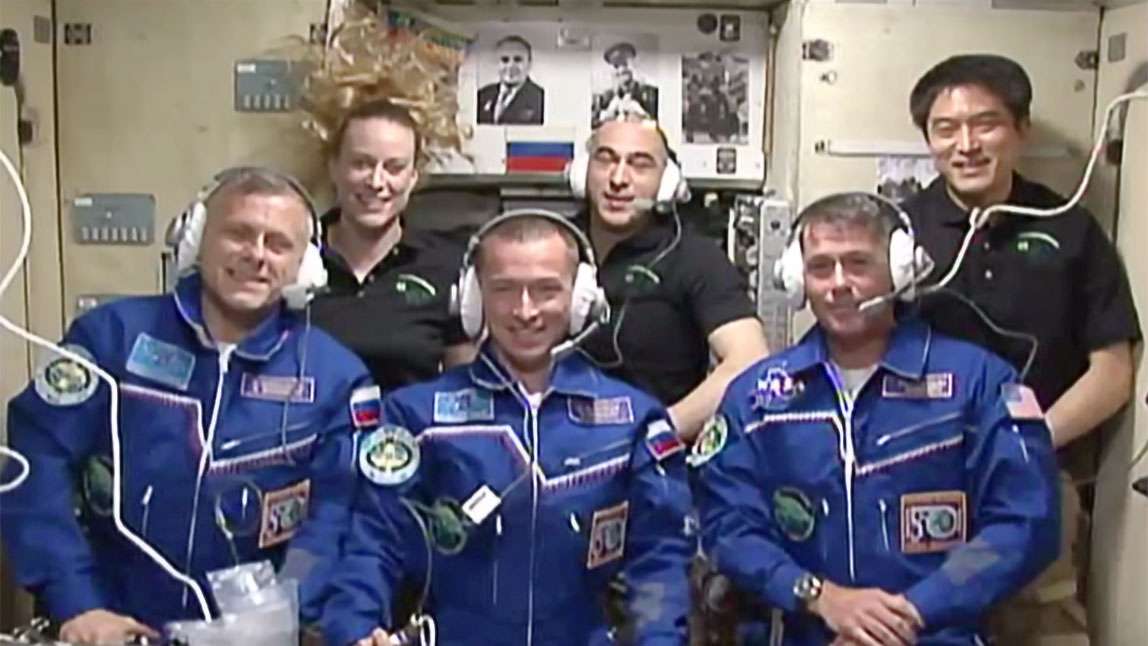 Ivanishin, Onishi and Rubins, launched July 6 aboard the Soyuz MS-01 spacecraft, have had the station to themselves since Sept. 6 when Expedition 48 commander Jeff Williams, Alexey Ovchinin and Oleg Skripochka departed and returned to Earth aboard their Soyuz TMA-20M spacecraft.
Kimbrough and his crewmates originally hoped to replace the TMA-20M crew in September, but the flight was delayed nearly a month by work to repair damaged wiring in the MS-02 spacecraft.
The new MS-series Soyuz features a variety of major upgrades and improvements, including enhanced navigation and rendezvous systems, a new satellite communications capability, improved propulsion and increased redundancy in critical systems.
In recent years, Soyuz crews have carried out relatively short, six-orbit trips to the station. But for at least the first two MS-series spacecraft, Russian mission managers opted for two-day 34-orbit rendezvous profiles to carry out a variety of tests before resuming faster four-orbit trips.
Ryzhikov, Borisenko and Kimbrough face a busy first few days aboard the space station, preparing for the arrival early Sunday of an Orbital ATK Cygnus cargo ship loaded with more than 5,100 pounds of equipment and supplies.
Six days later, Ivanishin's crew will prepare for departure and return to Earth on Oct. 29 U.S. time, leaving Kimbrough in command of the Expedition 50 crew.
"To all crew members, have a good flight, wishing you a successful handover," a Russian flight controller radioed Friday. "You have a very busy day, the day after tomorrow you're going to welcome a cargo vehicle. It's a lot of work, and then you will need to get ready to go back home to Earth. Wishing you a soft landing."
After Ivanishin's crew departs, Kimbrough and his MS-02 crewmates will be on their own until Nov. 15 when Soyuz MS-03 commander Oleg Novitskiy, European Space Agency astronaut Thomas Pesquet and NASA astronaut Peggy Whitson arrive after blastoff from Baikonur.
A Japanese HTV cargo ship is expected to arrive in December, bringing six lithium-ion batteries to the lab complex to replace 12 aging, less powerful batteries in the station's solar power system. The new batteries will be installed during spacewalks in January.
If all goes well, Kimbrough, Ryzhikov and Borisenko will return to Earth at the end of February to close out a 130-day mission.