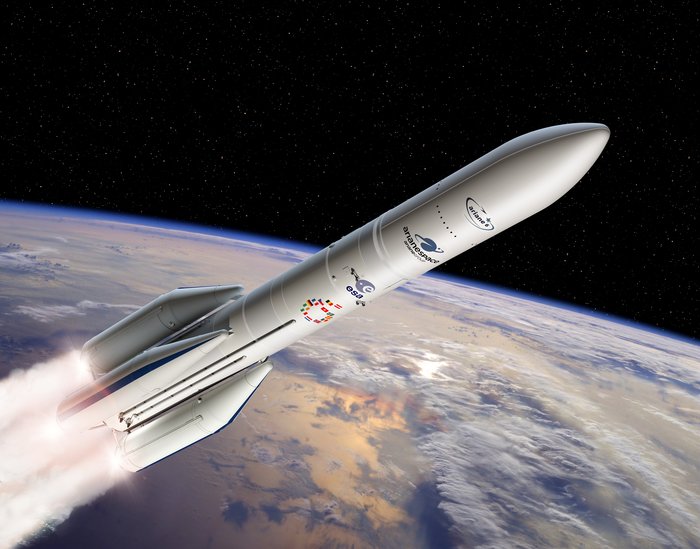 Eutelsat is the first commercial company to commit to launching on Europe's new Ariane 6 rocket, under a five-launch agreement announced Monday in conjunction with fresh contracts for Arianespace to haul a French spy satellite and a pair of Indian communications satellites into orbit.
The Paris-based communications satellite operator said it concluded a multi-launch agreement with Arianespace, covering missions through 2027. The agreement for five launches includes an unspecified number of flights on the Ariane 6 rocket, scheduled to debut in July 2020.
"We are delighted that Eutelsat has chosen Arianespace to launch five of its upcoming satellites, in addition to the three already in our order book," said Stephane Israel, Arianespace's chief executive. "With this multi-launch agreement, Eutelsat becomes the first commercial customer for Ariane 6.
"I would like to extend my warm thanks to Eutelsat for their confidence in Arianespace and our Ariane 6 launch vehicle," Israel said in a statement. "At the same time, their selection clearly shows Arianespace's ability to offer our customers long-term partnerships and increasingly flexible solutions."
Eutelsat has a history of launching satellites on the first flights of new rockets. Eutelsat satellites flew on the inaugural launches of the Atlas 5 and Delta 4 rockets, and the first flight of an Ariane 5 rocket with a cryogenic upper stage. Blue Origin also has a launch reservation with Eutelsat for one of the first missions of the New Glenn rocket in the early 2020s.
"We are proud to be the first operator to commit to Ariane 6," said Rodolphe Belmer, CEO of Eutelsat. "This emblematic European program will further enhance our ability to gain access to space in a timely, competitive and reliable manner. It strengthens our relationship with our long-standing partner, Arianespace, which has already been entrusted with the launch of half of our fleet.
"Furthermore, it illustrates the key role of Eutelsat in the development of the space sector, while underpinning our commitment to enhancing the efficiency of our satellite programs," Belmer said in a statement.
The Ariane 6 rocket is under development in a public-private partnership between the European Space Agency and Ariane Group, a joint venture between Airbus Defense and Space and Safran, and the majority shareholder in Arianespace.
The new rocket will come in two variants, with two or four strap-on solid rocket boosters, known as the Ariane 62 and Ariane 64, respectively. The heavier Ariane 64 version will be able to carry up to 25,350 pounds (11,500 kilograms) of mass to a geostationary transfer orbit, the typical drop-off point for communications satellites heading toward the geostationary arc over the equator.
That lift capability is a fraction more than the Ariane 5's performance to the same orbit, and Arianespace plans to launch two telecom payloads at a time on Ariane 6 missions — a practice currently in use on the Ariane 5 — but at less cost.
The Ariane 6 will use a first stage hydrogen-fueled Vulcain 2.1 main engine based on the propulsion system currently flying on the Ariane 5. The new rocket will debut the Vinci engine on a cryogenic upper stage, which can be reignited multiple times in space, an improvement over the single-use HM7B engine on the Ariane 5.
A new launch pad for the Ariane 6 — known as ELA-4 — is under construction at the Guiana Space Center in South America, a few miles northwest of the Ariane 5's launch pad.
Arianespace announced the first confirmed launch contracts for the Ariane 6 rocket last year, when the European Space Agency reserved two Ariane 62 launches in 2020 and 2021, each carrying a pair of Galileo navigation satellites to orbit for the European Commission.
In separate contract announcements Monday, Arianespace said the French space agency CNES has purchased an Ariane 62 launch for a French military spy satellite in the early 2020s, and the Indian Space Research Organization will launch two communications satellites on Ariane 5 rockets, beginning with a mission at the end of this year.
The French military's next-generation very high-resolution optical reconnaissance satellites, known by the French acronym CSO, will replace the country's aging Helios 2 surveillance system. The first two CSO satellites will launch on Russian-built Soyuz rockets from French Guiana, and the new contract will put the CSO 3 spacecraft on an Ariane 62 flight.
CNES is responsible for developing the CSO satellites and arranging their launches on behalf of DGA, the French Defense Ministry's procurement agency.
"We are very honored that the DGA and CNES have entrusted us with the launch of CSO 3 using our future Ariane 6 launcher," Israel said. "This latest institutional mission – the first for which France has chosen Ariane 6 – marks a further step forward in the confirmation of this new launcher for European institutional users."
India's GSAT 31 and GSAT 30 telecom satellites will launch on two Ariane 5 missions, beginning with GSAT 31 as soon as December. Both satellites will launch as co-passengers on dual-payload Ariane 5 missions, becoming the 23rd and 24th Indian satellites to launch with Arianespace.
Arianespace announced the new contracts at Euroconsult's World Satellite Business Week meeting in Paris, pushing the company's total launch contract backlog to 4.9 billion euros — about $5.7 billion — covering 59 launches: 17 Ariane 5s, five with Ariane 6, 28 with Soyuz and nine with Vega/Vega C.
Email the author.
Follow Stephen Clark on Twitter: @StephenClark1.