EDITOR'S NOTE: Updated July 17 with Rocket Lab statement.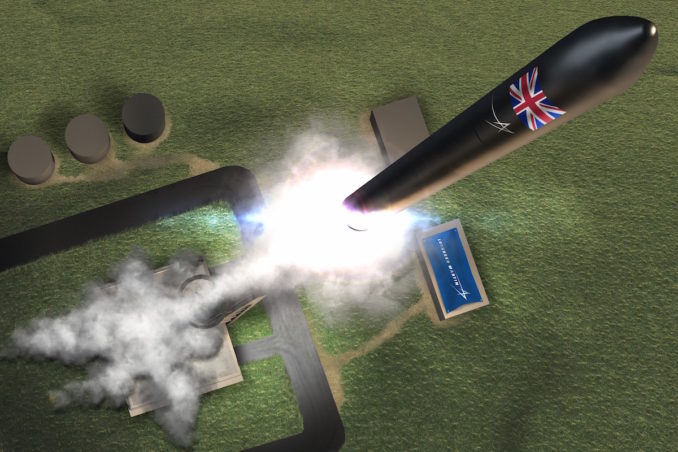 Two companies — U.S. aerospace giant Lockheed Martin and British start-up Orbex — seeking to carve out a share of the burgeoning small satellite launch market plan to fly their rockets from a remote site on the northern shore of Scotland, British government and industry officials announced Monday.
Both rocket developers received millions of dollars Monday in British government grants to advance their launcher technology, a day after U.K. officials announced the selection of a site in Sutherland on Scotland's north coast for the nation's first vertical orbital launch base.
The proposed launch facility would be built on A'Mhoine Peninsula, a sparsely-populated stretch of land overlooking the sea. The first launch from Sutherland could happen in the early 2020s.
The U.K. Space Agency has committed £2.5 million ($3.3 million) to go toward development of the Sutherland launch site, officials announced Sunday. The funding will go to Highlands and Islands Enterprise, the Scottish government's economic development agency for Sutherland and surrounding regions.
"As a nation of innovators and entrepreneurs, we want Britain to be the first place in mainland Europe to launch satellites as part of our industrial strategy," said U.K. Business Secretary Greg Clark in a statement. "The U.K.'s thriving space industry, research community and aerospace supply chain put the U.K. in a leading position to develop both vertical and horizontal launch sites."
The British government also announced Sunday the availability of £2 million ($2.7 million) in funding to boost development of horizontal spaceports across the U.K. Sites in Cornwall in southwest England, Glasgow in Scotland, and Snowdonia in Wales are under consideration by government and industry officials for use as horizontal spaceports, which could host takeoffs and landings of spaceplanes and aircraft carrying air-launched rockets planned by companies like Virgin Orbit.
British government officials said the development of a U.K. spaceport would give the nation's industry broader access to the space market. British companies, such as SSTL in England and Clyde Space in Scotland, are already counted among the global leaders in constructing small satellites.
"This will build on our global reputation for manufacturing small satellites and help the whole country capitalize on the huge potential of the commercial space age," Clark said in a statement.
Scottish Secretary David Mundell said the Sutherland launch site could create hundreds of new jobs.
Lockheed Martin and Orbex, a UK-based company development a small satellite booster, have announced their intention to launch from Sutherland. Lockheed Martin will receive £23.5 million ($31.1 million) and Orbex will get £5.5 million ($7.3 million) from the U.K. Space Agency to advance work on their launcher programs.
The British government, Lockheed Martin and Orbex made their announcements at the Farnborough International Airshow.
Lockheed Martin is reportedly interested in launching a variant of Rocket Lab's Electron booster from the Sutherland site. The U.S. aerospace contractor is a strategic investor in Rocket Lab, which already operates an orbital spaceport in New Zealand, and is planning to develop a U.S. launch pad for the Electron vehicle, which has made two test flights to date.
Rocket Lab said in a statement late Monday that it is "evaluating launch opportunities" from the Sutherland spaceport in Scotland.
"Electron is well-positioned to be the first orbital rocket launched from U.K. soil," said Peter Beck, Rocket Lab's founder and CEO. "We're excited to review the opportunity to develop a launch service to support the U.K. space industry's growth.
"Every aspect of Rocket Lab's launch model is designed to offer rapid, repeatable and precise delivery to orbit for small satellites," Beck said in a statement. "The development of launch sites around the globe that can support Electron launches is crucial to delivering unprecedented access to orbit."
Lockheed Martin expressed a stronger commitment to the Scotland launch site.
"The countdown to the first orbital rocket launch from U.K. soil has officially begun," said Patrick Wood, Lockheed Martin's U.K. country executive for space, in a written statement. "The U.K. Government has stated its desire to grow the U.K.'s space sector to ten percent of the global space economy by 2030. We are proud to be selected to help them achieve this goal. This initiative will not only spark advancements in science and innovation, it will create new opportunities for current and future U.K.-based suppliers to become part of the next space age."
Lockheed Martin said in a statement it will provide "strategic support and guidance" to the Scottish government in developing the Sutherland launch site.
The U.K. Space Agency awarded two separate funding grants to Lockheed Martin, one to help pay for the company's efforts to aid the construction of the spaceport in Scotland, and another for the development of a Small Launch Orbital Maneuvering Vehicle — or SL-OMV — in Reading, England.
The orbital maneuvering vehicle, to be built for Lockheed Martin by Moog, will be a restartable upper stage capable of delivering up to six satellites to different orbits. Lockheed Martin said it plan to conduct a "pathfinder" launch in partnership with Orbital Micro Systems, a Colorado-based company which aims to deploy a constellation of miniature commercial weather satellites.
"This historic 'pathfinder' launch for the U.K. will also demonstrate the tremendous potential small satellites and CubeSats have across a wide range of commercial and government data collection applications," Wood said. "We believe, as the U.K. Space Agency does, that this effort will help bring the U.K. to the forefront of the rapidly-growing, global small satellite market and support the U.K.'s maturing space supply chain."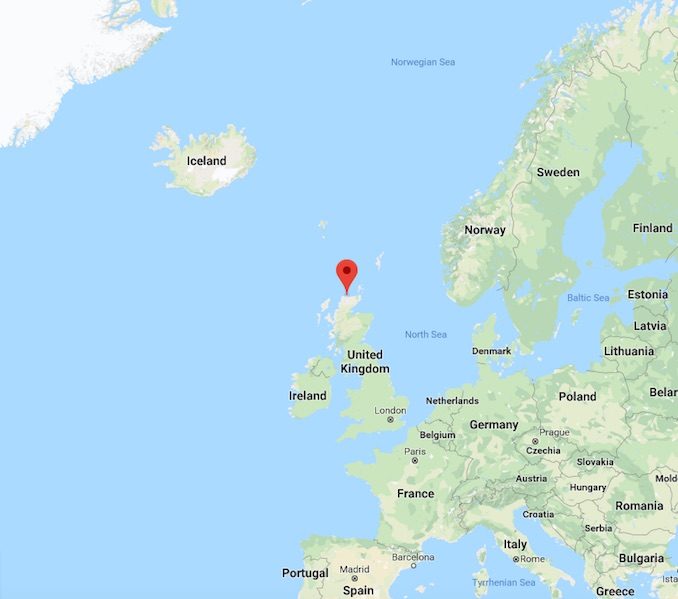 Orbex's £5.5 million ($7.3 million) grant from the U.K. Space Agency is part of a £30 million ($40 million) funding round announced by the company Monday.
The funding for Orbex comes from a mix of public and private sources, including the U.K. Space Agency, the European Space Agency, the European Commission Horizon 2020 program, private investors, and two of Europe's largest venture capital funds: Sunstone Technology Ventures and the High-Tech Gründerfonds.
Orbex plans to share the Sutherland launch site with Lockheed Martin, potentially using two separate launch pads at the spaceport.
"We're delighted to have been selected after a highly competitive and detailed process," said Chris Larmour, CEO of London-based Orbex. "Orbex is one of the very few private spaceflight companies with credible practical experience in the development of launch vehicles and rocket engines. With the support of this grant from the U.K. Space Agency, we will soon be launching small satellites into orbit from British soil and helping to transform the U.K. into an important hub for commercial space launch operations."
Orbex has kept its planned micro-launcher, named Prime, under wraps until recently.
"With our collective experience, we have developed a low-mass, low-carbon, high-performance 21st century orbital launch vehicle, designed specifically to support the needs of the rapidly growing smallsat industry," Larmour said in a statement. "There is a significant launch backlog for small satellites globally and Orbex is primed to give industry and science a cost-effective, reliable and responsive route into space, directly from Europe."
The Prime launch vehicle will be capable of carrying up to 330 pounds (150 kilograms) into low Earth orbit, according to Orbex. The company, which has subsidiaries in Denmark and Germany, says the Prime rocket will be fully designed, built and launched in Europe.
Rocket Lab's Electron booster, which Lockheed Martin is eyeing to capture a piece of the small satellite launch market, has a comparable lift capacity. It can put a payload of up to 330 pounds into a 310-mile-high (500-kilometer) sun-synchronous orbit.
Many technical details of the Prime vehicle have not been released by Orbex, but the company says it will burn a renewable bio-propane fuel that cuts carbon emissions by 90 percent compared to conventional hydrocarbon fuels. The Prime micro-launcher will carry "an innovative new low mass recovery and re-flight system" to make its components reusable, according to Orbex.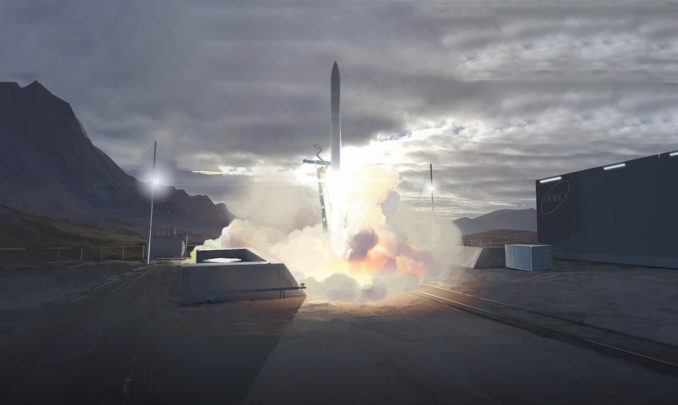 "Prime launchers are up to 30 percent lighter and 20 percent more efficient than any other vehicle in the small launcher category, packing more power per cubic liter than many heavy launchers," Orbex said in a press release. "The Prime vehicle will launch satellites to altitudes up to 1,250 kilometers (776 miles), inserting them into sun-synchronous or polar orbits."
Launch vehicles taking off from Scotland's coast in Sutherland will fly to the north, taking routes over the Norwegian Sea between Iceland and Svalbard to ensure debris does not fall on populated areas.
Officials say the Sutherland spaceport is well-positioned to allow rockets to place small satellites into north-south orbits that fly over Earth's poles. Such orbits are commonly used by Earth-observing satellites and low-latency communications stations, including mega-constellations of commercial satellites currently on the drawing board.
In a separate agreement signed Monday, California-based Virgin Orbit revealed plans to base some missions of its air-dropped LauncherOne satellite booster from from Cornwall Airport Newquay — also named Spaceport Cornwall — in southwest England by 2021.
Founded by Richard Branson, the British entrepreneur, Virgin Orbit plans to stage the first test flight of the LauncherOne vehicle from the Mojave Air and Space Port in California later this year. The LauncherOne rocket will be dropped from under the wing of a modified Boeing 747 jumbo jet over the ocean, then fire into orbit.
The British government says it has set aside additional money to bolster development of domestic space launch capabilities.
There remain open questions on how UK regulatory agencies will oversee launch operations in Britain, and how export restrictions will affect rocket launches in Britain using U.S. technology.
"In general this is good news – (the) U.K. actually making decisions and moving things forward, but this has been talked about for best part of a decade," Bleddyn Bowen, a space policy expert and lecturer in international relations at the University of Leicester, wrote in a Twitter post.
Bowen wrote that the few million dollars committed by the U.K. Space Agency to British vertical and horizontal spaceports  suggests the government "is not rushing to develop spaceports. It's betting on private sector investment."
He added later Monday that the U.K. Space Agency's direct funding grants to entice Lockheed Martin and Orbex to use the Sutherland launch base is "positive news."
Email the author.
Follow Stephen Clark on Twitter: @StephenClark1.