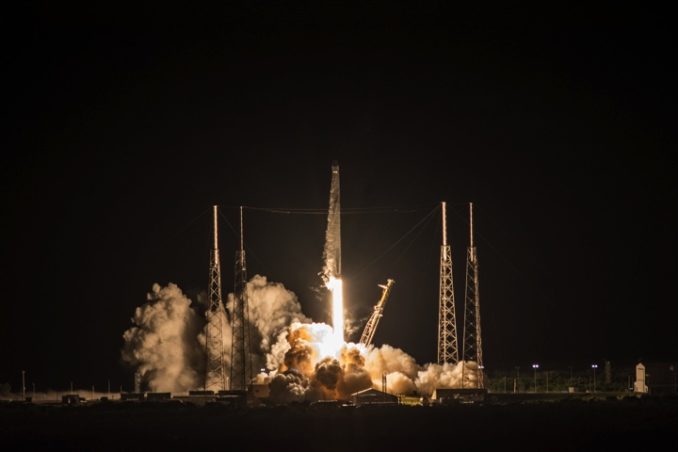 A commercial SpaceX Dragon cargo capsule packed with a robot assistant for the International Space Station's crew, pouches of extra strong coffee, and a NASA science instrument designed to track the health of plants on Earth left Cape Canaveral aboard a Falcon 9 rocket Friday on a three-day pursuit of the orbiting research lab.
Riding a plume of orange rocket exhaust, the Falcon 9 launcher climbed into a clear pre-sunrise sky after liftoff from Cape Canaveral's Complex 40 launch pad at 5:42:42 a.m. EDT (0942:42 GMT), roughly the moment Earth's rotation carried the spaceport under the International Space Station's orbital track.
The Falcon 9's first stage, launching for the second time after boosting a NASA science satellite to orbit in April, pivoted its engines to steer the rocket northeast from Cape Canaveral with 1.7 million pounds of thrust.
The rocket dropped the first stage booster to fall into the Atlantic Ocean — it was not planned to be recovered — as the Falcon 9's second stage ignited for a five-and-a-half-minute firing to give the Dragon cargo craft enough speed to achieve orbit around Earth.
The launcher soared into sunlight as it reached the rarefied upper atmosphere, creating a twilight effect as the Falcon 9's expanding exhaust cloud caught the first rays of the morning sun.
Imagery of the Falcon 9's ascent into space showed the exhaust plume illuminated, appearing as a growing nebula-like feature and putting on a memorable light show for spectators across Florida.
The rocket's second stage shut down around eight-and-a-half minutes into the flight, then deployed the Dragon supply ship around 90 seconds later. Two power-generating solar panels unfurled to a span of around 54 feet (16.5 meters), and the ship's rocket jets were primed for the three-day chase of the space station.
Meanwhile, the second stage was programmed to continue orbiting Earth for a long-duration coast demonstration, collecting data to verify the rocket can operate in space for up to six hours, allowing future Falcon 9 rocket missions to send payloads into higher, harder-to-reach orbits.
Friday's launch marked the 57th flight of a Falcon 9 rocket, and SpaceX's 12th launch of the year. It was the 14th time SpaceX has launched a reused first stage booster, and the fourth flight of a previously-used Dragon capsule.
The first stage launched Friday was the final one manufactured by SpaceX using the company's discontinued "Block 4" configuration. SpaceX debuted the upgraded "Block 5" version of the Falcon 9 rocket May 11, and Friday's flight employed a second stage containing Block 5 improvements.
The Falcon 9 Block 5 design is optimized for reusability of the first stage, and SpaceX founder and chief executive Elon Musk said the upgraded Block 5 boosters could be launched, landed and flown again in as few as 24 hours, eventually requiring little more than the cost of new propellants and processing costs.
The Block 4 configuration was not capable of such rapid re-flights, requiring disassembly of its landing legs, inspections, refurbishment and the installation of new heat shield material and grid fins used on descent. The work took time and cost millions of dollars, but SpaceX officials said the expense of refurbishing Block 4 boosters was less than the cost of manufacturing an all-new vehicle.
Friday's mission was the final launch of a Block 4 first stage, said Jessica Jensen, SpaceX's director of Dragon mission management.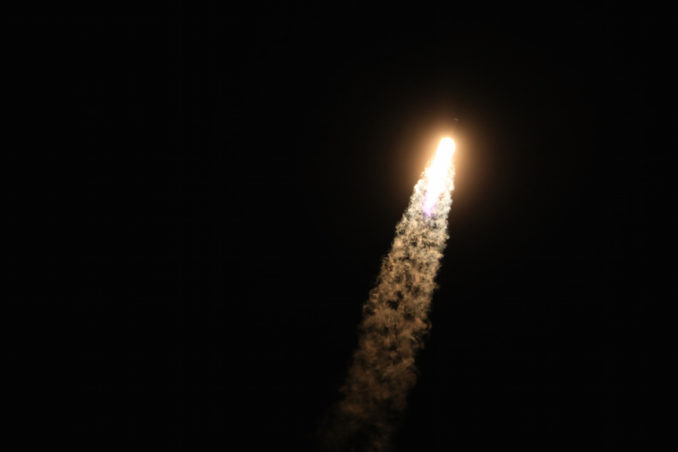 SpaceX's 15th space station cargo mission, part of a commercial resupply contract with NASA valued at more than $3 billion, is set to reach its destination around 7 a.m. EDT (1100 GMT) Monday.
Space station crew members will take command of the Canadian-built robotic arm to grapple the free-floating Dragon capsule. The robot arm will berth the spacecraft on the station's Harmony module a couple of hours later, beginning a one-month stay.
Astronauts will manually unpack the contents of Dragon's pressurized cargo module, which SpaceX is reusing from a previous resupply mission that launched in July 2016.
The mission is slated to deliver 5,946 pounds (2,697 kilograms) of equipment, experiments and provisions to the orbiting research laboratory. About 3,774 pounds (1,712 kilograms) of that tally are carried inside Dragon's internal cabin, including:
2,718 pounds (1,233 kilograms) of scientific investigations
452 pounds (205 kilograms) of crew supplies
392 pounds (178 kilograms) of vehicle hardware
139 pounds (63 kilograms) of spacewalk equipment
46 pounds (21 kilograms) of computer resources
27 pounds (12 kilograms) of Russian hardware
The cargo loaded inside Dragon include mice to be examined by scientists upon return to Earth. Researchers will study the effects of microgravity on microorganisms in the animals' gastrointestinal tracts.
There is also an experiment aboard the Dragon cargo capsule which will help scientists study how algae grows in space. Algae could provide basic nutrition and help absorb carbon dioxide on future space missions, and algae oils could reduce the adverse effects of cosmic radiation on humans.
European Space Agency astronaut Alexander Gerst, who launched earlier this month to begin a half-year on the space station, is also getting a talking assistant enabled by artificial intelligence.
Known as CIMON — short for Crew Interactive Mobile Companion — the robot will help Gerst complete tasks, conduct experiments, and repair and upgrade components inside the space station.
"CIMON a free-floating artificial intelligence, and when he will be activated, this is kind of a historical moment," said Christian Karrasch, CIMON's project lead at DLR, the German Aerospace Center. "We are very happy that CIMON will be the first artifical intelligence in space.
"For us, this is a piece of the future of human spaceflight. If you go out to the moon or to Mars, you cannot take all (of) mankind and engineers with you, but with an artifical intelligence, you have, instantly, all the knowledge of mankind," Karrasch said.
Developed in partnership between DLR, Airbus Defense and Space, and IBM, CIMON is a spherical device about the size of a medicine ball. The entire structure of CIMON, primarily metal and plastic, was 3D-printed, according to Airbus.
Robots like CIMON could help space crews do their work more efficiently, improve safety, minimize crew stress, and help the public better understand spaceflight, according to project officials.
CIMON's "neural" AI network and ability to learn, along with human-like characteristics such as a face and voice, will make it more of a companion than just an experiment to Gerst and other station crew members, officials said.
The AI-enabled helper was paired with Gerst, a German-born astronaut, using voice samples before his flight. That means CIMON will best communicate with him, but officials said anyone could work with the robot.
"If Alexander Gerst has certain questions to the experiment he's working on, CIMON has quite keep knowledge on that experiment, so he can really get inside the experiment, and he can ask questions that are beyond the procedure," said Philipp Schulien, an engineer on CIMON from Airbus.
CIMON learns with the help of IBM Watson AI technology.
"During the times when there is connectivity, all the communications go back through the cloud," said Bret Greenstein, IBM's global vice president of Watson and Internet of Things offerings. "So all the AI work is being processed at the cloud, actual language, all the training and the tailoring we did, happens in the cloud, which also means we can enhance it from the Earth anytime, and make it smarter constantly to help Alexander and the team to use it."
Kirk Shireman, NASA's space station program manager, said astronaut crews traveling deeper into the solar system will need to be more autonomous due to the communications delays inherent in such journeys.
"You can think of all of human knowledge, you might need to access parts of that," Shireman said. "So having AI, and having that knowledge base and the ability to tap into it in a way that's useful for the task that you're doing, is really critical for having humans farther and farther away from the planet."
In sum, the cargo mission will help enable 27 scientific experiments on the space station, according to David Brady, the International Space Station's assistant program scientist at NASA's Johnson Space Center in Houston.
Fresh food, including crab, lobster and maple-smoked salmon, pouches of strong coffee from Death Wish Coffee, an iPad Air, and spacesuit gloves are also among the items stowed inside the Dragon spacecraft.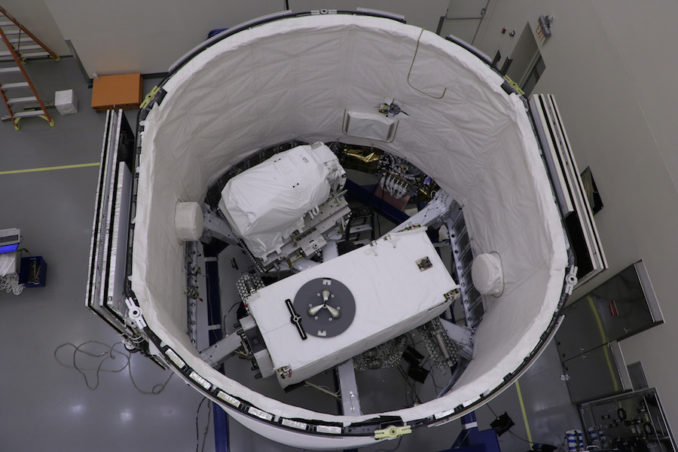 The equipment launched to the space station inside the Dragon's trunk included a spare Canadian-built latching end effector for the research lab's robotic arm, plus a 1,213-pound (550-kilogram) instrument developed by NASA's Jet Propulsion Laboratory to be mounted outside the station's Japanese Kibo lab module to measure the temperature of plants from space.
The spare latching end effector, or hand, for the robotic arm will be stored outside the space station, ready to replace one of the arm's two end effectors with the help of spacewalking astronauts, if needed.
Astronauts replaced both hands of the robotic arm in a series of spacewalks late last year and earlier this year. Both latching end effectors showed signs of aging and wear-and-tear after nearly 17 years on the space station, and the replacements left the station without a spare hand for the arm, also known as Canadarm 2.
"It's a critical system," said Ken Podwalski, the Canadian Space Agency's space station program manager. "We always want to be able to protect for a failure."
The robotic arm is vital for the space station to receive cargo deliveries by SpaceX's Dragon spacecraft, Northrop Grumman's Cygnus cargo carrier, and Japan's HTV supply ship. It is also used to move astronauts around the space station on spacewalks, and for transferring experiments and other equipment around the exterior of the nearly million-pound science outpost.
Canadarm 2 is Canada's primary contribution to the space station. It uses the latching end effectors to inchworm between multiple host adapters outside space station module and on the station's truss backbone, and the arm's hands are capable of routing data, video and electrical power.
"Overall, I would dare say that we've gotten exceptional performance out of our space robotics, just because (we're) 17 years into the game for a system that was designed for a 10-year operational life — and 15 years on orbit — with the very few issues that we've had," Podwalski said.
"I think our biggest problems have really been about cameras. We've changed a number of cameras. We've got new cameras in the works, and those are actually very nice because we can actually change them out robotically," he said. "So that's a case where we're using our own robots to fix our own robots. It's kind of the ideal scenario."
The Ecosystem Spaceborne Thermal Radiometer Experiment on Space Station, or ECOSTRESS, will measure heat energy coming off Earth's surface. The temperature measurements will tell scientists about the health of the plants, how much water they are using, and the resiliency of crops to extreme conditions like heat waves and droughts.
"When a plant is so stressed that it turns brown, it's often too late for it to recover," said Simon Hook, ECOSTRESS principal investigator at JPL. "But measuring the temperature of the plant lets you see that a plant is stressed before it reaches that point."
Developed under a cost cap of $30 million, the ECOSTRESS instrument is a pathfinder for future missions, and it will collect data from its mounting fixture outside the space station for about one year.
"ECOSTRESS will allow us to monitor rapid changes in crop stress at the field level, enabling earlier and more accurate estimates of how yields will be impacted," said Martha Anderson, an ECOSTRESS science team member with the U.S. Department of Agriculture in Beltsville, Maryland. "Even short-term moisture stress, if it occurs during a critical stage of crop growth, can significantly impact productivity."
The thermal sensitivity of ECOSTRESS will also make it useful for detecting and studying hotspots, such as wildfires and volcanoes.
The Dragon spacecraft will depart the space station Aug. 2 and return to a splashdown in the Pacific Ocean with nearly two tons of equipment, cargo and research specimens for analysis by engineers and scientists on the ground.
SpaceX will prep for two Falcon 9 missions on the books for July.
Next on the company's launch schedule is a Falcon 9 launch from Vandenberg Air Force Base in California, set for July 20 at 5:12 a.m. PDT (8:12 a.m. EDT; 1212 GMT), with 10 more new-generation Iridium communications satellites heading for low Earth orbit.
Less than two days later, at 1:50 a.m. EDT (0550 GMT) on July 22, another Falcon 9 rocket is set for blastoff from Cape Canaveral with the Telstar 19 VANTAGE telecommunications craft on the way to a perch in geostationary orbit more than 22,000 miles (nearly 36,000 kilometers) over the equator.
Email the author.
Follow Stephen Clark on Twitter: @StephenClark1.