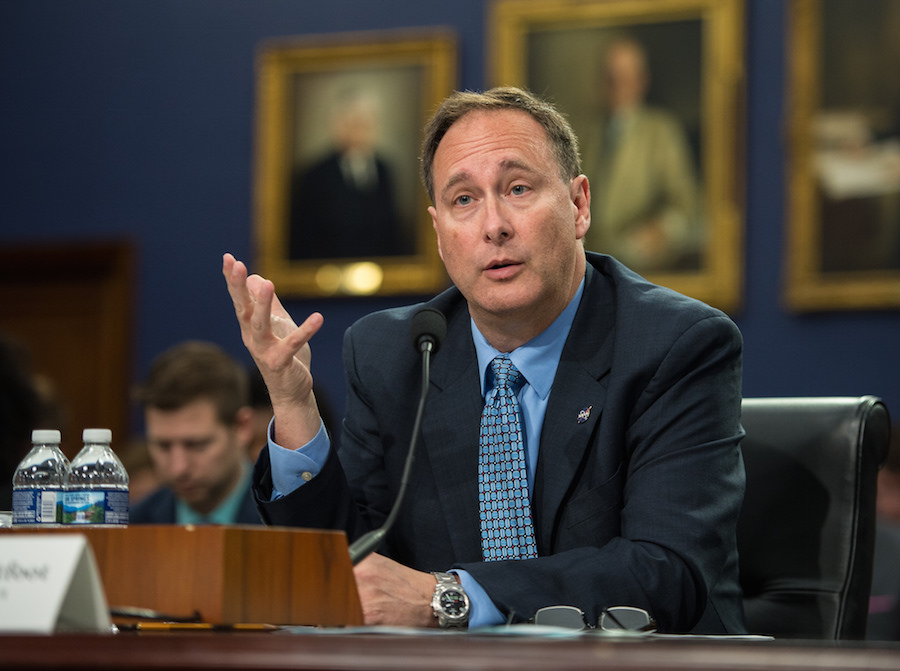 NASA is working with the Russian space agency to potentially extend crew stays on the International Space Station, the agency's acting administrator said last week, as a cushion against expected delays in the development of commercial crew capsules by Boeing and SpaceX.
Robert Lightfoot, who has led the U.S. space agency on an interim basis since January 2017, told lawmakers Thursday that NASA is looking for ways to ensure U.S. astronauts can fly to the space station in case commercial spaceships designed by Boeing and SpaceX are not operational by the time a transportation contract with Russia expires in late 2019.
One option already under study is potentially extending the first piloted test flights of the commercial crew ships from two days up to six months. NASA recently updated its commercial crew contract with Boeing, giving officials the option to lengthen the first piloted test flight of the company's CST-100 Starliner spacecraft from two weeks to six months, along with the possible addition of a third crew member.
The space agency said it would consider a similar arrangement with SpaceX if the company proposes it.
Lightfoot, who is retiring at the end of April, told a House appropriations subcommittee Thursday that NASA does not expect a gap in crew access to the space station between the end of Soyuz missions under contract with U.S. astronauts and the start of regular space station crew rotation flights by Boeing and SpaceX.
But the Government Accountability Office in January reported that the schedules are likely to fall behind NASA's current projection, which anticipates Boeing and SpaceX's vehicles completing their uncrewed and crewed demonstration missions by the spring of 2019.
The GAO's report said certification of SpaceX's Crew Dragon capsule for operational crew rotation missions is likely to slip until December 2019, with Boeing's final certification likely to occur in February 2020.
Lightfoot said NASA is taking further steps to minimize the impact of further commercial crew delays, including the possibility of lengthening the time astronauts live and work on the space station.
"We're working with all our partners and working all the options, but right now we know we still show margin," Lightfoot said.
"One thing we have is a great relationship wih our Russian partners, and we're looking at other alternatives about potentially extending the mission durations for the current missions that are there," he said.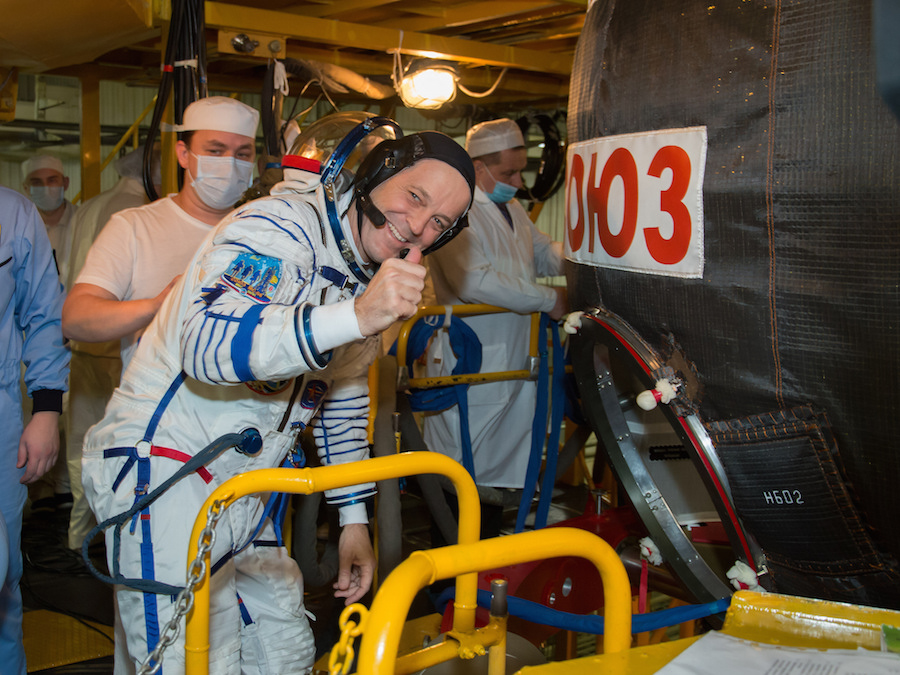 Space station crews typically spend around six months in orbit, but some crew members have stayed longer. NASA astronaut Scott Kelly and Russian cosmonaut Mikhail Kornienko spent 340 days on the space station in 2015 and 2016. Astronaut Peggy Whitson returned from an extended 288-day mission in September.
Scientists are eager for more astronauts to stay on the space station for longer missions. The long-duration missions give researchers important data about how extended exposure to microgravity and radiation affects the human body.
Joel Montalbano, NASA's deputy space station program manager, said April 1 that scientists have asked station officials to find 10 to 12 slots for year-long crew members. There are no firm plans to send a crew to the station for a year, but NASA continues to look for an opportunity, Montalbano said.
"We're looking at ways to … extend stays that we have currently on the station with the seats that we do have left through the Soyuz program," Lightfoot said Thursday.
NASA is not planning to buy more Soyuz seats from Russia, but officials have previously said that once the commercial crew spacecraft are operational, the station partners plan to accommodate at least one U.S. astronaut and one Russian cosmonaut on each launch. The in-kind arrangement has been negotiated without the exchange of funds between NASA and Roscosmos, the Russian space agency.
Lightfoot said Boeing and SpaceX are "making great progress" on their commercial crew capsules. But like NASA's Space Launch System and Orion programs — part of the agency's deep space exploration plans — the commercial crew vehicles are running into difficulties as engineers build the first flight-ready models of each spacecraft.
The most recent public schedule released by NASA indicate the first test flights by the Crew Dragon and CST-100 Starliner could occur in August, but industry and government officials expect that schedule to slip. Plans to conduct the first Crew Dragon test flight with a two-person crew in November, and fly two test pilots on a CST-100 Starliner spaceship in December, are also widely considered "aggressive" by space program officials.
Lightfoot said Thursday that NASA still expects both companies to complete their unpiloted demonstration flights to Earth orbit by the end of the year. He declined to state a schedule for the crewed test flights.
"We still expect to see the first test flights at the end of this year, from both providers," he said. "These would be the uncrewed flights. We're working through that now."
The unpiloted and crewed test missions will dock with the International Space Station.
The Crew Dragon capsule will blast off on SpaceX's Falcon 9 rocket at the Kennedy Space Center in Florida, then parachute into the Atlantic Ocean at the end of its mission. Boeing's CST-100 Starliner will lift off on the Atlas 5 rocket, built and operated by Boeing subsidiary United Launch Alliance, then return to a parachute-assisted and airbag-cushioned touchdown at one of five landing zones in the Western United States, likely in New Mexico.
The U.S.-built ships will normally carry a crew of four to the space station, where the capsules will remain docked for up to 210 days before returning the astronauts to Earth. Russian Soyuz spacecraft carry three-person crews.
"Regardless of what is going on in the rest of the world, our space cooperation with the Russians has been very good," Lightfoot said. "It's a good team. We're ready to get our flights from U.S. soil though. We're ready to get back to that."
Email the author.
Follow Stephen Clark on Twitter: @StephenClark1.