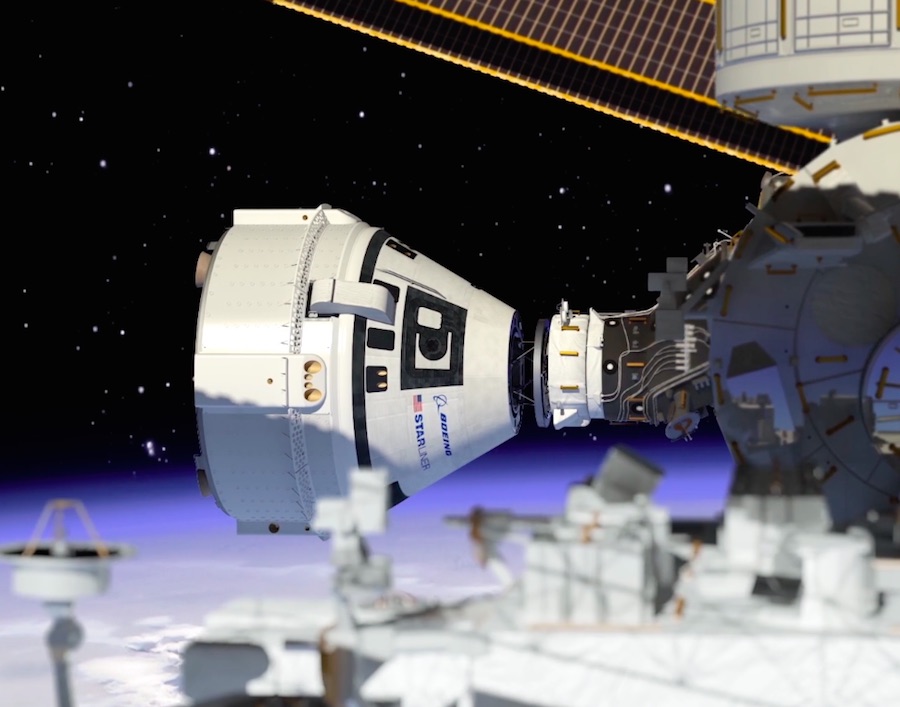 NASA has agreed to consider a Boeing proposal to extend the first piloted test flight of its commercial CST-100 Starliner crew capsule from two weeks to up to six months with an extra crew member for the International Space Station, hedging against potential delays that could jeopardize U.S. crew access to the orbiting outpost, officials said last week.
The U.S. space agency said Thursday it recently updated its contract with Boeing to enable the first test flight of the company's CST-100 Starliner crew ferry ship to remain at the space station for up to six months. The original plan called for a two-week test flight to the space station and back to Earth.
In addition, the updated contract would allow NASA and Boeing to fly a third crew member on the CST-100 spacecraft's Crew Flight Test. Officials previously planned for the Crew Flight Test to carry a Boeing test pilot and a NASA astronaut.
"Exact details of how to best take advantage of the contract modification are under evaluation, but the changes could allow for additional microgravity research, maintenance, and other activities while Starliner is docked to station," NASA said in a statement. "Adding a third crew member on Boeing's flight test could offer NASA an additional opportunity to ensure continued U.S. access to the orbital laboratory."
Boeing could also carry cargo to the space station abroad the CST-100 Starliner test flights under the terms of the updated contract.
If exercised, the options for a longer-duration Crew Flight Test with an extra crew member could blunt the impact of delays in the readiness of Boeing and SpaceX capsules to begin regular crew rotation flights to and from the space station.
The U.S.-built commercial crew craft will end NASA's reliance on Russian Soyuz spaceships to deliver astronauts to the space station and return them to Earth. NASA has secured Soyuz seats for U.S. astronauts and crew members from other station partners through 2019, but officials do not plan further Soyuz seat purchases.
That puts the onus on Boeing and SpaceX to deliver.
"This contract modification provides NASA with additional schedule margin if needed," said William Gerstenmaier, associate administrator of NASA's human exploration and operations mission directorate at NASA Headquarters in Washington. "We appreciate Boeing's willingness to evolve its flight to ensure we have continued access to space for our astronauts. Commercial space transportation to low-Earth orbit from U.S. soil is critical for the agency and the nation."
NASA said it will consider a similar contract update with SpaceX, should the company propose one.
The flight sequence currently planned by NASA, Boeing and SpaceX includes unpiloted test flights of the CST-100 Starliner and Crew Dragon spacecraft to dock with the space station, followed by demonstration flights with two-person crews. Each company plans one unpiloted test flight and one demo mission with an on-board crew.
The latest schedule released by NASA indicates Boeing and SpaceX plan to launch their initial crew capsule test flights into orbit as soon as August — without a crew. Astronauts would strap into the CST-100 Starliner for its Crew Flight Test in November, followed by the first Crew Dragon test flight with humans on-board in December.
But those mission schedules are optimistic, and they assume Boeing and SpaceX quicken their development pace in the coming months. In addition to the test flights to the space station, Boeing is finishing up structural testing and plans a pad abort test to verify the CST-100's escape rockets can safely get a crew away from an exploding rocket on the launch pad. SpaceX's upcoming work includes a vacuum test of the Crew Dragon spacecraft, final qualification of its parachutes and an in-flight abort test, designed to check the capsule's ability to get away from a launch failure after liftoff.
"I would say the schedule the contractors have laid out is aggressive," said Steve Stich, deputy manager of NASA's commercial crew program, in a briefing with reporters April 2. "What we have seen from both Boeing and SpaceX is when we get to a point where maybe the dates are no longer supportable with what testing they have to do, then those dates get adjusted. The reason those dates get adjusted is the fact that there's work to complete to ensure those spacecraft are safe."
After the successful completion of the crew demonstration flights, Boeing and SpaceX will be formally certified by NASA to begin regular crew rotation missions, carrying four astronauts at a time to and from the space station. The spacecraft will stay docked to the complex for up to seven months, serving as a lifeboat for the crew to escape in case of an emergency.
NASA has a contract with Boeing worth up to $4.2 billion to complete development of the CST-100 crew capsule, conduct the two test flights to the space station, and fly up to six subsequent crew rotations. NASA's contract with SpaceX, covering Crew Dragon development, test flights and up to six crew rotations, is valued at up to $2.6 billion.
Officials did not disclose how the updates to the Boeing contract could change the deal's monetary value.
NASA says the cost-per-seat on the CST-100 and Crew Dragon capsules will average out at about $58 million. The Russian government charged NASA as much as $81 million per round-trip Soyuz ticket.
Boeing's crew capsule will lift off on a United Launch Alliance Atlas 5 rocket from Cape Canaveral's Complex 41 launch pad, while SpaceX will launch its piloted missions on the company's own Falcon 9 booster from pad 39A, the former Apollo and space shuttle launch site at NASA's Kennedy Space Center.
The CST-100 will return to Earth under parachutes for an airbag-cushioned landing at a site in New Mexico, Utah, California, or Arizona. The Crew Dragon will splash down in the Atlantic Ocean off of Florida's coast.
"Turning a test flight into more of an operational mission needs careful review by the technical community," Gerstenmaier said in a statement. "For example, the spacecraft capability to support the additional time still needs to be reviewed. Modifying the contract now allows NASA and Boeing an opportunity to tailor the duration to balance the mission needs with vehicle and crew capabilities."
NASA said the current schedules, which project the Boeing and SpaceX crew ferry craft will be available for operational crew rotations in the spring of 2019, have about six months of margin before NASA's contract for Soyuz seats expires in the fall of 2019.
But a review by the Government Accountability Office earlier this year said the certification schedules for both commercial crew vehicles was likely to fall well behind NASA's current timeline.
Boeing and SpaceX aimed to fly their first human-rated spacecraft to the International Space Station in late 2016 and early 2017, with a goal of having both vehicles ready for operational missions by the end of 2017. But budget shortfalls from Congress, combined with technical hurdles encountered by both companies, delayed the test flights.
"In fact, final certification dates have slipped to the first quarter of calendar year 2019 and we found that the program's own analysis indicates that certification is likely to slip into December 2019 for SpaceX and February 2020 for Boeing," said Cristina Chaplain, a senior manager at the Government Accountability Office, during a congressional hearing in January.
Email the author.
Follow Stephen Clark on Twitter: @StephenClark1.