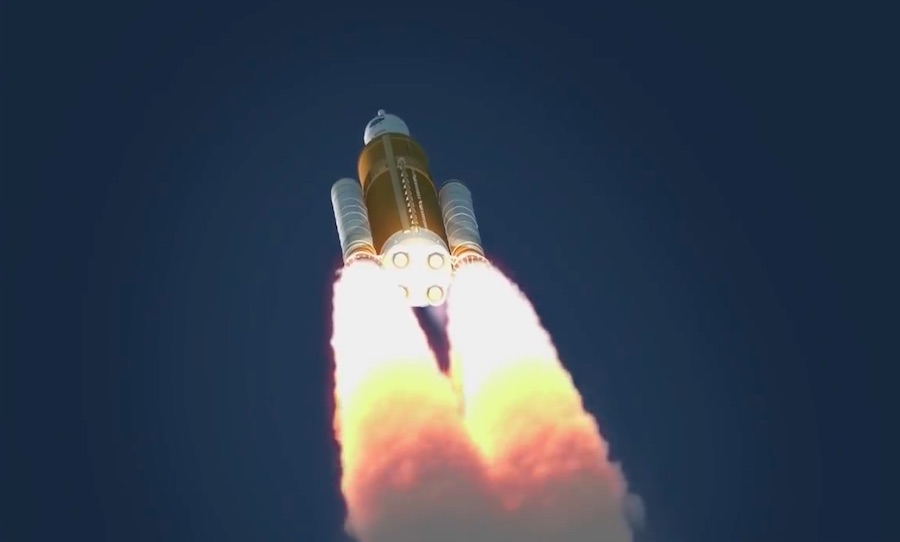 NASA's planned rocket to send humans back to the moon and the agency's solar system exploration program were big winners in a $20.7 billion budget passed by Congress and signed by President Trump on Friday.
The NASA funding was part of a $1.3 trillion federal spending package that keeps the government running through the end of fiscal year 2018 — Sept. 30 — after multiple stopgap budgets in recent months.
Lawmakers gave NASA nearly $1.1 billion more than the space agency received in fiscal year 2017, and $1.6 billion more than the Trump administration's 2018 budget request.
NASA's behind-schedule Space Launch System, a multibillion-dollar rocket that has been a cornerstone of the agency's human spaceflight program since 2011, will receive $2.15 billion in the fiscal 2018 budget. The Orion crew capsule, which will launch on top of the SLS, will get $1.35 billion.
The budget provides $350 million for construction of a second SLS mobile launch platform, a project NASA says could shorten the gap between the first and second Space Launch System flights.
Managers last year considered the benefits of constructing a second mobile launch platform, but NASA officials last month backed off the idea, citing cost concerns. Funding for a second SLS launch platform was not included in the White House's fiscal year 2019 budget proposal.
The existing SLS launch platform, originally built for NASA's Ares 1 rocket canceled in 2010, is nearing completion at the Kennedy Space Center. Technicians will stack the Space Launch System on the platform inside the spaceport's iconic Vehicle Assembly Building, then transfer the mobile rocket carrier to nearby launch pad 39B for countdown and launch operations.
NASA officials are not concerned with a slight "deflection" of the mobile launch platfrom from a perfectly vertical orientation, saying the structure is well within design tolerances.
But the platform is sized for a configuration of the Space Launch System that NASA only intends to fly once. The SLS Block 1 version, using a single-engine upper stage derived from United Launch Alliance's Delta 4 rocket, is scheduled for launch in 2020, sending an Orion capsule on an unpiloted 25-day test flight in orbit around the moon.
The modified Delta 4 upper stage, known by NASA as the Interim Cryogenic Propulsion Stage, or ICPS, has already been built at ULA's rocket plant in Decatur, Alabama, and delivered to Cape Canaveral in advance of the maiden SLS flight.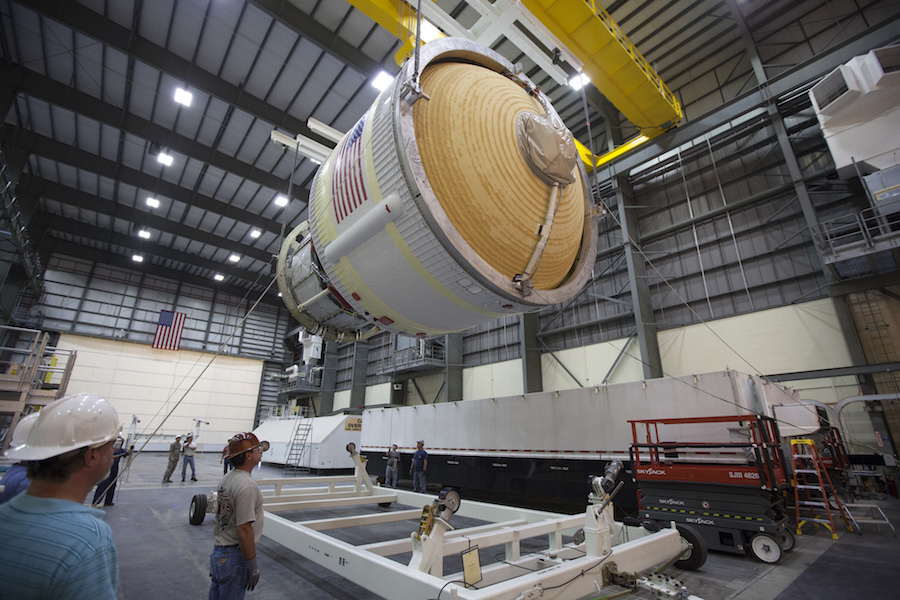 NASA hoped to launch the first SLS/Orion test flight — Exploration Mission-1 — in 2018 until last year. Delays in constructing and testing the SLS core stage, which will be powered by four space shuttle main engines, and a European-built service module for the Orion spacecraft pushed back the mission.
NASA has tapped its lead SLS contractor, Boeing, to begin work on an enlarged upper stage with four Aerojet Rocketdyne RL10 engines that will fly on the second SLS mission, known as Exploration Mission-2, in 2023. NASA plans for the EM-2 flight to be the first SLS/Orion mission with astronauts on-board.
The SLS version that will debut the more powerful upper stage is known as Block 1B.
Before the new budget was signed into law Friday, officials expected to raise the height of the SLS mobile launch platform to accommodate the bigger upper stage, which extends around 40 feet (13 meters) taller than the upper stage to be flown on the first SLS test launch.
The modifications to the mobile platform were expected to take around 33 months. The time required for the launch tower changes were a major factor in delaying the scheduled liftoff of the first SLS/Orion mission with crew to 2023, but there is other work to be completed before EM-2. Engineers must also finish testing of the Orion spacecraft's life support system, crew accommodations and cockpit displays before flying people.
Robert Lightfoot, NASA's outgoing acting administrator set to retire at the end of April, told a House subcommittee March 7 that there was insufficient money in the agency's budget to build a second SLS platform without delaying or canceling other projects.
Responding to a question during the hearing, Lightfoot acknowledged that a second SLS mobile launch platform would be better for the program in an "ideal world."
"I could fly humans quicker, probably in the 2022 timeframe," with a second mobile launch platform, Lightfoot said.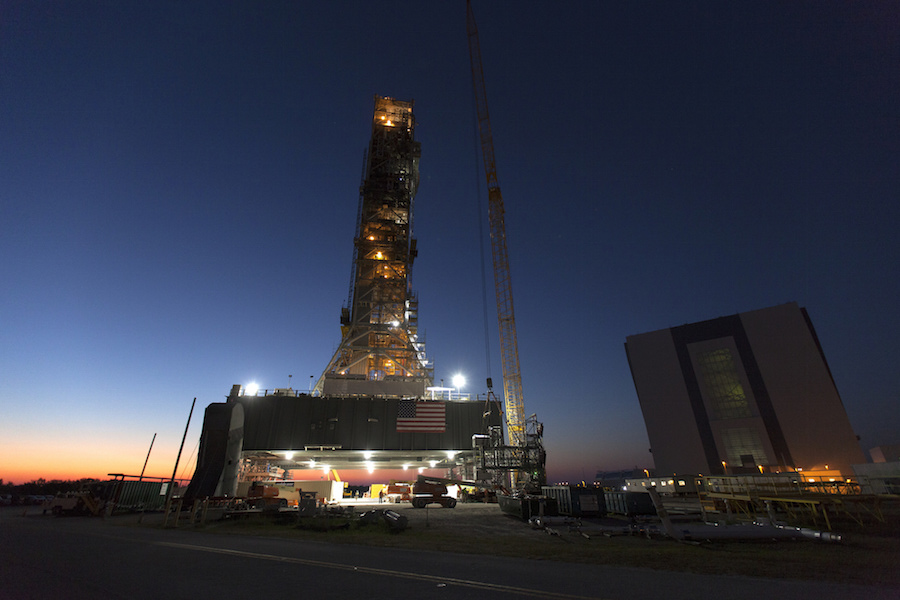 If NASA designed a separate launch tower for the upgraded SLS Block 1B rocket, the second SLS flight could launch off the already-built platform with astronauts, using the same Block 1 configuration as EM-1.
In such a case, mission managers would have to change NASA's planned SLS/Orion launch sequence and flight plans, which assume the bigger upper stage makes its inaugural flight on EM-2, giving the rocket enough power to haul a power and propulsion module toward the moon along with the Orion crew, commencing assembly of a mini-space station called the Lunar Orbital Platform-Gateway.
NASA would also bear unplanned costs to buy another ICPS rocket stage from ULA, and conduct reviews to ensure the stage is certified to launch with astronauts.
"If a mobile launcher showed up as something we were going to go build, we would not start modifying the one we're building for EM-1," Lightfoot said March 7. "Therefore, once we flew once on that MLP, it's now ready to fly again. So we would go through the process of hopefully purchasing another ICPS, with the expense that comes with it and also human-rating it, so we could fly Orion with crew quicker.
"So maybe the first launch off the new MLP that we would build might be EM-3 or EM-4, but it would leave us the capability to keep flying on the MLP we're building now, instead of going in and modifying it," he said.
"It's a pretty expensive proposition to build another mobile launcher and to buy another ICPS," he said. "We had the discussion. We had the debate, and our answer came back (that) we should just stick with our plan that we've got."
The Aerospace Safety Advisory Panel recommended last year that NASA build a second SLS mobile launch platform to forestall safety risks that could stem from a long gap between missions.
"The funds (for the second SLS mobile launch platform) also will allow flexibility for future NASA and other federal agency missions that will require heavy-lift capabilities beyond those of current launch vehicles as well as enable a sustainable Space Launch System launch cadence," lawmakers wrote in a report accompanying the budget bill.
The SLS Block 1 and Block 1B configurations use the same basic core stage, stretching more than 20 stories tall and 27.6 feet (8.4 meters) across, with four hydrogen-fueled RS-25 main engines from the retired space shuttle fleet. Two solid rocket boosters, also based on shuttle technology, will help drive the SLS off the launch pad, combining with the four core engines to produce 8.8 million pounds of thrust at liftoff.
The Block 1 version will be capable of sending more than 70 metric tons — about 154,000 pounds — of payload into low Earth orbit, and more than 25 metric tons — about 55,000 pounds — on a course toward the moon. With the Block 1B's enlarged upper stage, the SLS in its crew configuration can deliver more than 105 metric tons — about 231,000 pounds — to low Earth orbit and more than 32 metric tons — about 70,000 pounds — on a trans-lunar injection trajectory, according a spokesperson from NASA's Marshall Space Flight Center in Alabama, where the rocket program is headquartered.
When flying with only cargo, the SLS Block 1B can push more than 37 metric tons — about 81,000 pounds — toward the moon.
The most powerful rocket currently flying, SpaceX's Falcon Heavy, can send up to 63.8 metric tons — roughly 140,000 pounds — of payload to low Earth orbit, assuming none of the booster's three core stages are recovered. SpaceX has not published the Falcon Heavy's performance on a lunar trajectory.
NASA's space operations budget line, which funds the International Space Station and development of commercial crew ferry ships by Boeing and SpaceX, will get $4.7 billion in the fiscal 2018 budget, close to the funding level proposed by NASA and the White House.
NASA's science programs also got a nearly $500 million funding uptick in the budget bill.
The agency's $6.22 billion science budget includes an almost $400 million boost in funding for NASA's planetary science division over 2017 levels. The planetary science division is charged with managing NASA's robotic exploration of the solar system.
Two missions to Jupiter's moon Europa get $595 million in the budget, covering development of a probe named Europa Clipper that will conduct dozens of flybys of the moon, and work on a lander that would make the first landing on Europa's icy shell, which covers a global ocean of liquid water.
The Trump administration proposed not funding the Europa lander in its 2018 and 2019 budget requests.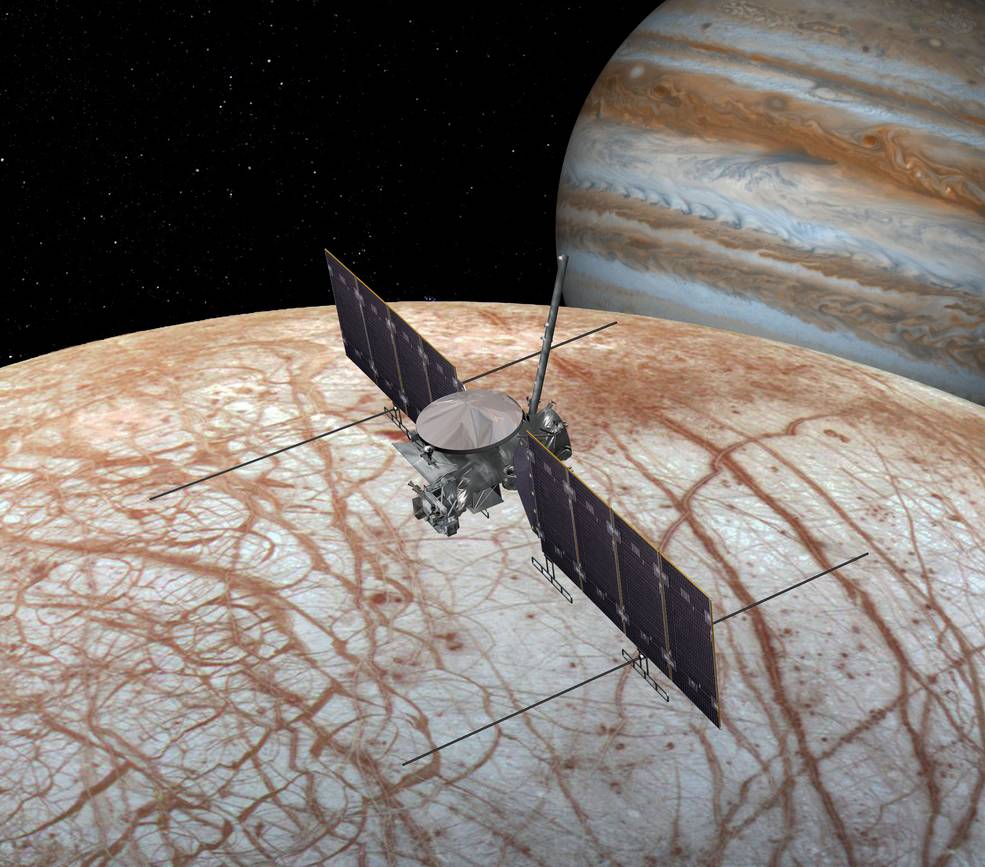 NASA's robotic exploration of Mars will receive $660 million, encompassing the Mars 2020 rover and early planning and development of a multi-spacecraft program to pick up samples from the Martian surface and return them to Earth.
In addition, the budget provides $23 million for a Mars helicopter demonstration. NASA officials expect to decide as soon as next month whether a rechargeable battery-powered flying drone could launch to Mars with the agency's next rover mission in 2020.
Jim Green, director of NASA's planetary science division, said Monday that the fiscal 2018 budget's passage will help clear one of two gates before managers can approve the Mars helicopter's launch in 2020. The other prerequisite, he said, is a review of the drone's technical status after a series of ground tests due to conclude soon.
The budget marks $850 million for NASA's astrophysics division, $100 million more than in 2017.
Lawmakers provided $150 million for the Wide-Field Infrared Survey Telescope, or WFIRST, which the Trump administration proposed canceling last month.
Set for launch in the mid-2020s, WFIRST would be next in NASA's line of big observatories in space after Hubble and the James Webb Space Telescope. It was the top priority for NASA's astrophysics program in a National Academy of Sciences decadal survey released in 2010. The agency's policy is to follow cues from the science community encapsulated in the decadal survey reports.
Agency managers last year were wary that WFIRST could exceed its $3.2 billion cost cap, and Thomas Zurbuchen, head of NASA's science directorate, in October ordered a team at the Goddard Space Flight Center in Maryland — home of the WFIRST project office — to study how the mission could be modified to fit under the budget limit.
Officials drafting NASA's budget request for fiscal 2019 decided WFIRST was too expensive, but the mission has enjoyed strong support from Congress.
In an apparent reference to WFIRST's proposed termination, lawmakers wrote that they "reject the cancellation of scientific priorities recommended by the National Academy of Sciences decadal survey process."
The budget also funds the James Webb Space Telescope set for launch next year, and continued operations of the Hubble Space Telescope and the SOFIA airborne astronomical observatory.
NASA's Earth science division is set to receive $1.92 billion in the fiscal 2018 budget, funding a slate of climate research missions, including four marked for cancellation by the Trump White House in its 2018 and 2019 budget requests.
A fifth Earth science project that the Trump administration proposed canceling, the Radiation Budget Instrument, was terminated by NASA in January, and is not funded in the 2018 budget.
NASA's space technology directorate will get $760 million the budget signed Friday, including $130 million for the Restore-L robotic satellite servicing demonstration, a mission the Trump White House wanted to down-scale.
NASA's education efforts are also funded with $100 million in the 2018 budget appropriation, reversing — for now — the Trump administration's plans to shut down the education office.
The agency's aeronautics efforts are set to receive $685 million, a slight increase over the Trump administration's request.
Email the author.
Follow Stephen Clark on Twitter: @StephenClark1.