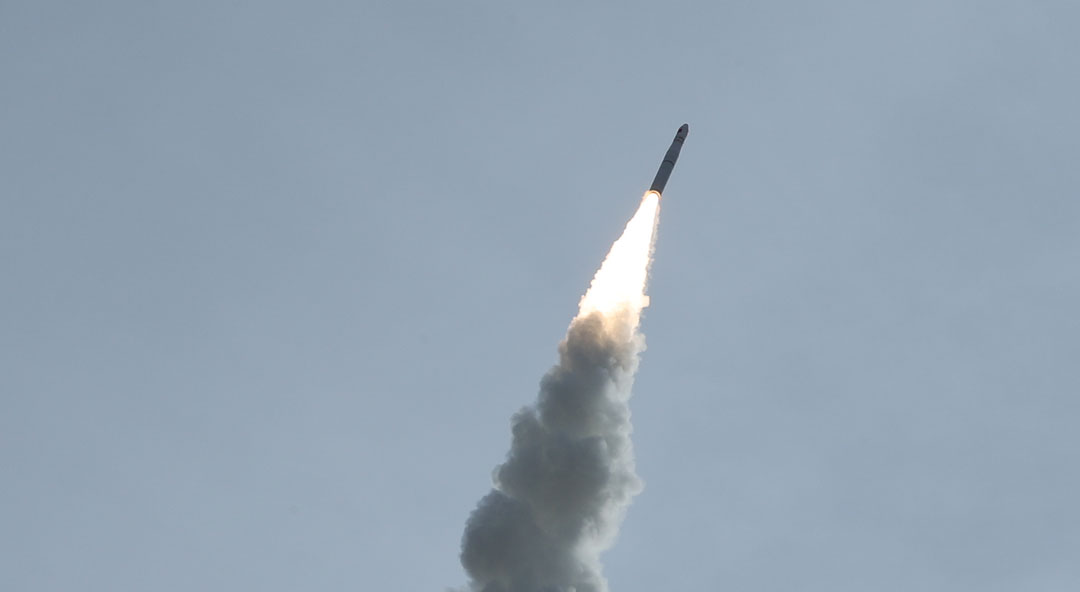 A nanosatellite built in Scotland for Kepler Communications, a Toronto company planning a 140-satellite global data relay network, rode to orbit Friday with five Chinese satellites launched aboard a solid-fueled Long March 11 booster from the Gobi Desert.
The Canadian-owned CubeSat, named KIPP after a robot in the film Interstellar, is no bigger than a shoebox, but its launch marks a major step in Kepler's ambition to deploy a commercial satellite fleet to transfer bulk data around the world, help companies track global shipments, and receive and forward data from remote scientific sensors.
KIPP lifted off at 0412 GMT Friday (11:12 p.m. EST Thursday) from the Jiuquan space base in northwestern China. The launch occurred at 12:12 p.m. Beijing time Friday.
Kepler's first spacecraft was accompanied on the launch by two Jilin 1 satellites to join a growing commercial Earth-imaging fleet owned by Chang Guang Satellite Technology Co. Ltd., a commercial spinoff of the Chinese Academy of Sciences.
The Jilin 1 satellites are designed to record high-definition video and color imagery for sale to customers, including the Chinese military, civilian authorities and commercial users.
The two video imaging craft launched Friday adds to three similar Jilin 1 satellites launched from China in November. With Friday's orbital deployment, Chang Guang has launched 10 satellites, including eight Jilin 1 video surveillance payloads, since 2015.
U.S. military tracking data indicated the four-stage Long March 11 rocket placed its six payloads in a slightly elliptical, or oval-shaped, orbit around 335 miles (540 kilometers) above Earth. The satellites are orbiting on a track tilted 97.5 degrees to the equator.
Friday's launch was the third flight of China's Long March 11 rocket, a booster built for relatively low-cost, quick-response launch services.
Developed by the China Academy of Launch Vehicle Technology, or CALT, the Long March 11 is about 68 feet (21 meters) tall and nearly 7 feet (2 meters) in diameter. It is one of two light-class solid-fueled launchers recently added to China's rocket fleet, alongside the Kuaizhou designed by the China Aerospace Science & Industry Corp., a different unit in China's state-run defense and aerospace apparatus from CALT.
Both of the new rocket types blast off from a wheeled mobile transporter, and are sized to send small payloads into orbit.
Kepler's KIPP CubeSat was the first Canadian satellite to launch on a Chinese rocket, and the company said its pilot spacecraft is the first commercial Ku-band communications satellite launched and operated in low Earth orbit.
The company said it received assistance from the Canadian government in securing use of the Ku-band spectrum.
"We are really excited that we are the first to deploy a Ku-band LEO spacecraft," said Mina Mitry, Kepler's co-founder and CEO. "While the goal of Kepler will be to establish an in-space connectivity network, we recognize the need for a sustainable and incremental deployment of services and technologies in order to achieve this goal."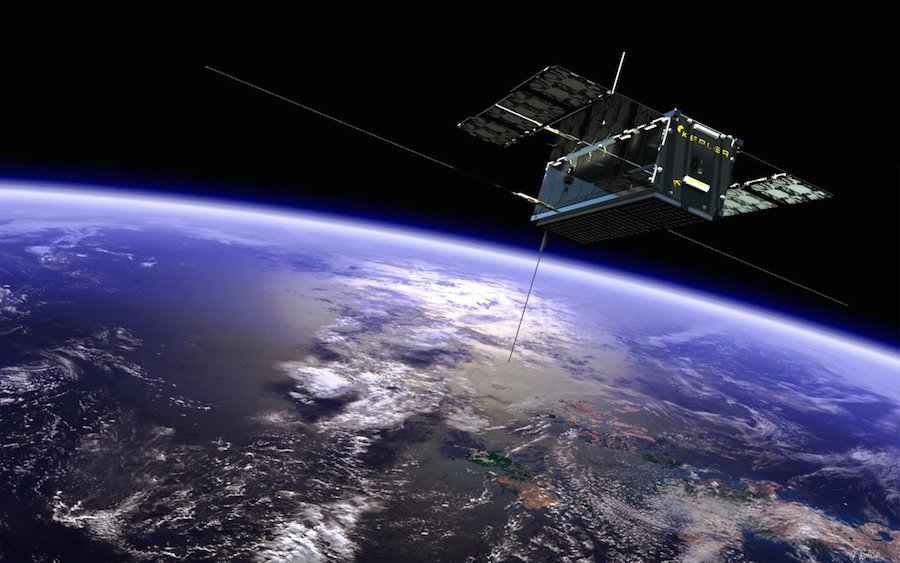 Kepler is one of several companies working on so-called commercial "mega-constellations," huge fleets of broadband, data relay and other types of communications satellites.
Others eyeing the deployment of large numbers of telecom satellites in low Earth orbit — and not the higher-altitude geostationary orbit typically favored for broadcast and broadband — include One Web, SpaceX and Telesat.
The first 10 of OneWeb's planned constellation of 900 communications satellites are scheduled for launch in mid-2018 on a Europeanized Russian-made Soyuz rocket provided by Arianespace.
SpaceX is planning an even bigger broadband fleet comprising more than 4,000 small satellites, with the company's first in-space testbed craft expected to launch in the coming months.
Telesat's first pathfinder satellite in low Earth orbit launched Jan. 12 on an Indian Polar Satellite Launch Vehicle. The successful deployment came about six weeks after Telesat lost a similar testbed craft on a failed Russian Soyuz launch.
The KIPP spacecraft launched Friday will help Kepler commence initial services, beginning with a "store-and-forward" relay capability.
"There is a tremendous amount of data out there that doesn't need real-time connectivity, but just needs to move – GIS data, aggregated IoT sensor data, CCTV backlogs, even media," Mitry said. "We can move high volumes of this data, we can do it cheaply, and we improve our quality of service with every new satellite we launch."
Mitry said Kepler will offer customers a low-cost alternative for transferring large data catalogs.
"There are companies out there putting hard drives on helicopters and flying them around because there aren't alternatives to transport bulk data," Mitry said. "This standard practice will gradually be replaced by affordable connectivity solutions like ours to move data from remote locations, simplifying logistics and improving business sustainability in the long term."
Kepler is also pursuing the "Internet of Things" market, which will allow connective devices to communicate with one another via satellite relays.
"The challenge with IoT is that to create a truly compelling business model, you need lots of devices connected," Mitry said. "That requires pricing and performance on par with terrestrial wireless. The amount of spectrum in Ku-band presents a viable way of doing this, but there needs to be substantial technology advancements before we can get there. Being the first to actually deploy a LEO Ku-band system gives us a first-mover advantage."
Kepler's fleet could eventually provide radio and telemetry links for other satellites, space stations and transport vehicles, the company said in a press release.
Built by Clyde Space Ltd. in Glasgow, Scotland, KIPP will go into operation for several customers Kepler says it has already signed up for backhaul service.
Kepler's second satellite, also built by Clyde Space and named CASE for another robot featured in Interstellar, will launch later this year.
Mitry said the KIPP satellite "went from napkin to orbit" in one year.
"Initial contact with KIPP indicated the spacecraft is happy, healthy, and performing as expected," Mitry wrote in a blog post on Kepler's website. "An incredible feat for our engineering team that has worked tirelessly to ensure KIPP's success."
Email the author.
Follow Stephen Clark on Twitter: @StephenClark1.