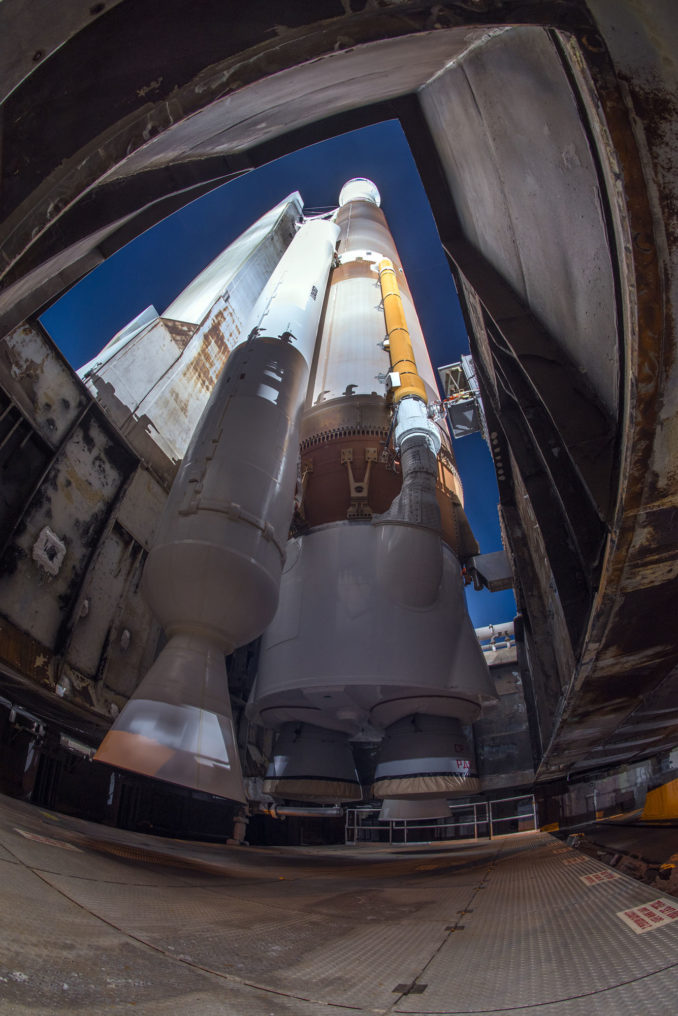 CAPE CANAVERAL — An early bird rocket launch from the Florida spaceport will take to the skies before dawn Saturday when an Atlas 5 lofts a classified U.S. government satellite.
United Launch Alliance will send up the clandestine NROL-52 payload for the National Reconnaissance Office, the agency responsible for the country's fleet of spy satellites.
Saturday's liftoff is scheduled for 3:31 a.m. EDT (0731 GMT), and weather forecasters give a 40 percent chance of acceptable launch conditions.
Standing 194 feet tall and weighing nearly a million pounds once fully fueled, the Atlas 5 rocket, designated AV-075, will produce nearly 1.6 million pounds of thrust at liftoff from its main engine and two side-mounted solid-fuel boosters.
The trajectory will take the rocket eastward, likely toward a geosynchronous transfer orbit.
A similar Atlas 5 variant launched the NROL-61 mission along the same flight path last summer.
Both missions were assigned to ULA as part of the 36-core Block Buy from the U.S. Air Force.
Then-Secretary of the Air Force Deborah Lee James testified to the U.S. Senate, in questions about the Block Buy, that the pair of missions were "already on fixed-price contracts that include provisions for an Atlas 5 launch vehicle provided as government furnished equipment."
And the satellites' mass to orbit, she said, exceeded the capabilities of SpaceX's Falcon 9 lift capabilities at the time of award.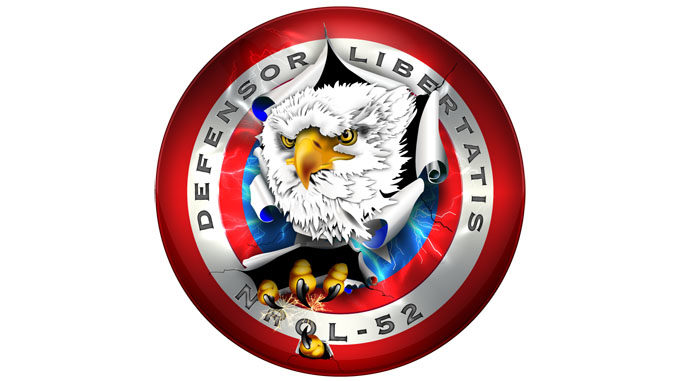 Those factors made the missions unsuitable for competition and left ULA as the only U.S. firm that could launch the payloads.
Created in 1961 and operated in total secrecy as a black organization until its existence was declassified in 1992, the NRO is the joint Department of Defense–Intelligence Community organization responsible for developing, launching and operating America's national security spy satellites.
"The NRO is a small, flat, end-to-end organization fully capable of successfully delivering an increasingly capable, integrated resilient and affordable architecture. We have control of every function required, from the R&D that enables us to stay ahead of targets and threats, to the acquisitions required to deliver new capabilities to respond to changing mission imperatives in the field," NRO Director Betty Sapp said in testimony to Congress this year.
The NRO is the nation's eyes and ears in space, supporting policy makers, the Armed Services, the Intelligence Community, Departments of State, Justice and Treasury, and civil agencies.
"We contribute to global intelligence, military and homeland security operations, while simultaneously assisting with the formation of national policy and achieving diplomatic goals. We provide direct support to U.S. warfighters, help protect U.S. borders and contribute significantly to the fight against ISIS and other counter-terrorism operations. NRO capabilities contribute to the U.S.'s ability to improve battlespace awareness, deter aggression and proliferation of weapons of mass destruction, combat terrorism, identify and track High-Value Targets and conduct security operations worldwide," Sapp testified.
"The NRO is advancing the sensor sensitivity of overhead SIGINT and GEOINT capabilities to collect against power signals and fleeting targets. We are improving the area persistence of our space-based systems to provide greater "time on target" to observe and characterize activities and the potential relationship between activities. We are working to reduce "sensor to shooter" timelines to get the right information to those who need it, when they need it. We're also developing smaller, less expensive satellites that can be launched in larger quantities to enhance our current architecture performance against high value and fleeting targets."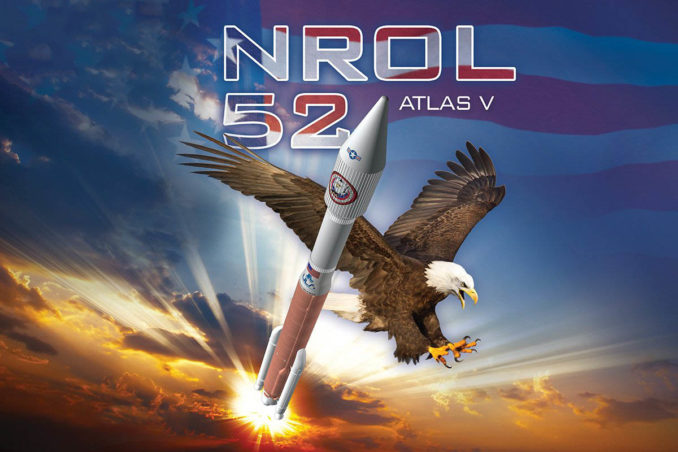 This launch comes three weeks after another Atlas 5 successfully deployed the NROL-42 surveillance satellite into a highly elliptical, highly inclined Molniya-style orbit from Vandenberg Air Force Base, California.
It was the 25th NRO launch successfully carried out by United Launch Alliance.
** ULA LAUNCHES FOR NRO **

Delta 322: NROL-21 on D2-7920 (Dec. 14, 2006) Vandenberg
AV-009: NROL-30 using Atlas 5-401 (June 15, 2007) Cape
AV-015: NROL-24 using Atlas 5-401 (Dec. 10, 2007) Cape
AV-006: NROL-28 using Atlas 5-411 (March 13, 2008) Vandenberg
Delta 337: NROL-26 on D4-Heavy (Jan. 17, 2009) Cape

AV-025: NROL-41 using Atlas 5-501 (Sept. 20, 2010) Vandenberg
Delta 351: NROL-32 on D4-Heavy (Nov. 21, 2010) Cape
Delta 352: NROL-49 on D4-Heavy (Jan. 20, 2011) Vandenberg
Delta 353: NROL-27 on D4-Medium+ (March 11, 2011) Cape
AV-027: NROL-34 using Atlas 5-411 (April 14, 2011) Vandenberg

Delta 359: NROL-25 on D4-Medium+ (April 3, 2012) Vandenberg
AV-023: NROL-38 using Atlas 5-401 (June 20, 2012) Cape
Delta 360: NROL-15 on D4-Heavy (June 29, 2012) Cape
AV-033: NROL-36 using Atlas 5-401 (Sept. 13, 2012) Vandenberg
Delta 364: NROL-65 on D4-Heavy (Aug. 28, 2013) Vandenberg

AV-042: NROL-39 using Atlas 5-501 (Dec. 5, 2013) Vandenberg
AV-045: NROL-67 using Atlas 5-541 (April 10, 2014) Cape
AV-046: NROL-33 using Atlas 5-401 (May 22, 2014) Cape
AV-051: NROL-35 using Atlas 5-541 (Dec. 13, 2014) Vandenberg
AV-058: NROL-55 using Atlas 5-401 (Oct. 8, 2015) Vandenberg

Delta 373: NROL-45 on D4-Medium+ (Feb. 10, 2016) Vandenberg
Delta 374: NROL-37 on D4-Heavy (June 11, 2016) Cape
AV-065: NROL-61 using Atlas 5-421 (July 28, 2016) Cape
AV-068: NROL-79 using Atlas 5-401 (March 1, 2017) Vandenberg
AV-072: NROL-42 using Atlas 5-541 (Sept. 23, 2017) Vandenberg

ULA is scheduled to perform its fourth launch just this year for the NRO in December using a Delta 4 from Vandenberg.
Saturday's launch will be the sixth and final of the year for the Atlas 5, all carrying missions in the national interest. Late deliveries of several more payloads, however, delayed five additional flights originally planned for 2017 until next year.
See earlier NROL-52 coverage.