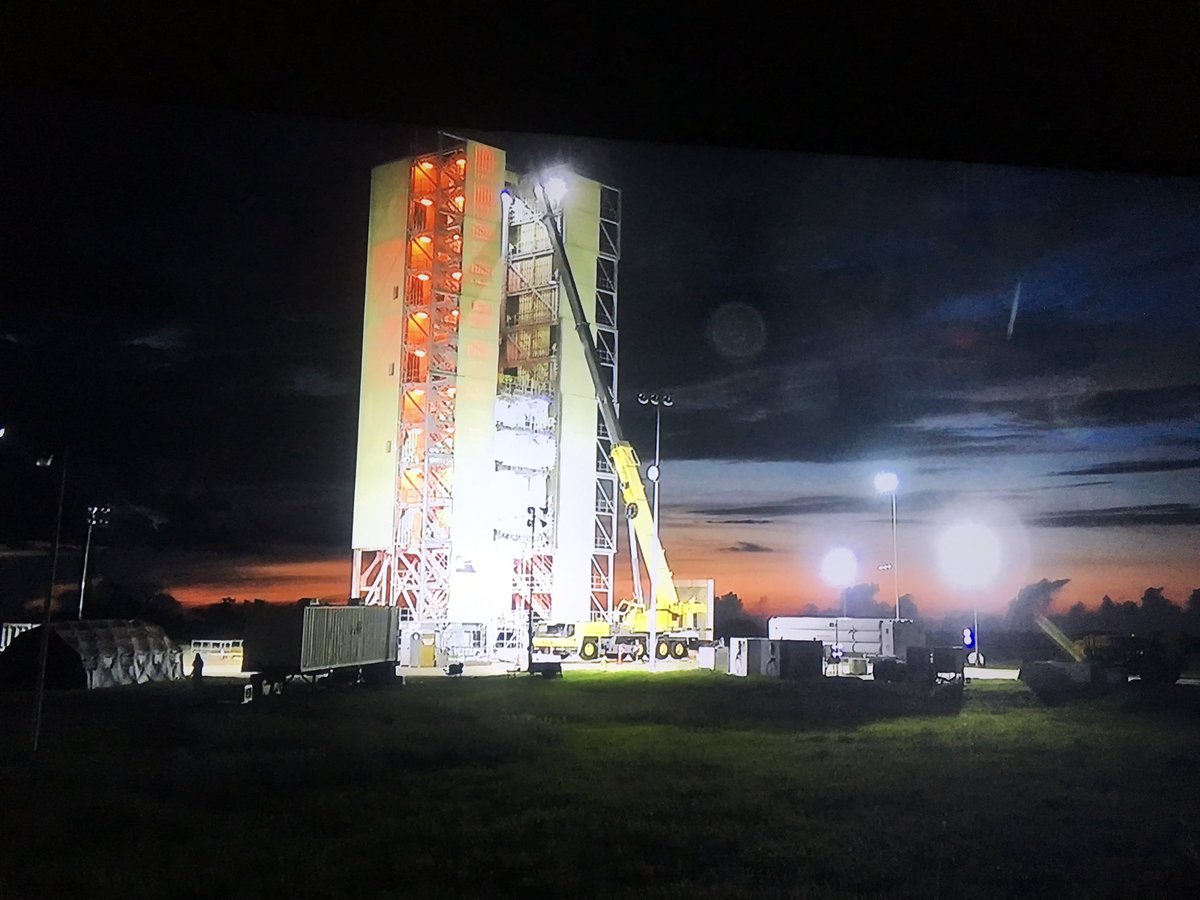 Using industrial cranes at a no-frills launch pad on the eastern tip of Cape Canaveral, a team of Orbital ATK and U.S. Air Force technicians have fully stacked a modified Cold War-era missile set for launch next week with a $49 million satellite built to track other objects in orbit.
The Minotaur 4 rocket, made up of five solid-fueled stages, is scheduled to fire into space from pad 46 at Cape Canaveral next Friday night, Aug. 25, at 11:15 p.m. EDT (0315 GMT on Aug. 26).
The mission has a four-hour window to lift off, or else wait until another day.
The spacecraft closed up inside the Minotaur 4's nose cone is named SensorSat. Developed by the Massachusetts Institute of Technology's Lincoln Laboratory, the Air Force-funded mission will spend three years scanning orbital traffic lanes, detecting and tracking satellites and space debris in a belt nearly 22,300 miles (35,800 kilometers) over the equator.
Objects at that altitude remain over fixed geographic positions on Earth, making geostationary orbit an ideal location for military and commercial communications satellites, weather observatories, and intelligence-gathering spy craft.
SensorSat is managed by the Air Force's Operationally Responsive Space division, an office established in 2007 to investigate lower-cost satellites and launchers. The Air Force calls the mission ORS-5, the latest in a line of projects aimed at testing out new satellite and launch innovations.
"The delivery and upcoming launch of ORS-5 marks a significant milestone in fulfilling our commitment to the space situational awareness mission and U.S. Strategic Command," said Lt. Gen. John F. Thompson, commander of the Space and Missile Systems Center and Air Force program executive officer for space. "It's an important asset for the warfighter and will be employed for at least three years."
Next week's nighttime blastoff will mark the first Minotaur launch from Cape Canaveral. Five Minotaur 4 rockets have launched on suborbital and orbital missions since 2010 from sites in California and Alaska.
The three main rocket motors that will power the Minotaur 4 into space came from stockpiles left over from the Air Force's retired nuclear-tipped Peacekeeper missiles. The rocket motors were filled with pre-packed solid fuel in the 1980s, then placed on alert in missile silos until the military decommissioned the Peacekeeper.
Two commercially-produced Orion 38 rocket motors built by Orbital ATK, the company charged with operating the Minotaur, will do the extra lifting to place SensorSat into orbit.
The Minotaur 4 usually flies with a single Orion 38 motor as a fourth stage, but SensorSat's unusual orbit requires another boost.
The fifth stage motor will give the relatively small 249-pound (113-kilogram) SensorSat satellite a kick into an equator-hugging orbit at an altitude of approximately 372 miles (600 kilometers) at zero degrees inclination.
The Air Force paid $27.2 million for the launch, opting for a commercial-like launch service to keep costs to a minimum. Orbital ATK considered basing the launch from a Minotaur pad at Wallops Island, Virginia, but the site is too far north to reach the equatorial orbit needed on the ORS-5 mission.
Another option Orbital ATK briefly considered was setting up a temporary Minotaur launch pad at the European-run spaceport in French Guiana, just north of the equator, but Cape Canaveral eventually became the best choice once engineers devised a way to add another rocket motor on top of the Minotaur 4.
Ground crews at pad 46 topped off the Minotaur rocket Tuesday with the addition of the SensorSat satellite and the Orion 38 fifth stage motor already closed up inside the launcher's nose shroud.
The first four stages of the Minotaur 4 will fire in quick succession in the first 15 minutes of the flight to climb into a preliminary parking orbit between around 248 miles and 372 miles (400 to 600 kilometers) above Earth. That temporary orbit will have a tilt of approximately 24.5 degrees to the equator.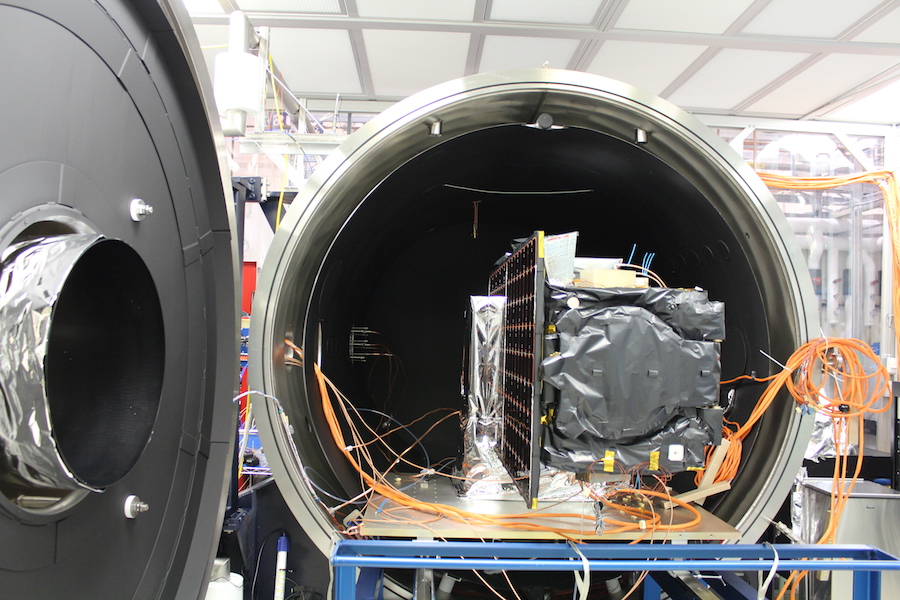 During the 10-minute coast until ignition of the fifth stage motor, the Minotaur will release two CubeSats for an undisclosed U.S. government agency, and a three-unit shoebox-sized CubeSat for the Defense Advanced Research Projects Agency, or DARPA.
Seattle-based Spaceflight made arrangements for the CubeSats launching on the Minotaur 4.
The Minotaur's last firing will last a little over a minute.
"The way to think of that fifth stage is it's an insertion stage," said Phil Joyce, vice president of small launch programs at Orbital ATK. "We used the standard Minotaur 4 to put us in a parking orbit … And then that fifth stage Orion 38 is there to circularize and to do the plane change down to equatorial."
With stacking of the Minotaur 4 now complete, attention turns to testing the rocket.
"Now we're in the process of our post-stack verification tests," said Terry Luchi, Orbital ATK's Minotaur program manager. "This is where we'll go through a series of avionics tests and verify that everything is still playing as expected."
A full mission dress rehearsal with the pad team and launch controllers is scheduled for Monday. The rest of the week leading up to launch day will be spent installing ordnance and preparing to arm the vehicle.
Luchi said the Minotaur team had to work around a busy launch manifest at Cape Canaveral. A SpaceX Falcon 9 rocket took off last Monday, Aug. 14, and a United Launch Alliance Atlas 5 booster launched Friday.
"This is the first time that we'll take Minotaur out of the Cape. We have some experience in the past on other vehicles, but bringing Minotaur to the Cape obviously presents some challenges," Luchi said in an interview with Spaceflight Now.
Orbital ATK is preparing the Minotaur 4 for launch at pad 46, a rarely-used facility operated by Space Florida, the state government agency chartered to lure commercial aerospace business to the area. The last launch from pad 46 occurred in 1999.
The Minotaur launch team raised three inert Peacekeeper stages at pad 46 earlier this year in a pathfinder test to familiarize themselves with the ground facilities and verify their compatibility.
The Air Force-run Eastern Range is also getting acquainted with the Minotaur for the first time.
While there are no more Minotaur missions from Cape Canaveral on Orbital ATK's manifest, Luchi said the experience gained on the ORS-5 campaign could set the stage for future Florida-based flights.
"I think we're done with this one time (at Cape Canaveral), it's going to be all that much easier in the future," Luchi said.
Orbital ATK has one more Minotaur 1 launch in its backlog from Wallops Island, Virginia, in late 2018. That flight, using a smaller version of the Minotaur based on retired Minuteman missile stages, will loft a classified spacecraft for the National Reconnaissance Office.
Joyce said Orbital ATK anticipates future Minotaur launch contracts from the U.S. government for small-class satellites. Because they use government-furnished rocket motors, the Minotaur 1 and 4 families are restricted from competing for commercial launch awards, a U.S. government policy that has drawn the ire of Orbital ATK, which sees privately-owned satellites in the Minotaur's lift envelope, including many U.S. payloads, going up on Indian, Russian and European launchers.
Proponents of the policy say that selling already-built missile motors into the commercial launch market would dampen innovation and keep new companies from introducing commercial rockets.
Several companies are working on commercial small satellite launch vehicles. Some have major strides, including a full-up test flight in the case of the U.S.-New Zealand company Rocket Lab, but none have successfully placed a payload into orbit.
Email the author.
Follow Stephen Clark on Twitter: @StephenClark1.