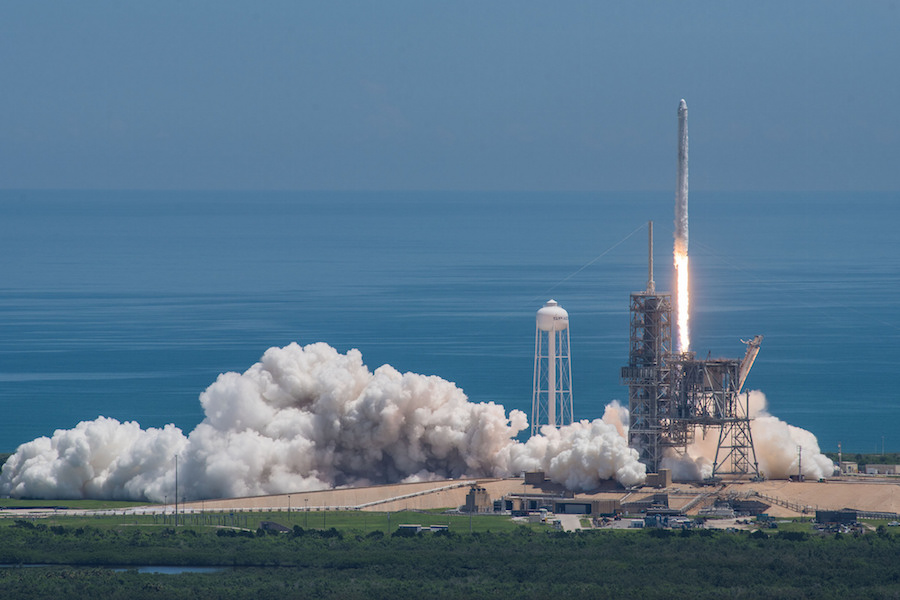 A SpaceX Falcon 9 rocket climbed into space Monday from NASA's Kennedy Space Center atop a column of gleaming exhaust, shooting a commercial resupply vessel toward the International Space Station with research projects looking into cosmic rays, the origin of Parkinson's disease, the utility of small satellites and an experimental radiation-tolerant supercomputer.
Crammed with more than 6,400 pounds (2,900 kilograms) of supplies, the Dragon capsule bolted on top of the Falcon 9 rocket also carried computer and camera gear, components to maintain the station's life support system and medical equipment, and provisions for the station's six-person crew, including clothing, fresh food and ice cream.
The 213-foot-tall (65-meter) rocket took off from pad 39A at the Florida spaceport at 12:31:37 p.m. EDT (1631:37 GMT), pitched toward the northeast to align with the space station's orbit, and roared through scattered clouds before disappearing into a blue summertime sky.
Nine Merlin 1D main engines at the base of the booster generated 1.7 million pounds of thrust, pushing the rocket into the stratosphere before the first stage switched off and fell away at an altitude of 40 miles (65 kilometers).
A single Merlin engine fired on the Falcon 9's upper stage to power the Dragon capsule into orbit. Glowing red-hot, the second stage engine throttled up to more than 200,000 pounds of thrust for its six-and-a-half minute firing.
Meanwhile, in a maneuver now common during SpaceX launches, the first stage flipped around with guided pulses of cold nitrogen gas to point tail first, then reignited three of its Merlin engines to boost itself back forward Cape Canaveral.
Two more braking maneuvers were needed to slow down the descending rocket, steering it back to the coast with the help of aerodynamic fins before extending four landing legs and settling on a concrete target at Landing Zone 1 less than eight minutes after liftoff, around 9 miles (15 kilometers) south of the Falcon 9's departure point at pad 39A.
"From what I've heard, it's right on the bullseye and (had a) very soft touchdown, so it's a great pre-flown booster ready to go for the next time," said Hans Koenigsmann, SpaceX's vice president of flight reliability.
SpaceX has reused two of its recovered first stage boosters to date, and engineers are prepping another previously-flown rocket for a mission with an SES communications satellite this fall.
The rocket launched Monday was a fresh vehicle, but its landing legs were scavenged from a vehicle flown on a previous mission, Koenigsmann said.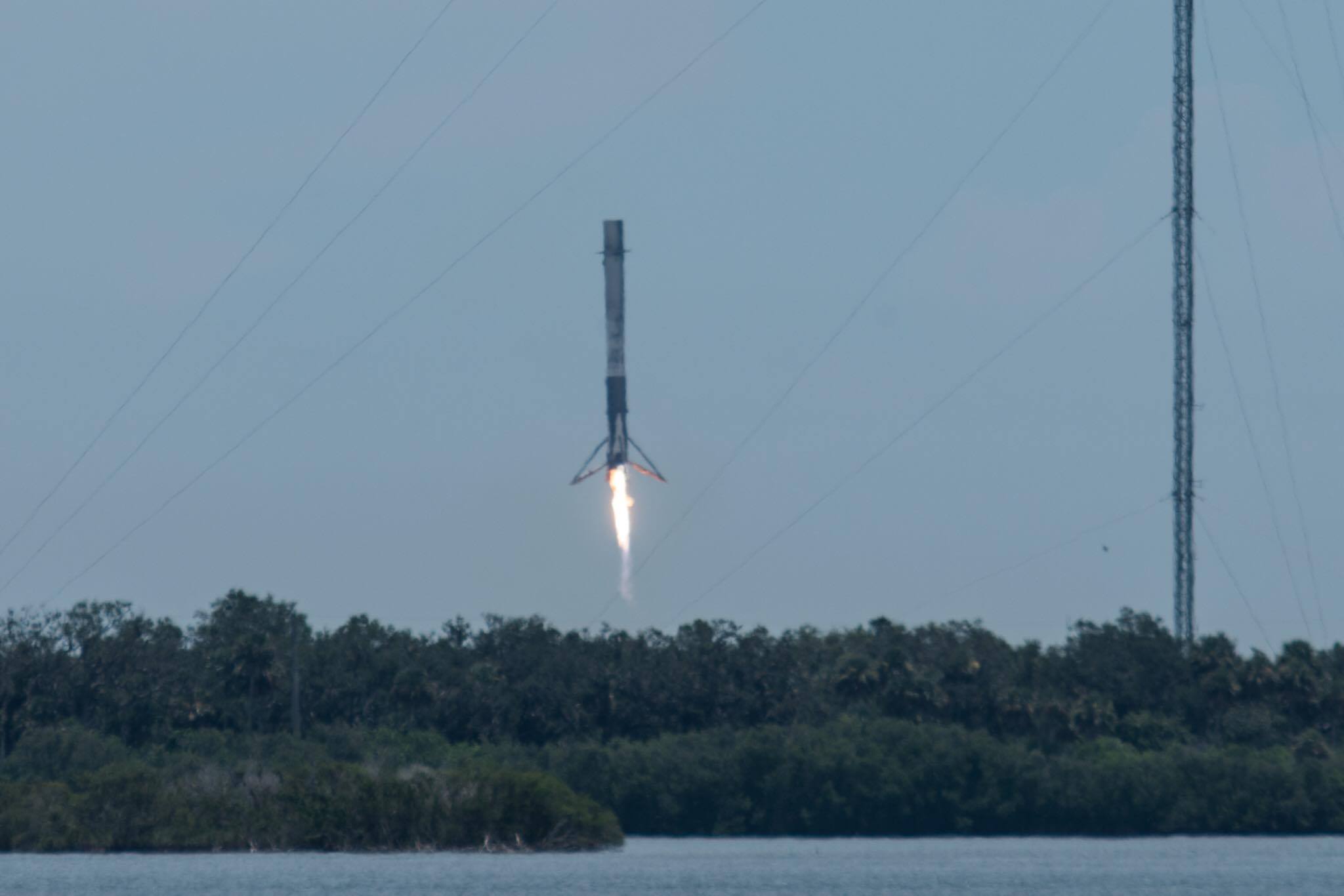 The upper stage continued rocketing into orbit, turning off its engine just after the nine-minute point in the flight, then deploying the Dragon capsule into an on-target slightly egg-shaped orbit averaging around 175 miles (280 kilometers) above the planet.
"The second stage went into a near-perfect orbit (and) deployed Dragon," Koenigsmann said in a media briefing around two hours after the launch.
"Dragon primed propellant and has performed the first co-elliptic burn at this point in time," he said, referring to the first in a series of thruster firings on tap to guide the capsule toward the space station.
The supply ship's power-generating solar arrays extended shortly after it arrived in space, while the Falcon 9's second stage reignited for a de-orbit maneuver to avoid the creation of space junk.
With Monday's launch, SpaceX's Falcon 9 rocket family has accomplished 39 missions since debuting in 2010, and 38 of them have succeeded in their primary objectives. Those statistics do not include a Falcon 9 rocket that exploded before takeoff during testing on the launch pad, destroying an Israeli communications satellite.
SpaceX has landed the Falcon 9's first stage intact 14 times in 19 tries since the company attempted its first rocket landing on a barge at sea in 2015. Six of those touchdowns have occurred at Landing Zone 1 at Cape Canaveral.
The automated cargo freighter will reach its destination Wednesday, when astronaut Jack Fischer will take command of the space station's Canadian-built robotic arm to capture the commercial spaceship around 7 a.m. EDT (1100 GMT).
The robotic arm will install Dragon on the space station's Harmony module for a planned 32-day stay.
While astronauts inside the station will unpack cargo inside Dragon's internal cabin, the Canadian and Japanese robotic arms will transfer a NASA-funded cosmic ray sensor to a mounting post outside the Kibo laboratory.
Derived from an instrument carried aloft on high-altitude balloons, the Cosmic Ray Energetics and Mass, or CREAM, payload will spend at least three years sampling particles sent speeding through the universe by cataclysmic supernova explosions, and perhaps other exotic phenomena like dark matter.
Scientists think the subatomic particles could hold the key to unlocking mysteries about the universe.
One experiment stowed inside the capsule's pressurized section will investigate the origins of Parkinson's disease in a bid to find a therapy that could slow or halt its development, and another will study the affects of spaceflight on the development of bioengineered lung tissue, potentially helping scientists lessen the chance of organ rejection in transplant patients.
A supercomputer developed by Hewlett Packard Enterprise will spend at least a year on the space station, helping engineers gauge the ruggedness of commercial computer components in the harsh conditions of space.
Most computers sent into space are physically hardened to withstand radiation, cosmic rays, and other rigors of spaceflight. Hewlett Packard said its "spaceborne computer" experiment was hardened with software, reducing the time, money and weight of the supercomputer.
The experimental computer passed at least 146 safety tests and certifications to win NASA approval for the trip to the space station. If it works, Hewlett Packard officials said it could help future space missions, including a human expedition to Mars, have the latest computer technology.
Four small satellites inside the Dragon capsule will be moved inside the space station for deployment later this year.
The biggest of the bunch, named Kestrel Eye 2M, is a pathfinder for a potential constellation of Earth-imaging spacecraft for the U.S. military. About the size of a dorm room refrigerator, the Kestrel Eye 2M satellite was developed by the Army's Space and Missile Defense Command over the last five years.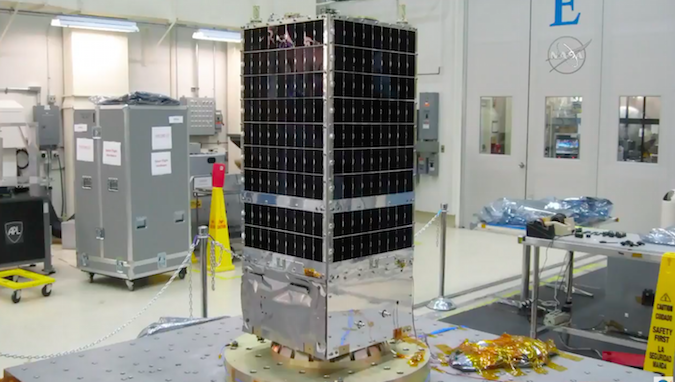 Three CubeSats sponsored by NASA will test technologies for compact telescopes that could help astronomers observe stars and search for exoplanets, demonstrate a more reliable small satellite design, and study space weather.
Monday's Falcon 9 flight was the first of three launches scheduled from Cape Canaveral in the next 11 days.
A United Launch Alliance Atlas 5 rocket is scheduled to roll out Wednesday to pad 41 at the Cape ahead of liftoff Friday at 8:03 a.m. EDT (1203 GMT) with a NASA satellite designed to track rockets climbing into space and relay communications between scientific spacecraft in orbit around Earth.
An Orbital ATK Minotaur 4 rocket is being readied for launch at 11:15 p.m. EDT Aug. 25 (0315 GMT Aug. 26) from Cape Canaveral's pad 46 with a military space surveillance mission.
The next mission on SpaceX's manifest is scheduled for Aug. 24 from Vandenberg Air Force Base in California. A Falcon 9 rocket will haul the Taiwanese Formosat 5 Earth observation satellite into a polar orbit, and its first stage will attempt a return to a barge downrange in the Pacific Ocean.
SpaceX's team at the Kennedy Space Center will prepare a Falcon 9 to deploy the U.S. Air Force's reusable X-37B spaceplane no earlier than Sept. 7.
Email the author.
Follow Stephen Clark on Twitter: @StephenClark1.