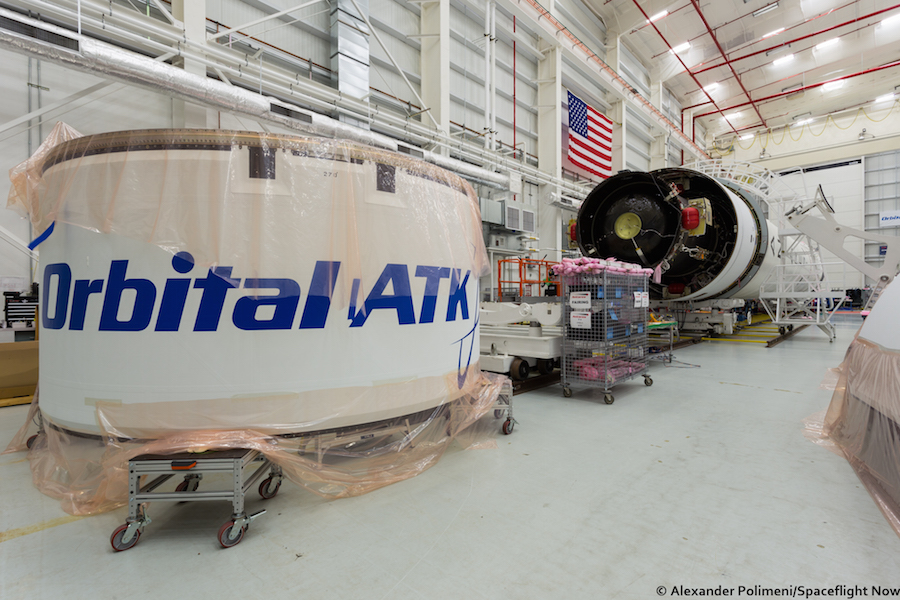 As Orbital ATK engineers aim for the next launch of the company's Antares rocket from Virginia this fall, early planning for missions to keep the International Space Station supplied through the early 2020s is already underway.
The Cygnus supply ship is booked for at least 10 more hardware delivery missions to the space station, joining SpaceX's Dragon freighter and Sierra Nevada's Dream Chaser spaceplane in the U.S. fleet of unpiloted commercial cargo transporters under contract to NASA.
Orbital ATK plans to send heavier loads, and perhaps large unpressurized elements, to the space station in the future. SpaceX's Dragon and Japan's HTV supply ship currently haul up payload packages and spare parts for mounting outside the complex.
NASA has penciled in Oct. 11 for Orbital ATK's next station cargo launch aboard an Antares rocket from pad 0A at the Mid-Atlantic Regional Spaceport, a launch complex located NASA's Wallops Flight Facility on Virginia's Eastern Shore.
Frank DeMauro, vice president and general manager of Orbital ATK's advanced programs division, said the company's rocket and spacecraft teams would be ready to launch as soon as NASA confirms the space station is ready to receive the robotic cargo craft.
"With Cygnus, the hardware is ready to go to the next phase, which is launch site integration," DeMauro said in a recent interview with Spaceflight Now. "Antares is also in great shape. They've completed all their integration and testing, and they've gotten it all the way to the point where they're ready for their next phase of integration."
"The Antares rocket, as well as the Cygnus spacecraft that it will launch on the next cargo mission to the space station are now essentially built and tested and ready for cargo loading at the Wallops Island launch site," said David Thompson, president and CEO of Orbital ATK, during a quarterly call with investment analysts Thursday. "We were, and are, on schedule to carry (cargo loading) out this month, but I think NASA's going to delay that probably until October in order to provie a full load of cargo."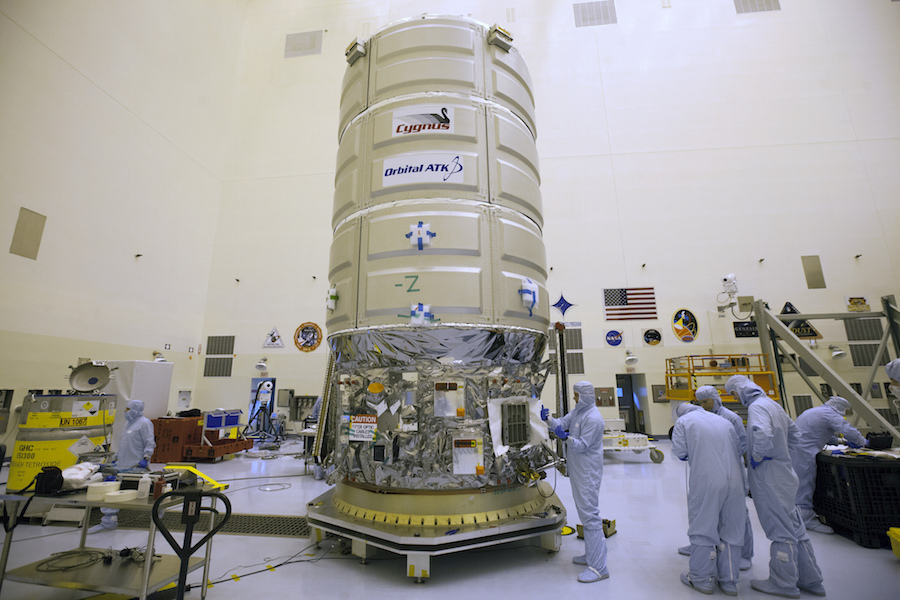 "There's one particular item, a spare part or subsystem for the space station, that they'd like us to carry on this mission, and that cargo element is going to pace the launch and it's running a bit later than previously expected," Thompson said.
Orbital ATK officials said in June they could be ready to launch the next Antares rocket before the end of the summer, with liftoff then targeted for Sept. 12.
The launch date has been rescheduled for Oct. 11, according to Sam Scimemi, director for the International Space Station program at NASA Headquarters. Scimemi briefed members of the NASA Advisory Council's human exploration and operations committee on the station's status in late July.
DeMauro said the Cygnus spacecraft, which comes in two major pieces, is nearly ready for the flight this fall, named OA-8 in Orbital ATK's mission sequence. The ship's pressurized cargo module, transported from its Thales Alenia Space factory in Turin, Italy, is at Wallops, and the Cygnus service module for the OA-8 mission has completed testing at Orbital ATK's manufacturing facility in Dulles, Virginia, and is ready for the trip to Wallops launch site, he said.
Thompson said Thursday that the OA-8 launch delay makes it unlikely the company can fit two more station cargo flights this year. The next one, OA-9, is expected to lift off in the first quarter of 2018, and DeMauro said the Italian-built cargo module for that Cygnus spacecraft is already at Wallops, too.
Three of Orbital ATK's last four Cygnus flights have lifted off on United Launch Alliance Atlas 5 rockets as engineers redesigned the Antares first stage propulsion system in the wake of a launch failure in October 2014. The first Antares launch with new Russian-made RD-181 engines last October went well, officials said, increasing the weight of cargo that can be lofted by the rocket.
The earlier version of the Antares could send an "enhanced" Cygnus spacecraft — flying with a lengthened cargo module — packed with up to 5,950 pounds (2,700 kilograms) of supplies to the space station. Engineers initially predicted the upgraded Antares could lift up to 7,050 pounds (3,200 kilograms) of cargo and experiments, but the redesigned rocket performed better than expected, and the OA-8 mission will be capable of hauling up to 7,385 pounds (3,350 kilograms) of payloads to the space station, according to Kurt Eberly, the Antares program manager at Orbital ATK.
"We've done a detailed data review from all the data on that mission, and it was a very clean mission," Eberly said in a June press briefing. "Very good performance. We got a little more energy out of the first stage and the second stage than we were counting on. We always put a little margin in, and it turns out we can release a lot of that margin, and that's helping us achieve some of these higher performance levels."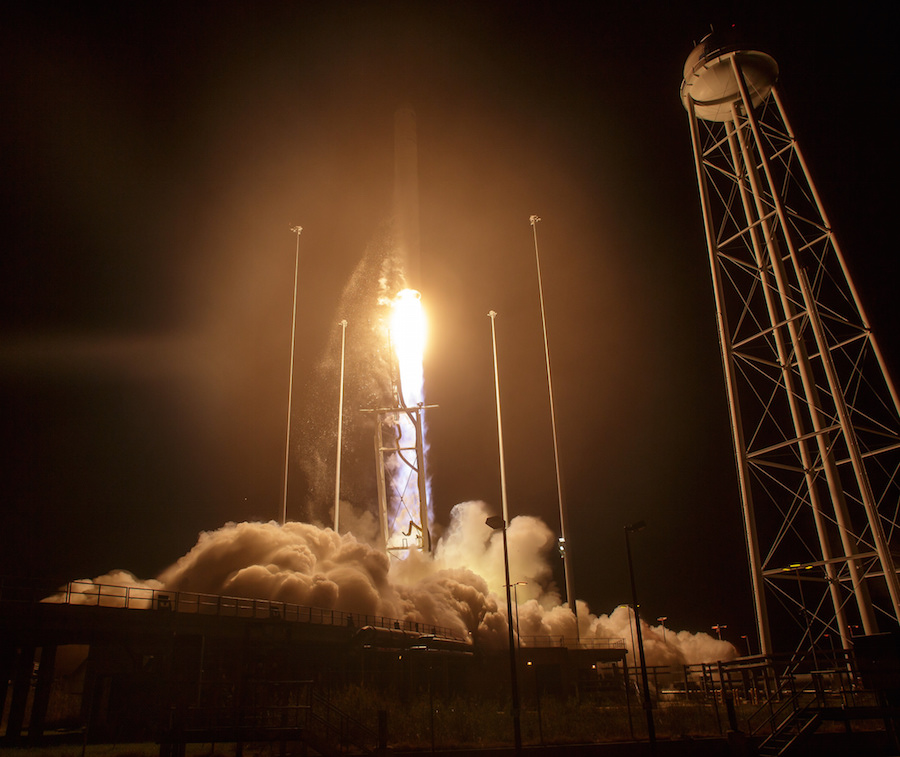 By the time Orbital ATK launches its 11th cargo mission, a flight scheduled no earlier than December 2018, officials said the Antares/Cygnus combination will be able to deliver more than 7,700 pounds (3,500 kilograms) of logistics and provisions to the space station per launch.
The new RD-181 engines produce more thrust than the Antares rocket's previous AJ26 engines, and they burn their kerosene and liquid oxygen propellants more efficiently.
Eberly said mission designers took a conservative approach on the Antares launch last October, the first with RD-181 engines.
"We flew to a delta velocity threshold," Eberly said. "When we hit that, we shut down the engines. We had a lot of fuel left in the tanks. Now, we're just going to move that threshold a little higher and burn more of the fuel in the first stage. At that point in the flight regime, the acceleration is pretty high because the stage is pretty light. Most of the propellant is gone, so you actually pick up quite a bit of performance by burning just a few more seconds into that propellant residual in the tanks."
NASA awarded Orbital ATK — then called Orbital Sciences — its first commercial resupply contract alongside SpaceX in December 2008. The space agency selected the companies to ferry equipment to the space station after the space shuttle's retirement.
Each company has suffered one launch failure while attempting to deliver supplies to the station.
NASA asked for bids again in 2014 for contracts to meet the station's logistic's needs from 2019 through 2024, and again chose Orbital ATK and SpaceX. The agency added Sierra Nevada Corp.'s Dream Chaser spaceplane as a third cargo transportation provider. Each company is guaranteed at least six missions under the new cargo contract.
DeMauro said Orbital ATK's future missions will give NASA flexibility in choosing what type of equipment it needs to haul to the orbital research outpost.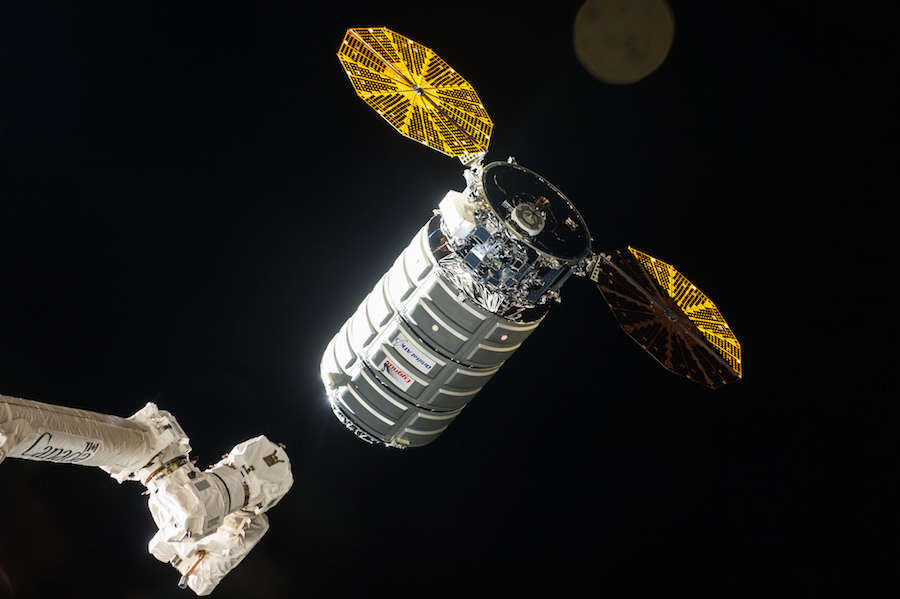 Starting in 2019, station managers can pick between three different types of Cygnus resupply missions.
"The first mission type is a pressurized cargo mission on Antares, very similar to what we're flying on OA-8 to OA-11," DeMauro said in a July 11 interview. "Those will have a little bit more cargo capacity, but it's an Antares-based mission.
"The second mission type is an Atlas-based mission," he said. "It's still a pressurized cargo mission, but it has even more cargo. We included that as an option for NASA just so they could optimize what they wanted in terms of cargo delivery from our system."
The Antares missions will continue to lift off from Virginia, while future Atlas 5 launches with Cygnus cargo carriers will depart from Cape Canaveral. Thales Alenia Space would build a bigger version of the Cygnus pressurized cargo module for the Atlas 5 flights, DeMauro said.
"The third mission type is an unpressurized cargo mission, and that's based on Antares," DeMauro said. "So two of the three are Antares-based and one is Atlas-based, and we included that Atlas-based mission (option) just to give NASA the flexibility for a larger pressurized cargo delivery."
Orbital ATK's concept for the unpressurized cargo system would involve removing the Cygnus pressurized cabin from the service module and adding a platform to hold experiments and spare parts that will go outside the space station. Many of those components are the size of a coffee table and are relocated from cargo ships to the station with the aid of robotic arms.
"You can think of it as having various shelving and strongback structures to be able to carry those big ORUs (Orbital Replacement Units) up inside an Antares," DeMauro said.
NASA has authorized the first of the six Cygnus flights planned from 2019 through 2014. Named OA-12, that mission will launch on an Antares booster from Wallops Island with pressurized cargo.
"We have six missions that have been contracted for on CRS-2," said Frank Culbertson, a former astronaut and president of Orbital ATK's space systems group. "The first one has been given a go-ahead for activity, so we are doing long-lead purchasing, beginning the process to … start building the structure. That one should launch in, we hope, 2019."
Email the author.
Follow Stephen Clark on Twitter: @StephenClark1.