STORY WRITTEN FOR CBS NEWS & USED WITH PERMISSION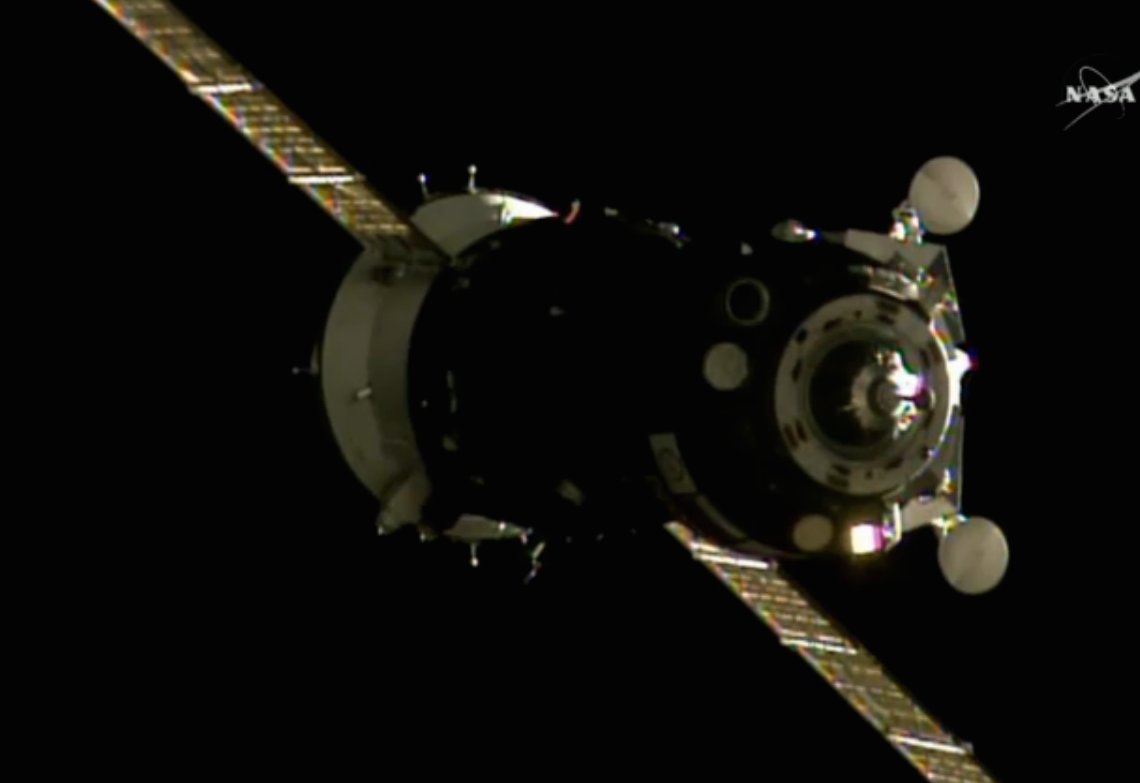 A Russian Soyuz spacecraft featuring a variety of avionics upgrades and other changes to improve reliability and performance docked with the International Space Station early Saturday after a two-day orbital chase, bringing three fresh crew members to the lab complex.
With commander Anatoly Ivanishin monitoring a flawless automated approach, flanked on the left by Japanese flight engineer Takuya Onishi and on the right by NASA astronaut Kate Rubins, the Soyuz MS-01 ferry craft eased in for smooth docking at the Earth-facing Rassvet module at 12:06 a.m. EDT (GMT-4).
After residual motions damped out, hooks and latches engaged, pulling the spacecraft firmly into the docking mechanism before extensive leak checks to verify a tight seal.
Finally, at 2:26 a.m., hatches were opened and a half-hour later, after waiting to establish a video link back to mission control near Moscow, station commander Jeffrey Williams, Oleg Skripochka and Alexey Ovchinin welcomed their new crewmates aboard with hugs and handshakes.
All six crew members then gathered in the Russian Zvezda module for a traditional video conference with mission managers, family and friends.
"You guys look great, you guys had a great flight up it looks like," called Michael Magnani, Rubins' husband. "You seem to be a pro already floating out of the hatch."
"Not as good as these guys!" Rubins said, laughing. "But yeah, we had a good flight. It was fantastic."
"Everybody looks good," Magnani said. "Congratulations Anatoly and Tak, also. Wish you guys a safe and productive mission. And Kate, I look forward to talking to you in a couple of days. I'll be sure to bring the camera over to show you Belka and Strelka."
He was referring to the couple's two dogs, named after a pair of Russian canines that were launched into space in 1960.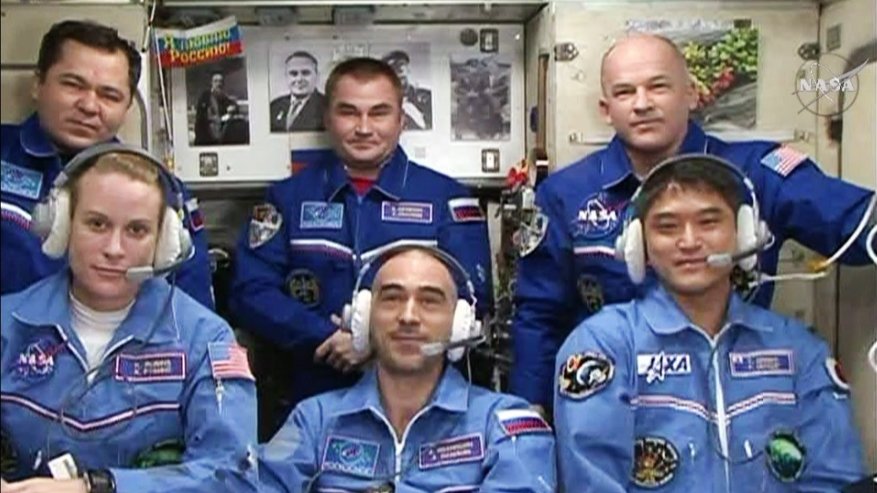 The Soyuz MS-01 spacecraft blasted off from the Baikonur Cosmodrome in Kazakhstan Wednesday night U.S. time. Soyuz crews normally carry out a four-orbit rendezvous with the station, catching up with the lab and docking about six hours after launch.
But the Soyuz MS-01 spacecraft is the first featuring a wide variety of upgrades and Russian mission managers ordered a two-day rendezvous to give engineers time to put the new systems through their paces.
Mark Bowman, a NASA engineer familiar with the Soyuz and its systems, said the upgrades were intended "to increase the reliability of the spacecraft (and) enhance performance and technical specifications."
An integrated command and telemetry system will permit future Soyuz crews to relay voice, commands and telemetry back to flight controllers over at least 70 percent of each orbit using Russian communications satellites. Earlier versions of the Soyuz could only communicate with mission control when flying over Russian ground stations.
An upgraded navigation system is now on board to take advantage of U.S. Global Positioning System navigation satellites and similar Russian GLONASS navigation beacons, allowing crews to calculate rendezvous rocket firings independent of ground stations
A new phased-array rendezvous radar allowed the Russians to reduce the number of antennas required to guide the ship in for docking, the propulsion system features a new thruster configuration, an additional battery set was added and the spacecraft's solar arrays are more efficient.
Other improvements include additional shielding to protect against micrometeoroids and a digital television system.
"The testing has been comprehensive and extensive," Bowman said. "Most, or many, of the modifications have already flown on previous versions of the Soyuz. Even though they were TMA-M vehicles, they one-by-one implemented some of the modifications, they tested the redundant drive motors on the docking system, they tested the KURS (rendezvous) system, so they've been tested on both Progress and Soyuz vehicles."
The two most recent Progress supply ships included "all of the modifications comprehensively so that they'll have two positive flights and positive test results on Progress vehicles, giving them great confidence that the Soyuz will be fine," Bowman said.
Even so, the next MS-series vehicle, scheduled for launch in September, also will take 34 orbits — two days — to reach the station to allow time for additional in-flight testing.
"Going to 34-orbits gives them lots of time to test the new unified, integrated command and telemetry system," Bowman said. "It gives them a chance to do some flying quality assessments with the new thruster configuration and it gives them a chance to test communications using the new Luch satellites as well as the ground systems that have been upgraded to work with the S-band telemetry."
Email the author.
Follow Stephen Clark on Twitter: @StephenClark1.