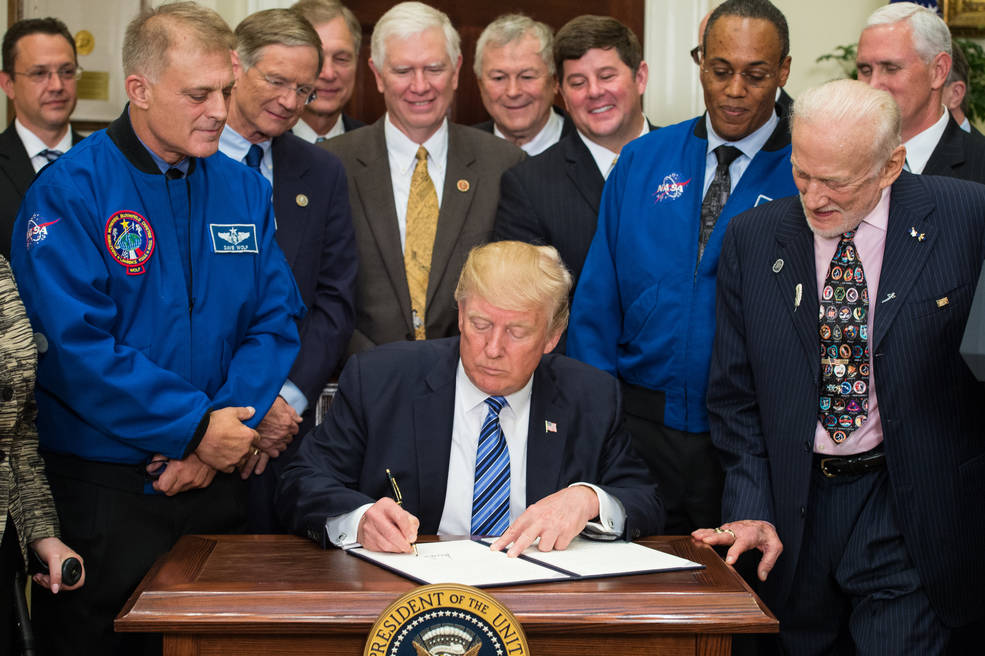 Emphasizing commercial, technological and national security opportunities in space, President Donald Trump signed an executive order Friday re-establishing the National Space Council, a space policy advisory and steering group that was last active nearly 25 years ago.
The directive to relaunch the council was promised by Trump's presidential campaign, and Vice President Mike Pence announced in March that he would chair the reinstated National Space Council.
Friday's signing by President Trump formally sets up the council, an inter-agency board that will include the secretaries of state, defense, commerce, transportation and homeland security, the head of the government's intelligence community, the NASA administrator, the chairman of the Joint Chiefs of Staff, and other Trump administration officials.
"Today's announcement sends a clear signal to the world that we are restoring America's proud legacy of leadership in space," Trump said. "Our vice president cares very deeply about space policy, and for good reason. Space exploration is not only essential to our character as a nation, but also our economy and our great nation's security."
The council will review space policy, develop a national space strategy, make recommendations to the president on space issues, foster close coordination and cooperation among civilian, military and commercial space sectors, and advise on U.S. participation in international space activities, according to the document signed Friday by President Trump.
But many questions remain unanswered about the space program's future under President Trump, including the balance between traditional government-managed projects and privately-run efforts.
The White House has not named a nominee to be NASA's next administrator, and President Trump has also not appointed a science advisor. The three remaining employees in the science division of the White House's Office of Science and Technology Policy left their jobs this week. Their departures left the science division unstaffed, according to CBS News.
While slashing Earth science research and calling for the elimination of NASA's education office, the Trump administration's first budget request keeps Obama-era human spaceflight programs in place, continuing spending on commercial space taxis to ferry astronauts to and from the International Space Station, the government-owned Space Launch System mega-rocket, and the Orion crew capsule designed for deep space missions.
"We will continue to unlock the mysteries of space, but to do so, we most reorient our civilian space program toward deep space exploration and provide the capabilites for America to maintain a constant presence in low Earth orbit and beyond," Pence said earlier this month in a speech at NASA's Johnson Space Center in Houston.
Apollo 11 moonwalker Buzz Aldrin joined other astronauts, lawmakers and business executives at the signing ceremony in the White House.
"I am pleased that President Trump has signed an executive order re-establishing the National Space Council," said Robert Lightfoot, NASA's acting administrator, in a statement. "The council existed previously from 1989-1993, and a version of it also existed as the National Aeronautics and Space Council from 1958-1973. As such, the council has guided NASA from our earliest days and can help us achieve the many ambitious milestones we are striving for today."
Lightfoot added that the council "will help ensure that all aspects of the nation's space power — national security, commerce, international relations, exploration, and science — are coordinated and aligned to best serve the American people."
Elon Musk and Jeff Bezos, billionaires who established SpaceX and Blue Origin with their fortunes, did not attend the White House signing ceremony. Congressman Jim Bridenstine, R-Oklahoma, a rumored candidate to become NASA's next administrator, was also absent.
The chief executives of Boeing, Lockheed Martin and United Launch Alliance were there, along with an executive from Orbital ATK. Sandy Magnus, a former astronaut and executive director of the American Institute for Aeronautics and Astronautics, also attended the order-signing.
"We appreciate the Trump Administration's efforts to strengthen our nation's space enterprise and view this as an opportunity to create an integrated strategic approach to U.S. space endeavors," Magnus said in a statement.
The order resurrecting the National Space Council also sets up a "Users' Advisory Group" with members from industry and other organizations involved in aeronautical and space activities.
"I'm very happy to see this executive order," said Alan Stern, chairman of the Commercial Spaceflight Federation, an advocacy group that promotes commercial human spaceflight. "I think that a new National Space Council is an important step forward for the nation and for space exploration, and on first brush, I'm very happy with the structure of the council."
Stern said he was also pleased that Vice President Pence will lead the council.
"That's precisely how it worked when the nation was really turning heads around the world with space exploration in the 1960s," Stern said in an interview Friday with Spaceflight Now. "Lyndon Johnson had that job."
Stern said he wants to ensure the voices of the commercial space industry and scientists are heard by the council through the Users' Advisory Group.
"I do think the devil is in the details, and I'm going to be looking very closely to see that the commercial space community, the scientific community and other stakeholder communities are properly represented, not just at a token level but at a meaningful level," Stern said.
"And I'm sure that I'm not alone in that," he said. "Many others are watching to make sure that the deck isn't stacked for certain communities, and leaving others behind or under-represented."
"The Trump people have been talking about this since before the inauguration, so it's finally good to see some action," said John Logsdon, a space historian, policy analyst and professor emeritus at George Washington University. "I frankly expected this to be part of a package of signing the executive order and naming the new leadership of NASA, so I'm a little disappointed that that didn't happen."
Stern agreed that the Trump administration should name a new NASA administrator soon.
"I think, now that we're about six months past the inauguration, it's beginning to hurt that NASA doesn't have a named administrator," Stern said. "While Robert Lightfoot is doing a tremendous job as acting administrator, it's time for an agency of this scope, and this importance to the nation, to get an appointee."
Logsdon called the establishment of the National Space Council a "potential step towards a high-quality, coherent U.S. space program."
But the tenor of the council could be much different today than under the first Bush administration.
"One of the big differences is a vibrant commercial space sector, which wasn't the case in 1989 through 1993," Logsdon said in an interview Friday. "Another is that, in principle, this space council will be able to exert influence over the national security space program, which the Bush 41 council was never able to do.
"What happened in '89 is Mr. Bush set these very ambitious goals — back to the moon, this time to stay, and then on to Mars — and NASA didn't want to do them," Logsdon said. "So let's see whether Mr. Trump has some goals to set, and whether the leadership he puts in place at NASA is consistent with his goals."
Email the author.
Follow Stephen Clark on Twitter: @StephenClark1.