STORY WRITTEN FOR CBS NEWS & USED WITH PERMISSION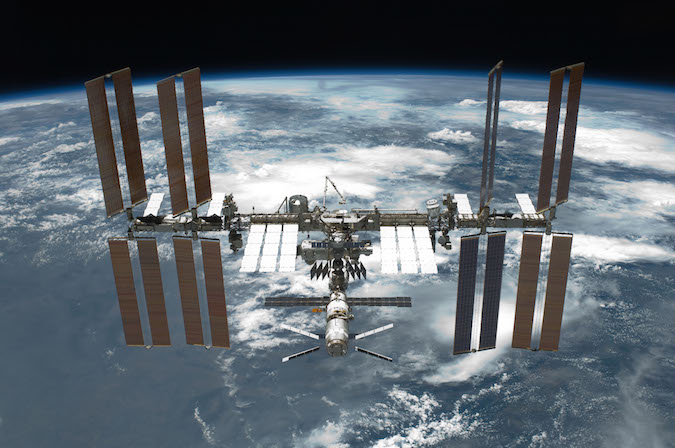 The Trump administration's fiscal 2018 budget request includes $19.1 billion for NASA, a $561 million decrease over previously enacted levels that would reduce the number of Earth science missions, eliminate the agency's education office and do away with the Obama administration's plans to robotically retrieve a piece of an asteroid as a precursor to eventual flights to Mars.
The budget closely reflects the administration's blueprint, released in March, and overall, NASA's acting administrator said America's space program remains healthy and suffered relatively modest cuts compared to other federal agencies.
"What this budget tells us to do is keep going, keep doing what we've been doing, very important for us to maintain that course and move forward as an agency with all the great things we're doing," Robert Lightfoot told agency employees in a televised address.
"We've got $19.1 billion as an agency, and it really reflects the president and the administration's confidence in us moving forward. I think you guys can take a lot of confidence in that when you see what's happening and the overall pressure on the budget in the entire country. We did really well."
The budget continues robust support for the $8.6 billion James Webb Space Telescope, the long-awaited successor to the Hubble Space Telescope that is scheduled for launch next year, two robotic Mars landers, a planned mission to study Jupiter's enigmatic moon Europa from orbit — a lander is excluded — and two probes designed to study asteroids.
Relatively minor cuts were imposed on the agency's heavy lift Space Launch System rocket and Orion deep space crew capsule, the centerpieces of plans to move beyond low-Earth orbit, first with flights to the vicinity of the moon in the 2020s followed by eventual flights to Mars in the 2030s.
"We've had a horizon goal for some time now of reaching Mars, and this budget sustains that work and also provides the resources to keep exploring our solar system and look beyond it," Lightfoot said in a statement. "And, it enables us to keep innovating and creating the technologies that will take us to deep space and improve the aeronautics systems on which all of us rely."
The International Space Station remains fully funded as do commercially-procured cargo missions launched by SpaceX and Orbital ATK. Funding for continued development of commercial crew ships being built by SpaceX and Boeing to ferry astronauts to and from the space station is reduced in the new budget request but that was expected given the companies are nearing flight readiness.
The Trump administration favors such public-private partnerships and NASA management seems to concur.
"The budget supports and expands public-private partnerships as the foundation of future U.S. civilian space efforts," Lightfoot said in a preface to the budget document. "Such partnerships have enabled American industry to provide cargo resupply services for the International Space Station and the imminent return of the capability to launch astronauts from American soil.
"The budget creates new opportunities for collaboration with industry in space station operations, deep space habitation, Earth observation and the development of new technologies. … Our missions help develop our evolving industrial base, which strengthens our economic and national security, and give our nation greater capabilities and flexibility to achieve challenging exploration goals."
Space science, which includes missions to study Earth, other planets in the solar system, astrophysics, solar physics and space weather, would receive $5.7 billion under the Trump administration's budget request, about $53 million less than in the enacted FY '17 budget.
The Trump administration has made no secret of its skepticism about global warming and its presumed causes and impacts and as expected, the budget eliminates funding for five Earth science missions and instruments. Earth science would receive $1.8 billion overall, reflecting a reduction of nearly $170 million.
"The hard choices are still there, and we can't do everything," Lightfoot said. But the budget "still includes significant Earth science efforts, including 18 Earth observing missions in space as well as airborne missions."
Planetary science would receive $1.9 billion under the president's budget, funding continued development of the InSight Mars lander, scheduled for launch in 2018, the Mars 2020 rover and continued design and development of the Europa Clipper, a multi-billion-dollar "flagship" mission that would fly in the mid 2020s. The Europa Clipper would receive $425 million in the new budget.
Some $817 million is earmarked for astrophysics, including continued support for the Hubble Space Telescope and the Wide-Field Infrared Survey Telescope — WFIRST — while a separately budgeted $534 million will go to the James Webb Space Telescope. Solar physics would receive $678 million, supporting launch of two sun-study missions.
Overall, the science budget supports continued development of about 30 missions and operational support for more than 60 active projects.
Human exploration and ground systems is budgeted at $3.9 billion, covering ongoing development of the SLS mega rocket and the Orion crew capsule. Space operations, which includes costs to operate the International Space Station, runs $4.7 billion with another $679 million earmarked for advanced space technology development, including high-power solar-electric propulsion and high-speed laser communications systems.
Aeronautics research — the A in NASA — would receive $640 million under the president's budget request.
Funding for NASA's education office will be cut from $100 million to $37 million, enough to close down operations across the agency.
"While this budget no longer supports the formal Office of Education, NASA will continue to inspire the next generation through its missions and the many ways that our work excites and encourages discovery by learners and educators," Lightfoot said. "We are as committed to inspiring the next generation as ever."