STORY WRITTEN FOR CBS NEWS & USED WITH PERMISSION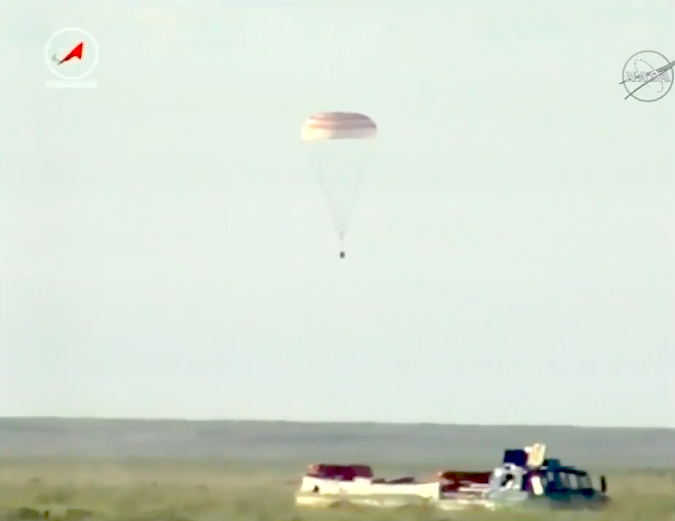 Leaving crewmate Peggy Whitson behind in orbit for an extended mission, a Russian cosmonaut and his French co-pilot undocked from the International Space Station early Friday and plunged back to Earth, landing on the steppe of Kazakhstan to close out a 196-day mission.
Under a clear early evening sky, Soyuz MS-03 commander Oleg Novitskiy and European Space Agency astronaut Thomas Pesquet, tightly strapped into their seats in the ferry ship's crew module, descended under a large orange and white parachute before settling to a jarring rocket-assisted touchdown 90 miles east of Dzhezkazgan, Kazakhstan, at 10:10 a.m. EDT (8:10 p.m. local time).
Russian and European Space Agency recovery crews and flight surgeons reached the charred spacecraft within minutes to assist the returning station fliers as they begin re-adjusting to gravity after 196 days 17 hours and 49 minutes off planet. Novitskiy's total time in space over two missions now stands at 340 days.
During their six-and-a-half months in space, the Soyuz MS-03 crew completed 3,136 orbits covering 82.9 million miles. They helped welcome five visiting vehicles — four cargo ships and a crew ferry flight — and Pesquet participated in two spacewalks totaling 12 hours and 32 minutes.
Novitskiy and Pesquet were helped from the cramped descent module and carried to nearby recliners for initial medical checks and satellite phone calls to family and friends. Both men looked fit and in good spirits, smiling and chatting with recovery crews as they enjoyed fresh air and warm temperatures, safely back on Earth.
Novitskiy and Pesquet were to be flown by helicopter to the town of Karaganda for an official Kazakh welcome ceremony. Novitskiy then will board a Russian jet for the flight back to Star City near Moscow while Pesquet, a former Air France pilot, boards and ESA aircraft and returns to Cologne, Germany, for debriefing at an ESA facility.
Whitson, NASA's most experienced astronaut, launched into space with Novitskiy and Pesquet aboard the Soyuz MS-03 ferry craft last Nov. 17. She originally expected to come home with them, but in April, her mission was extended to Sept. 3.
"We are, of course, going to miss Oleg and Thomas," Whitson said Thursday, choking back tears. "They are exceptional astronauts in every sense of the word. But mostly, we're going to miss their sense of humor and camaraderie."
Said Pesquet: "It was a great adventure. Just want to say for me and Oleg, we were really proud to be part of such a team and fly with Peggy. Peggy's a legend, but she's also absolutely unbelievable to work with or just hang around with, live with in space."
"Now is the time for us to go back home to our friends and family, and we're happy. But it's also a bittersweet feeling because we know this is such a unique place that you sometimes get to experience only once. It was fantastic, thanks to everybody."
A few minutes earlier, Whitson, making her third flight aboard the station, formally stepped down as commander of Expedition 51 and turned the station over to Yurchikhin as originally planned. She will serve as a flight engineer, along with astronaut Jack Fischer, through the rest of her stay in orbit.
"It's an honor for me working with you, Peggy," said Yurchikhin, now commanding Expedition 52. "We use your experience in space, your soul, your smarts. The greatest person, an amazing person. Sometimes, everybody says Peggy is 'iron woman,' 'steel woman.' She's amazing woman, an amazing person in space. Thank you very much. So welcome on board to Expedition 52."
Yurchikhin and Fischer took off aboard the Soyuz MS-04 spacecraft on April 20. In a move to save money in the near term, the Russian federal space agency opted not to include a third crew member.
After negotiations with Russian space managers, NASA decided to extend Whitson's mission to Sept. 3 when she will take the available seat on the MS-04 spacecraft and return to Earth with Yurchikhin and Fischer.
As a result, Novitskiy and Pesquet returned to Earth with an empty seat Friday, the first landing by a two-person Soyuz crew since March 18, 2010, when astronaut Jeff Williams and cosmonaut Maxim Suraev came home.
Keeping Whitson in space will enable additional research between the departure of Novitskiy and Pesquet and the arrival of Soyuz MS-05 commander Sergey Ryazanskiy, Randy Bresnik and ESA astronaut Paolo Nespoli on July 28. It also preserves the option for a two-person NASA spacewalk in an emergency.
Whitson is America's most experienced astronaut with 573 days in space over three missions as of Friday. When she returns to Earth Sept. 3, her cumulative time in space will stand at 666 days, moving her up to eighth in the world, two spots behind Yurchikhin. Whitson is also No. 3 in the world in total spacewalk time with more than 60 hours of EVA time over 10 excursions.