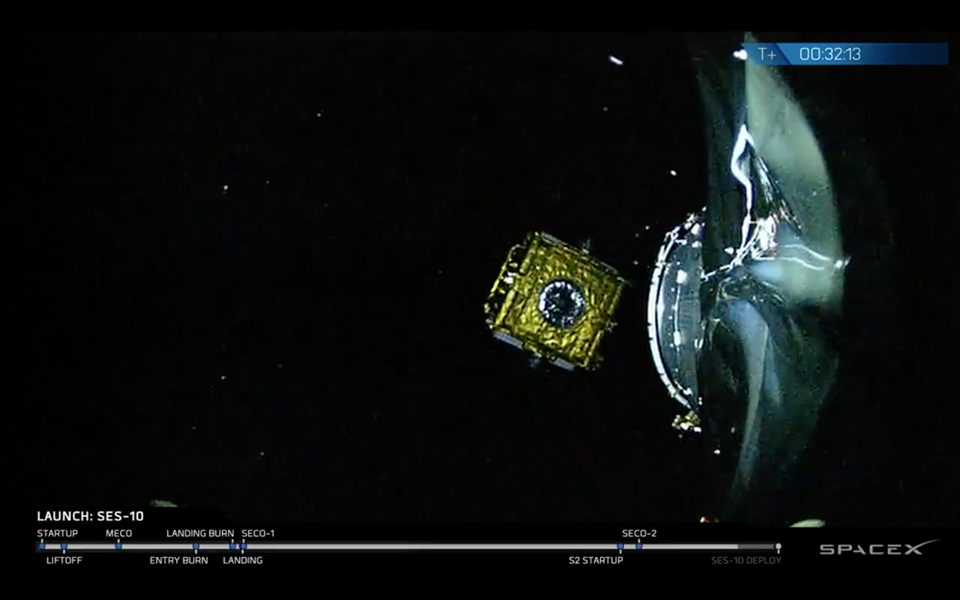 Two communications satellites launched from Cape Canaveral in March aboard Falcon 9 rockets, including a broadcasting craft that lifted off on SpaceX's first re-flown booster, have entered commercial service, according to their owners.
The EchoStar 23 satellite launched March 16 from pad 39A at NASA's Kennedy Space Center in Florida is now in service providing direct-to-home broadcasting of television channels to viewers in Brazil, Colorado-based EchoStar Corp. said May 10 in a quarterly earnings report.
Since its deployment from the Falcon 9 rocket's upper stage, EchoStar 23 fired an on-board engine several times to raise its orbit to geostationary altitude, a regime around 22,300 miles (35,800 kilometers) above Earth's equator, where it orbits in lockstep with the planet's rotation. The spacecraft also extended its power-generating solar panels and communications antennas.
Manufactured by Space Systems/Loral in Palo Alto, California, EchoStar 23 entered service at 45 degrees west longitude, where ultra-efficient plasma thrusters will maintain its position over a planned 15-year operational lifetime.
Based on the SSL 1300 satellite bus, EchoStar 23 was ordered by EchoStar Satellite Services in 2014 and is based on the spacecraft chassis originally built for the CMBStar mobile communications station, a venture into the Chinese market led by EchoStar and canceled in 2008.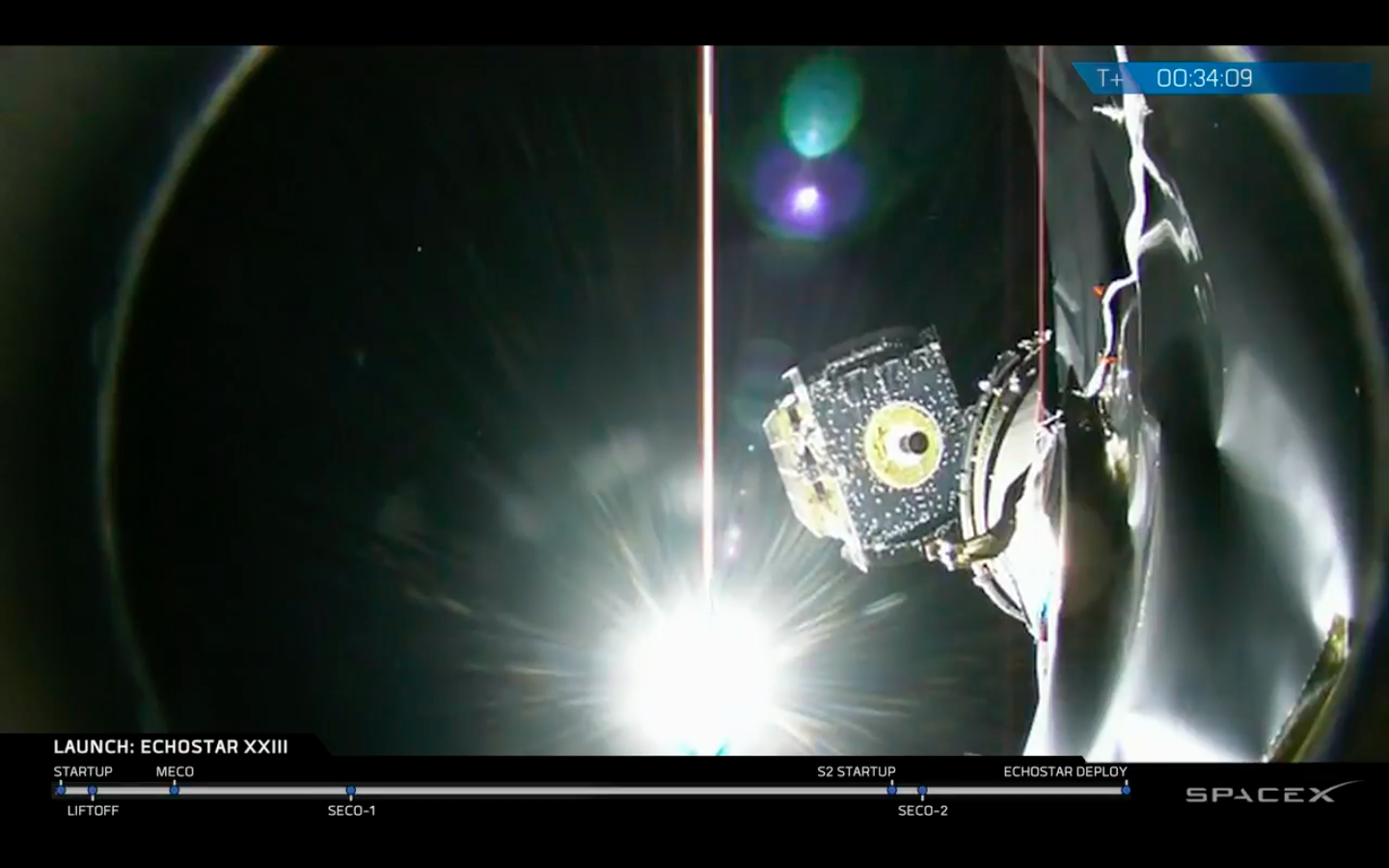 The tri-band EchoStar 23 satellite is designed with flexibility, according to EchoStar, with the ability to carry out multiple types of missions. Its communications payload includes Ku-band, Ka-band and S-band transponders.
The craft was originally supposed to launch by the end of 2016, in time to meet a licensing deadline from ANATEL, the Brazilian communications regulatory agency, that requires EchoStar 23 be in service by the end of June.
EchoStar says it has now met that deadline for the Ku-band spectrum, which the company intends to use for television broadcast services in Brazil. The operator has sought an extension on the Ka-band and S-band deadlines, "which may or may not be granted," EchoStar said in the May 10 quarterly earnings report.
The company said it is still exploring options to use its Ka-band and S-band spectrum rights by the regulatory deadline in mid-2017.
EchoStar 23's launch was held up by the grounding of SpaceX rockets following an explosion on a launch pad in Florida last September.
The SES 10 satellite launched March 30 atop a previously-flown Falcon 9 rocket booster is also operational, according to the craft's owner, Luxembourg-based SES.
Built in France by Airbus Defense and Space, SES 10 completed a series of orbit-raising and deployment maneuvers similar to those conducted by EchoStar 23, sliding into a geostationary position at 67 degrees west longitude.
SES announced the new satellite's entry into service May 15, saying that tests "have confirmed the flawless functioning of the spacecraft" since its launch from Kennedy Space Center.
SES 10 will provide direct-to-home broadcasting services, including Ultra HD programming, across a swath of Latin America stretching from Mexico and the Caribbean to the southern tip of Argentina.
Email the author.
Follow Stephen Clark on Twitter: @StephenClark1.