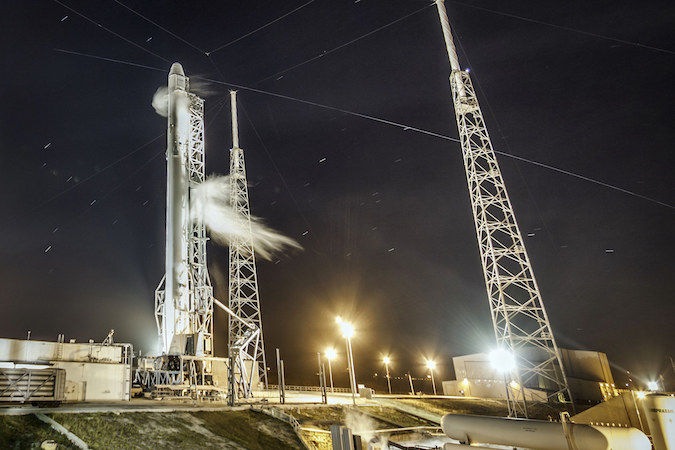 Forecasters predict mostly clear skies and light winds at the surface and aloft for Monday's launch of a SpaceX Falcon 9 rocket on a resupply mission to the International Space Station, favorable conditions for the booster's liftoff and landing at Cape Canaveral.
The official launch weather forecast released Friday by the U.S. Air Force's 45th Weather Squadron calls for a 90 percent of acceptable conditions for liftoff at 12:45:29 a.m. EDT (0445:29 GMT) Monday.
A weather axis draped over Central Florida will lift north over the weekend, setting up generally good weather Monday.
"This will result in moderate temperatures and morning showers over the spaceport, but mostly clear afternoons as sea breeze storms move inland," Air Force forecasters wrote. "The main weather threat on launch day will be cumulus clouds and flight through precipitation with these showers. Maximum winds will be from the northeast at 30 knots at 36,000 feet."
The predicted conditions also look good for a landing attempt by the Falcon 9's 15-story first stage booster about 10 minutes after liftoff. Using engine power and aerodynamic grid fins, the first stage will head for a vertical rocket-assisted touchdown at Landing Zone 1, a former Atlas launch pad leased from the Air Force by SpaceX.
The landing target sits just north of the eastern tip of Cape Canaveral, a few miles south of the Falcon 9's Complex 40 launch pad near the northern perimeter of Cape Canaveral Air Force Station.
The Falcon 9 booster's return to landing at Cape Canaveral will mark the second time SpaceX has tried recovering a first stage onshore. All other first stage landing attempts have occurred on a barge positioned several miles offshore in the Atlantic or Pacific.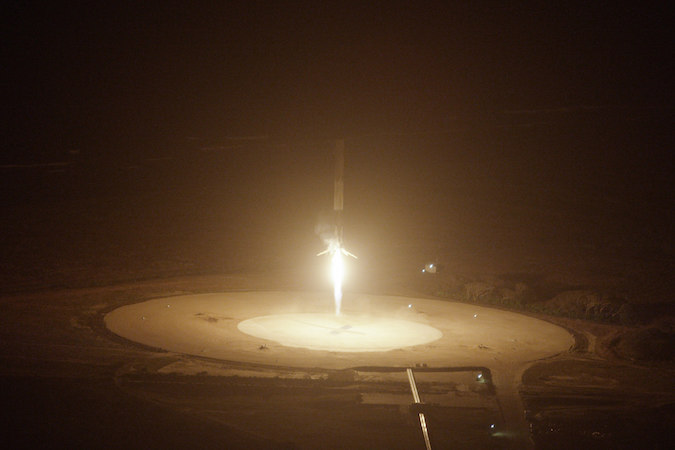 A Falcon 9 rocket returned to Cape Canaveral for the first time Dec. 21 a few minutes after blastoff with 11 Orbcomm communications satellites, putting on a first-of-its-kind display of light and sound that played out like a launch in reverse, with the brilliant exhaust from the booster's center Merlin engine appearing as a bright ball of orange falling toward the beachfront landing zone.
Thundering sonic booms heralded the rocket's descent, rattling windows for miles around.
A similar nighttime spectacle is expected early Monday.
SpaceX released a statement Friday warning residents on Florida's Space Coast of the landing.
"As with the return of the first stage from the Orbcomm-2 mission, there is the possibility that residents of northern and central Brevard County, Fla. may hear one or more sonic booms during landing," the statement said. "A sonic boom is a brief thunder-like noise a person on the ground hears when an aircraft or other vehicle flies overhead faster than the speed of sound."
The rocket will soar toward the northeast from Cape Canaveral, the trajectory necessary to reach the International Space Station, and return to the Florida coast from the same direction, heading northeast-to-southwest.
"Residents of the communities of Cape Canaveral, Cocoa, Cocoa Beach, Courtenay, Merritt Island, Mims, Port Canaveral, Port St. John, Rockledge, Scottsmoor, Sharpes, and Titusville in Brevard County, Fla. are most likely to hear a sonic boom, although what residents experience will depend on weather conditions and other factors," SpaceX said.
The rocket recovery attempt at Cape Canaveral early Monday comes nearly seven months after the last touchdown on land. In the meantime, SpaceX has launched six Falcon 9 rockets and tried landing all the boosters at sea.
After two crash landings in January and March, the Falcon 9 boosters nailed three touchdowns in a row following a string of launches April 8, May 6 and May 27. The rocket used on the last Falcon 9 launch June 15 suffered another faulty landing at sea.
SpaceX hopes to fly a used Falcon 9 first stage again later this year. Engineers planned to subject a separate flown Falcon 9 booster stage — one that will not launch again — through a battery of intense testing to confirm the structure can withstand a second mission.
Monday's launch will be the 27th flight of a Falcon 9 rocket, and the 32nd space launch attempt by SpaceX in its history. It is also the seventh launch of the latest upgraded version of the Falcon 9 with higher-performance Merlin engines, larger fuel tanks, and super-chilled cryogenic propellants.
The Dragon spacecraft mounted atop the 213-foot-tall (65-meter) Falcon 9 rocket is packed with nearly 5,000 pounds of cargo, crew provisions and experiments for the space station's six residents. The upcoming Dragon mission will be the ninth of 20 commercial resupply missions through 2019 NASA has awarded to SpaceX under a nearly $3 billion contract first signed in 2008.
NASA originally signed SpaceX to 12 missions for $1.6 billion, but in a rare move under NASA contracting, neither the space agency nor SpaceX will disclose the value of several contract extensions that added eight more Falcon 9/Dragon flights to the contract.
SpaceX is also guaranteed at least six additional cargo deliveries, and possibly more, under a separate follow-on resupply contract signed earlier this year, which covers the space station's logistics needs from 2019 through 2024.
The Hawthorne, California-based space transportation provider is also working on a Crew Dragon capsule to ferry astronauts to and from the space station. Boeing won a similar contract for its CST-100 Starliner crew carrier.
Email the author.
Follow Stephen Clark on Twitter: @StephenClark1.