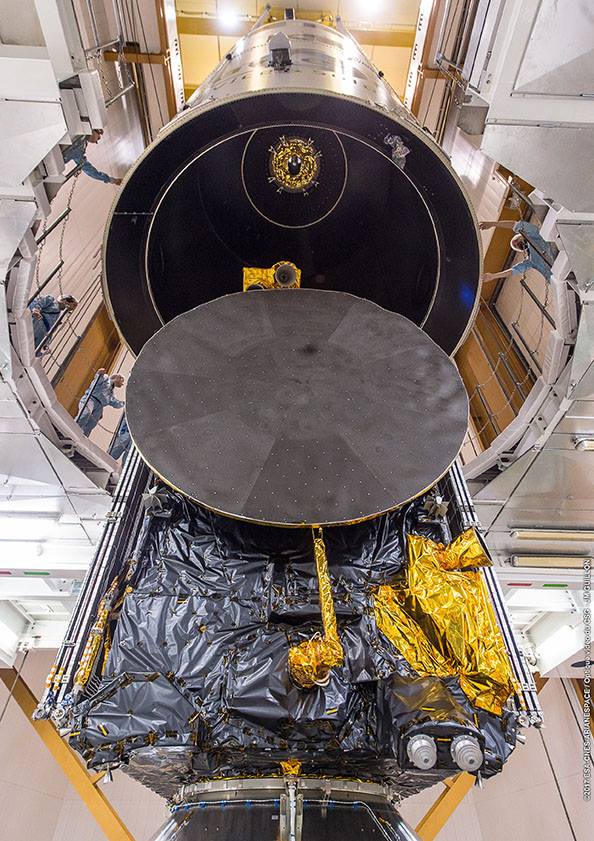 A work stoppage at the Ariane 5 rocket's launch base in South America prevented rollout of the booster to the launch pad Monday, pushing back the liftoff of two communications satellites for Brazil and South Korea until at least Wednesday.
The fully-assembled launcher was set to roll out of the final assembly building Monday morning for the 1.7-mile (2.7-kilometer) journey to the ELA-3 launch zone at the Guiana Space Center. Arianespace officials were aiming for a launch attempt Tuesday evening.
But the rollout did not happen due to a "social movement" at the spaceport, according to Arianespace. Officials blamed the postponement on a strike among a segment of the workforce at the Guiana Space Center, which is managed by CNES, the French space agency, with support from the European Space Agency and numerous European contractors.
The space center is situated on the northeastern coast of South America near Kourou, French Guiana.
Labor issues at the spaceport have pushed back launches before, most recently in 2011 when the operators of radar tracking systems in French Guiana went on strike. The workers striking Monday work for the contractor responsible for rolling out the Ariane 5 launcher to the pad.
The rollout is now scheduled for Tuesday, officials said, with launch on Wednesday at 2031 GMT (4:31 p.m. EDT; 5:31 p.m. French Guiana time). The launch window extends until 2320 GMT (7:20 p.m. EDT).
Once at the launch pad, the rocket and its mobile platform will be connected to ground supplies of cryogenic propellant, power, and telemetry networks ahead of the final countdown Wednesday.
The launch will mark the second Ariane 5 flight of the year, and Arianespace's fourth launch of 2017. It will be the 92nd flight an Ariane 5 rocket since the heavy-lifted debuted in 1996.
Arianespace said the launcher and its two satellite payloads "have been placed in a stand-by mode and are being maintained in fully safe conditions."
Two communications satellites, named SGDC and Koreasat 7, are inside the Ariane 5 rocket's payload fairing awaiting launch.
SGDC will provide strategic communications for the Brazilian government and military services and beam broadband services across all of the country's territory to give Internet access to remote and under-served communities.
Koreasat 7, owned by South Korea's KTsat, will provide a range of video and data services over Korea, the Philippines, Southeast Asia, India and Indonesia.
Both satellites were manufactured by Thales Alenia Space of France.
Email the author.
Follow Stephen Clark on Twitter: @StephenClark1.