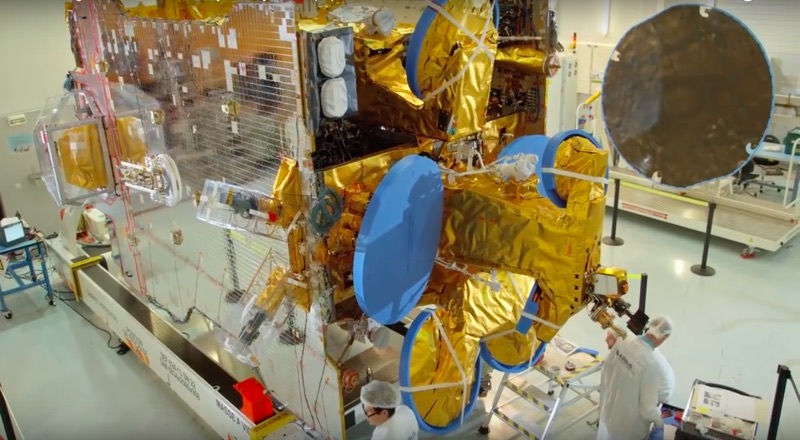 Launch preparations for the SES 10 communications satellite, the first spacecraft to ride a reused Falcon 9 booster to space, are on track for a late March blastoff from Florida, officials said.
The satellite, designed to broadcast video and television services across Latin America, was delivered to Cape Canaveral in January from its factory at Airbus Defense and Space in Toulouse, France.
Since its arrival in Florida, SES 10 has been prepped for liftoff inside a SpaceX clean room a few miles from launch pad 39A, where the mission will blast off aboard a Falcon 9 rocket. Filling of the spacecraft with its supply of hydrazine fuel and nitrogen tetroxide oxidizer was completed Thursday, soon after SpaceX's last flight took off from pad 39A.
Officials said the SES 10 satellite was scheduled to be enclosed this weekend inside the two halves of the Falcon 9's nose cone, a composite fairing measuring 43 feet (13.1 meters) tall and 17 feet (5.2 meters) wide. The fairing protects the SES 10 spacecraft during final launch processing and the initial few minutes of flight through the dense lower atmosphere, then is shed once the rocket reaches space.
The rocket is also ready for final preflight tests after its delivery to Florida from SpaceX's test site in McGregor, Texas. The 15-story booster was cleaned, refurbished and test-fired at the Texas test facility after landing on a barge in the Atlantic Ocean following a space station cargo ship launch on April 8, 2016.
SpaceX president and chief operating officer Gwynne Shotwell said March 8 that the booster took around four months to refurbish after its first flight last April. SpaceX hopes to reduce that turnaround time to two months soon, and eventually to less than a day.
The SES 10 flight will be the first of six previously-flown Falcon rocket boosters SpaceX intends to re-fly this year, Shotwell said.
Two of the boosters reportedly might launch later this year on the first demo flight of SpaceX's Falcon Heavy rocket, which uses three Falcon rocket cores firing in unison to propel heavy payloads into orbit.
SES, a Luxembourg-based international telecom satellite operator, announced its agreement with SpaceX in August 2016 to send the SES 10 satellite to orbit on a Falcon 9 rocket with a reused first stage. The second stage and fairing are manufactured new.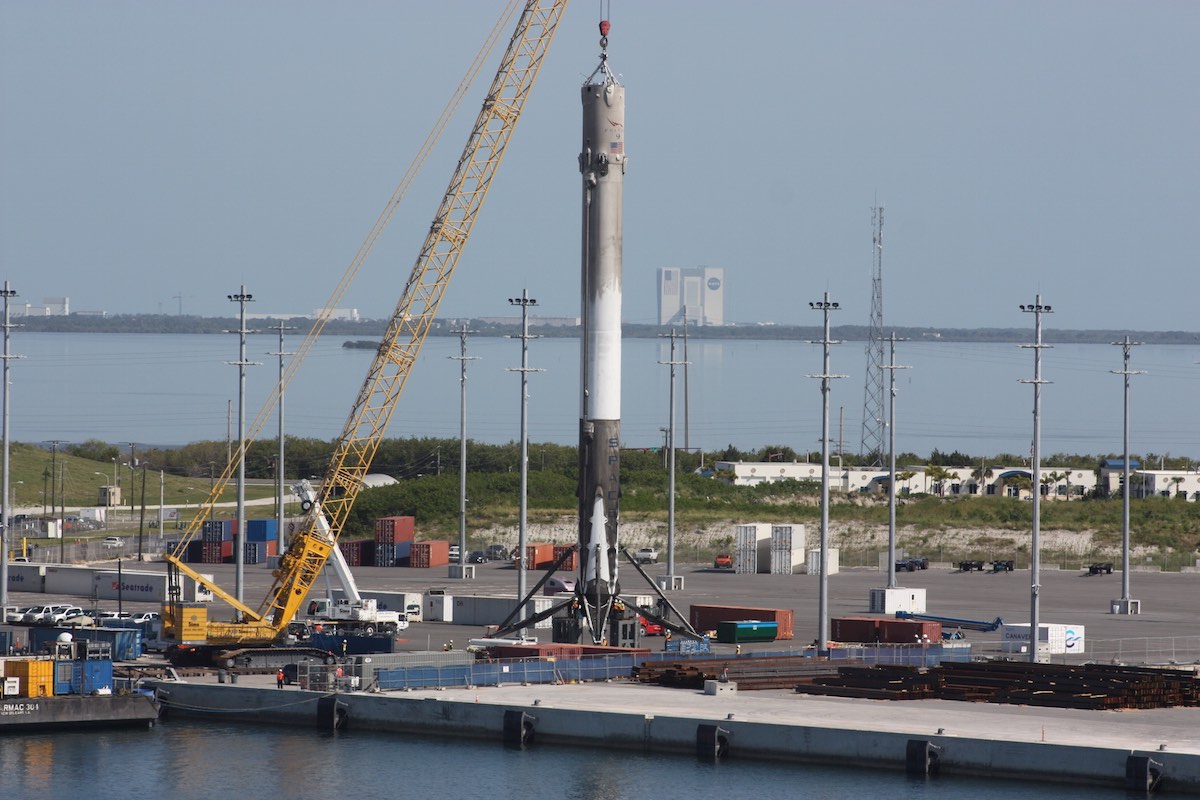 While SpaceX and SES did not disclose terms of their contract for the SES 10 launch, Shotwell said last year the launch provider was offering a 10 percent discount for customers willing to fly their payloads on reused boosters.
That discount should become steeper on future flights, according to SpaceX officials. The company lists a regular commercial Falcon 9 flight at $62 million.
An SES official said just after Thursday's launch by SpaceX of the EchoStar 23 satellite that the SES 10 spacecraft and the Falcon 9 launcher set to launch it were tracking no issues.
Before a two-day delay in EchoStar 23's launch due to high winds, SES 10's liftoff was scheduled for March 27. The launch window that day opens at 4:58 p.m. EDT (2058 GMT).
But officials expected the SES 10 launch to be moved back a couple of days after EchoStar 23's delay. Inspections of pad 39A following Thursday's launch were expected to give managers a better idea of how long SpaceX needs to ready the launch complex for another mission.
The transporter-erector at pad 39A was lowered after Thursday's launch. It will be rolled back to SpaceX's hangar at the southern perimeter of the pad for attachment of the two-stage Falcon 9, then returned to the pad for a hold-down engine firing around four days before liftoff.
The rocket will then go back to the hangar to receive the SES 10 satellite, and rolled out again to pad 39A on the eve of liftoff.
The SES 10 satellite will will weigh around 11,700 pounds (5,300 kilograms) at the time of launch, giving the Falcon 9's first stage enough fuel margin to attempt a landing on SpaceX's floating platform in the Atlantic Ocean.
A successful recovery is expected to give SpaceX better insight into the performance of the reused rocket.
Email the author.
Follow Stephen Clark on Twitter: @StephenClark1.