A view of the access room temporarily attached to SpaceX's Dragon cargo capsule at launch pad 39A Friday. Credit: Stephen Clark/Spaceflight Now
Engineers clad in clean suits finished stowing last-minute cargo into SpaceX's Dragon supply ship Friday, including 40 mice and bacterial research specimens, a day before it is scheduled to blast off to the International Space Station in the first flight from the Kennedy Space Center's historic Apollo-era launch pad 39A since 2011.
Working at the base of a towering 30-story support structure built to prepare space shuttles for liftoff, NASA and SpaceX crews accessed the hatch to the Dragon spaceship through a purified "white room" to pack around 1,000 pounds (around 450 kilograms) of time-critical equipment into the capsule.
That is about one-fifth of the overall cargo load, which totals nearly 5,500 pounds (2.5 metric tons.
The Dragon supply ship was already attached to its Falcon 9 booster for the "late stow" at the launch pad. A powerful hydraulic erector was scheduled to hoist the 213-foot-tall (65-meter) rocket vertical Friday night.
"This particular SpaceX launch is going to send supplies and research up that's going to support just about 300 investigations that are going to be happening over the next six-month period," said Tara Ruttley, associate program scientist for the space station at NASA's Johnson Space Center in Houston. "Those investigations are going to represent about 800 scientists' work around the planet.
The space station's six-person crew will perform many of the experiments, participating in the rodent research study and several life science investigations. Others, such as an externally-mounted ozone sensor, are designed to function on their own.
"Those six people are the proxy scientists in that laboratory, where microgravity is the one unique resource up there that you just can't replicate here on Earth," Ruttley said.
The space station crew has a good inventory of food, water and other crucial supplies, so scientific equipment takes up the lion's share of the Dragon spacecraft's cargo capacity.
"Consumable-wise, we're in great shape," said Dan Hartman, NASA's deputy space station program manager. "We've got well above our reserve levels for food and water, so we've really dedicated this Dragon mission to the research — and it's chock-full — and the crew's really going to enjoy the science we're getting ready to bring up."
The unpiloted mission is set to begin at 10:01:32 a.m. EST (1501:32 GMT) with a fiery takeoff from pad 39A, a sprawling complex about a half mile (750 meters) inland from the Atlantic Ocean at NASA's Kennedy Space Center.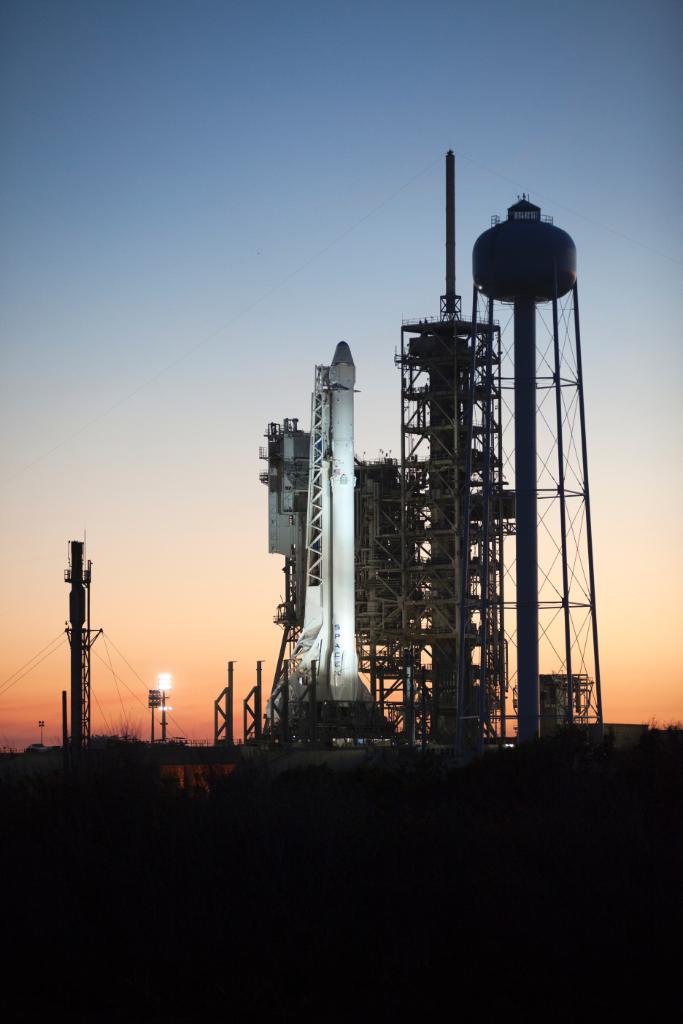 Originally constructed in the 1960s for the Apollo moon program, pad 39A hosted 12 Saturn 5 blastoffs on test flights, all of the moon landing missions and the uncrewed launch of NASA's Skylab space station from 1967 through 1973.
NASA's fleet of space shuttles launched from the pad 82 times, including the first and last flights of the program in 1981 and 2011.
The launch pad has remained dormant since the last shuttle mission took off July 8, 2011, and SpaceX signed a 20-year lease to take over the facility as a commercially-operated launch complex in 2014.
NASA decided it no longer needed pad 39A after the shuttle's retirement. Nearby launch pad 39B, previously built for Apollo and shuttle flights, will be home to NASA's Space Launch System, a government-owned heavy-lift rocket that will launch astronaut crews on deep space expeditions.
"This pad would have just sat here and rusted away in the salt air had we not had the use agreement with SpaceX to continue to enable commercial operations for our nation," said Bob Cabana, director of the Kennedy Space Center.
The concrete foundation of pad 39A dates back to the Apollo era of the 1960s, while the 347-foot-tall (106-meter) fixed service structure and lightning tower were emplaced before the first shuttle launch.
"It gives me a little bit of chills when I walk out there and see stuff that's left over from Apollo," said Hans Koenigsmann, SpaceX's vice president of flight reliability.
Since SpaceX took over, changes to pad 39A have included the construction of the new rocket hangar outside the south gate to the facility, where space shuttles and Saturn 5 moon rockets arrived on top of tracked crawler-transporters after rollout from the nearby Vehicle Assembly Building.
The hangar can accommodate five Falcon 9 rocket cores at a time, according to SpaceX.
"We've taken good care of this pad during the refurbishment and the rebuild," said Gwynne Shotwell, SpaceX's president, in remarks to reporters at the launch site Friday. "We saved precious things that needed to be saved. We've upgraded things to make them usable in the contemporary era. It's hard to express how excited I am to be here, just two-and-a-half years after we got the lease."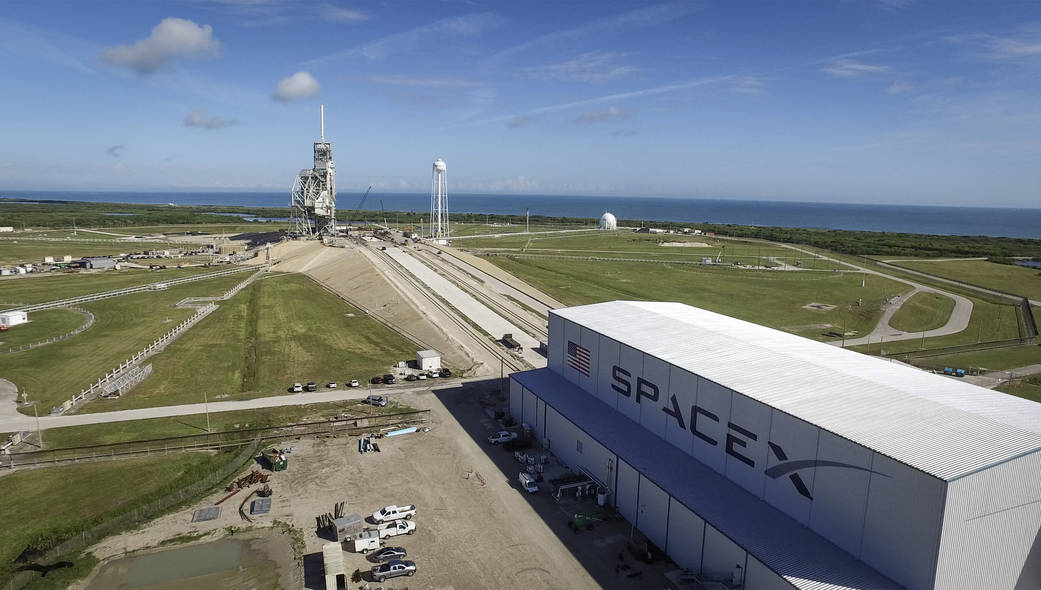 SpaceX sped the pad to completion after a rocket explosion damaged the company's other Cape Canaveral launch facility — Complex 40 a few miles to the south — and grounded Falcon 9 flights until the booster returned to service last month in a mission from California.
"Every launch for me is a significant emotional event," Shotwell said. "There's not a launch where I feel comfortable and calm. They're always nerve-wracking. I will tell you it's an extra-special launch tomorrow, for sure, and maybe extra nerve-wracking, in that case."
Other additions at the pad include the installation of RP-1 kerosene fuel tanks and the construction of the massive transporter-erector, which is sized to accommodate SpaceX's powerful triple-body Falcon Heavy rocket when it debuts later this year.
"Keep in mind, it's a new pad for us," Shotwell said. "We're going to try to lift off tomorrow, and have a very exciting day, but we've got opportunities in follow-on days as well."
SpaceX tested many of the launch pad's new parts Feb. 12 during a countdown rehearsal in which the Falcon 9 rocket was fueled before a hold-down engine firing.
Engineers returned the two-stage launcher to SpaceX's hangar, added the Dragon spacecraft, then rolled the fully-assembled vehicle back to the pad Thursday for further tests and the loading of final cargo.
But some features of the launch pad — like the partial retraction of the transporter-erector at liftoff — have not yet been exercised in a real countdown.
The Falcon 9 rocket will turn on a northeasterly heading after firing off the pad with 1.7 million pounds of thrust, aligning its flight path with the orbit of the space station. Within about a minute, the kerosene-fueled launcher will fly faster than the speed of sound, and the nine-engine first stage will drop away at T+plus 2 minutes, 24 seconds.
A Merlin upper stage engine will ignite eight seconds later to push the Dragon spacecraft into a preliminary orbit. Cutoff of the Merlin second stage engine is set for T+plus 9 minutes, 5 seconds, followed a minute later by separation of the Dragon cargo carrier and the extension of its power-generating solar panels.
Before the second stage finishes its vital engine burn, the Falcon 9 rocket's 15-story first stage will flip around to fly tail first, ignite three of its Merlin 1D engines to boost back toward Cape Canaveral, and attempt a propulsive vertical touchdown at a specially-outfitted concrete landing target around 9 miles (15 kilometers) south of pad 39A.
The return to Landing Zone 1, a converted Cold War-era Atlas launch complex at Cape Canaveral Air Force Station, would mark the first time a SpaceX Falcon 9 rocket has returned for a recovery on land in daylight.
Two previous rocket landings at Cape Canaveral occurred at night in December 2015 and July 2016.
The landings at Cape Canaveral and on SpaceX's ocean-going barge are aimed at advancing the company's ambitions to slash launch costs through recovering and reusing rocket stages.
But the rocket return is purely a secondary objective, and Shotwell said she always feels more nervous during launches than landings.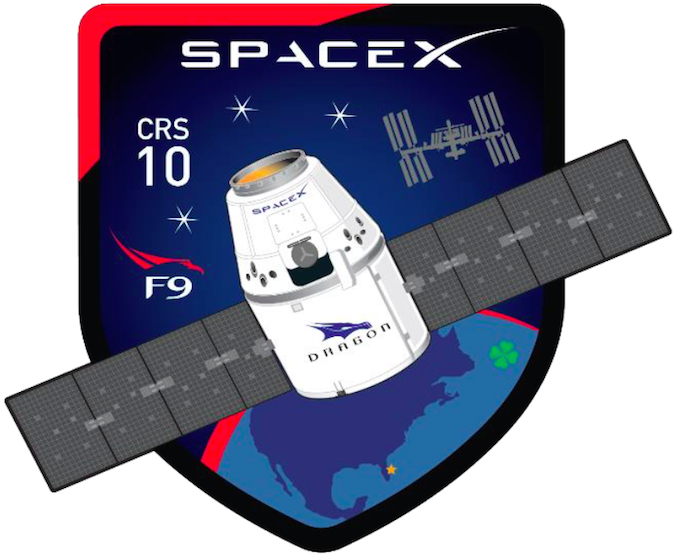 Once in orbit, the Dragon supply freighter will open a navigation bay later Saturday and fine-tune its course toward the space station with a series of thruster firings ahead of its arrival at the outpost early Monday.
French-born European Space Agency flight engineer Thomas Pesquet will grapple the approaching cargo craft around 9 a.m. EST (1400 GMT) Monday with the space station's robotic arm after the automated ship flies within about 30 feet, or 10 meters, of the research complex.
The Canadian-built robot arm, under the command of ground controllers in Houston, will transfer the gumdrop-shaped logistics freighter to a berthing port on the station's Harmony module a few hours later.
Once bolts drive closed to firmly connect the SpaceX cargo craft to the space station, astronauts inside the orbiting science lab will open hatches and begin unpacking the 3,373 pounds (1,530 kilograms) of supplies, experiments and provisions inside.
Meanwhile, the robot arm and the station's two-armed Dextre handyman will remove three payloads from the Dragon's unpressurized trunk for placement on platforms on the outpost's huge structural truss.
One of the payloads is NASA's $92 million Stratospheric Aerosol and Gas Experiment 3, or SAGE 3, an ozone monitor that comes with a separate ESA-built "hexapod" mounting plate designed to point the instrument at Earth's limb, or horizon, at sunset and moonset.
The sunlight and moonlight passing through the layers of the upper atmosphere will help tell scientists about the condition of the ozone layer and allow researchers to track pollutants and particles suspended high above Earth.
SAGE 3, developed by NASA's Langley Research Center in Virginia, is the latest in a series of ozone measurement sensors developed by NASA since 1979. Previous space missions studying ozone showed a decline in the amount of the gas over Earth's poles, and researchers tied the ozone depletion to chlorofluorocarbon, a chemical used in cleaning agents, refrigeration and air conditioning.
An international treaty called the Montreal Protocol that went into force in 1989 banned chlorofluorocarbons, and scientists have observed the depletion stop and watched the ozone layer begin to recover.
"How does SAGE 3 fit into that? We're going to make measurements from the space station that show the recovery is on track," said Michael Cisewski, SAGE 3 project manager at NASA. "I think that, from a science perspective, it doesn't get any better than that."
"SAGE 3 will also measure other important stratospheric gases and atmospheric aerosols, which are components of pollution that also impact the radiation balance of our planet," said Michael Freilich, director of NASA's Earth science division.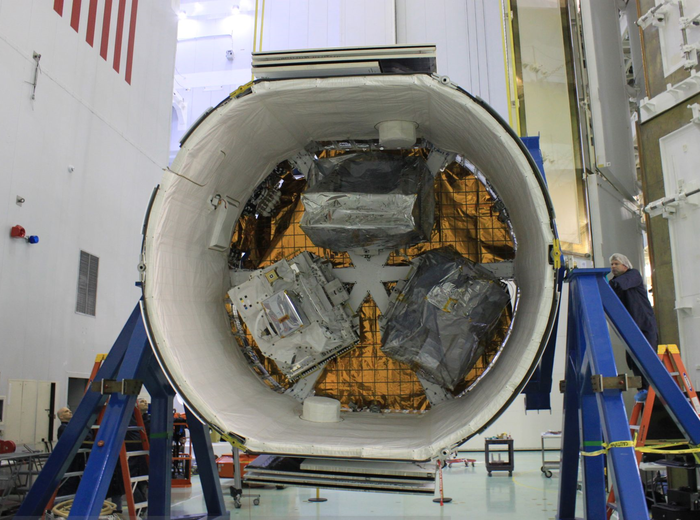 The other experiment package carried inside the Dragon capsule's external bay is sponsored by the U.S. military's Space Test Program, hosting more than a dozen investigations for NASA and the Defense Department.
Among STP-H5's investigations are NASA's Raven autonomous space navigation demonstration designed to support future satellite servicing missions and NASA's Lightning Imaging Sensor.
The Raven payload is made up of three sensors — optical, infrared and laser trackers — to autonomously follow visiting cargo vessels arriving and departing from the space station.
Benjamin Reed, deputy director of NASA's satellite servicing program at Goddard Space Flight Center, called Raven a "three-eyed" instrument.
"The Raven module will be observing visiting vehicles as they approach in all three wavelengths," Reed said. "We will be generating range, bearing and pose estimates of those visiting vehicles on-board with sophisticated algorithms and on-board processing, based on the input that the sensors are receiving."
Raven is a follow-up to a NASA experiment that tried out satellite refueling techniques using a boilerplate test panel outside the space station.
The satellite servicing demonstrations will refine the technologies needed for future robotic missions to refuel, refurbish, upgrade and reposition satellites, beginning with NASA's Restore-L spacecraft in development for launch in 2020 to gas up the aging Landsat 7 environmental observatory in orbit.
Raven will try out the navigation equipment needed for Restore-L, and missions like it, to approach another object in orbit without any input from the ground and latch on to it, even if the target was never designed for a docking.
Landsat 7 was launched in 1999 before any such refueling mission was ever proposed, so it is not equipped with markings or a docking port.
"These technologies are quite difficult, and that is why NASA is taking the lead, pushing the envelope, (and) doing the hard work first," Reed said. "Once we have developed it on missions like Raven, we will then transfer that technology to U.S. industry that is interested in taking this on commercially."
The Lightning Imaging Sensor, managed by NASA's Marshall Space Flight Center in partnership with the University of Alabama in Huntsville, will take pictures and log lightning strikes from the space station's perch nearly 250 miles (400 kilometers) above Earth.
Based on a spare camera made for the U.S.-Japanese Tropical Rainfall Measuring Mission, the instrument cost $7 million to refurbish and will detect lightning day and night in a belt between 56 degrees north and south latitude.
"Lightning actually occurs somewhere on Earth some 45 times every single second," Freilich said. "Understanding the processes which cause lighting and the connections between lightning and subsequent severe weather events like convective storms and tornadoes … are keys to improving weather predictions and saving lives and property in this country and throughout the globe."
A bevy of biological experiments are packed inside the Dragon supply ship.
Scientists are sending 40 mice into orbit to examine how bone fractures heal in the absence of gravity, and search for the biological reasons why most animals, including humans, cannot regrow lost limbs.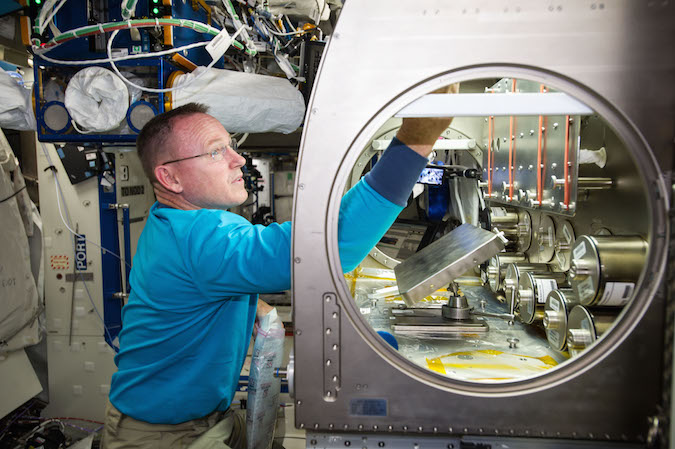 "We're trying to understand what happens in the body as the bones start healing," said Rasha Hammamieh, the rodent research project's chief scientist from the U.S. Army Center for Environmental Health Research.
The military is co-sponsoring the bone health experiment, with an eye toward learning lessons that could be applied to helping injured soldiers recover from catastrophic bone injuries.
There are also implications for civilians, such as elderly patients with osteoporosis.
"Up in space, you lose bone," said Melissa Kacena, co-investigator for the bone experiment and an associate professor of orthopedic surgery, anatomy and cell biology, and biomedical engineering at Indiana University. "In fact, astronauts lose about 1 to 3 percent of their bone density in a month. Someone with advanced osteoporosis loses closer to 1 percent per year."
Kacena added that scientists want to test drugs on rodents that might be able to "rebuild your bone systematically, so it could have applications not only for bone healing, but also for osteoporosis."
Astronauts on the space station will euthanize the mice and return them to Earth for comparison with a control group that remained on the ground.
Bacterial and stem cell researchers also have a stake in Saturday's launch.
"We are excited to put MRSA, which is a superbug, on the International Space Station and investigate the effects of microgravity on the growth and mutation patterns of these bugs," said Anita Goel, chairman and science director of Nanobiosym, which developed the experiment with the Center for the Advancement of Science in Space.
"I have this hypothesis that microgravity will accelerate the mutation patterns. If we can use microgravity as an accelerator to fast forward and get a sneak preview of what these mutations will look like, then we can esssentially build smarter drugs back on Earth."
A science team led by a Mayo Clinic biologist is sending human adult stem cells to the space station, pursuing research that could help transplant patients and stroke victims.
"We know stem cells grow differently using simulated microgravity," said Abba Zubair, medical and scientific director of the Cell Therapy Laboratory at the Mayo Clinic in Jacksonville, Florida. "Primarily, our focus is to see if microgravity actually can help stem cells to expand faster, so that we can grow more of them to bring back to use for human application."
The Dragon spaceship will remain at the space station until March 21, when it will detach and head for a re-entry and parachute-assisted splashdown in the Pacific Ocean, where SpaceX will safe the capsule, transfer it back to port, and begin removing the returned cargo.
Email the author.
Follow Stephen Clark on Twitter: @StephenClark1.