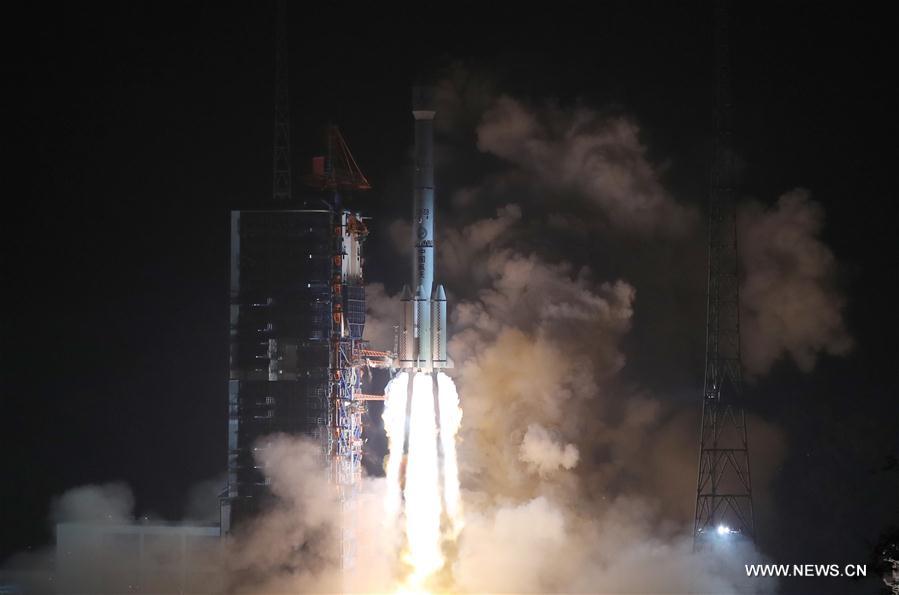 The first satellite in an upgraded series of Chinese geostationary weather observatories lifted off on top of a Long March 3B rocket Saturday to demonstrate the performance of new spacecraft systems and instrumentation.
The nearly 11,700-pound (5,300-kilogram) Fengyun 4A spacecraft, designed for at least a five-year mission, is heading for post nearly 22,300 miles (35,800 kilometers) over the equator to provide uninterrupted views of storm systems across Asia.
The new satellite is the first member of China's Fengyun 4-series weather platforms with more advanced instruments, improved pointing capability and a longer lifetime than the country's previous geostationary weather satellites.
In a statement, the China Meteorological Administration called Fengyun 4A's launch "an important milestone for the development of weather satellites in China."
Fengyun 4A lifted off on top of a Long March 3B rocket at 1611 GMT (11:11 a.m. EST) Saturday from the Xinhua launch base in southern China's Sichuan province.
Boosted by three stages and four strap-on engines, the Long March 3B sent Fengyun 4A into a preliminary transfer orbit with a high point, or apogee, stretching as high as 22,250 miles (35,800 kilometers) above Earth at an inclination of 28.5 degrees.
Fengyun 4A's on-board engine will maneuver the satellite into a circular geostationary orbit in the coming weeks, allowing the observatory to slide into a position along the equator where its coverage zone will remain fixed.
The satellite will enter service at 99.5 degrees east longitude for engineering trials next year, giving Fengyun 4A coverage over China and stretching from the Middle East to Australia.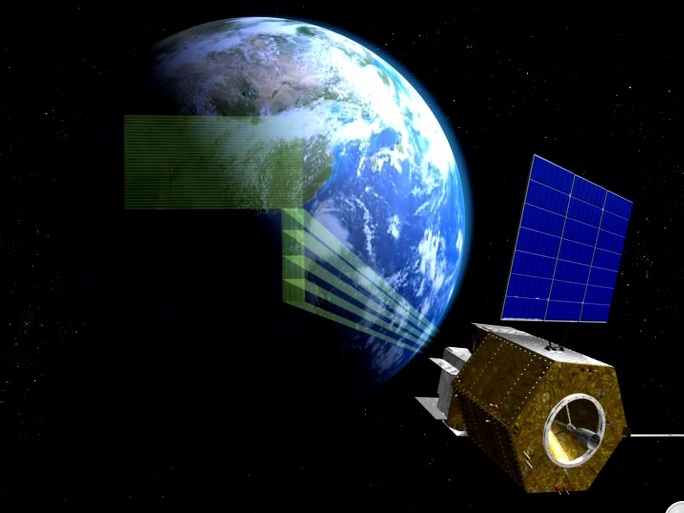 The new satellite generation, beginning with Fengyun 4A, will support "various weather-related services, including weather forecasting, disaster prevention and reduction, and monitoring and warning of space weather," the China Meteorological Administration said. "The capability of addressing climate change, exploring climate resources and monitoring ecological environment will also be enhanced."
Unlike China's previous design of geostationary weather satellites, the Fengyun 2-series, the new observatories are three-axis stabilized, meaning they control their orientations without having to maintain a spin rate.
The Fengyun 4A satellite also hosts a lightning-detecting camera and a vertical infrared sounding instrument to probe temperatures, moisture, ozone and atmospheric instability at different altitudes. Both are new additions for Chinese weather satellites.
"For the first time in the world, Fengyun 4A is carrying out an hyper-spectral vertical atmospheric sounding payload, which could conduct a high-precision observation of (the) atmosphere over China and (its) neighborhood," the CMA said in a statement. "The observation system is a thousand times more capable than the current system, thus is bound to significantly enhance weather warning and forecasting capability."
The lightning mapper will take up to 500 pictures per second to track lightning strikes, aiding meteorologists charged with forecasting severe weather.
"The combination of imaging and vertical observation is just like a doctor not only having X-ray pictures but also possessing CT pictures," said Xu Yinglong, a chief forecaster from the CMA's National Meteorological Center. "The data from different scanning parts and directions can provide more precise diagnose of diseases. In this sense, (Fengyun 4A) serves as a heavyweight in improving the accuracy of weather forecasting."
The Fengyun 4-series satellites are designed to operate for five-to-seven years, compared with the four-year lifetimes of the current Fengyun 2 satellites.
A sophisticated imaging camera is also aboard Fengyun 4A to take pictures of clouds and storm systems in 14 channels, up from five filters on the Fengyun 2 satellites. The improvement will tell forecasters more about water vapor and the size of particles suspended in clouds, and help users distinguish between clouds, fog and volcanic ash.
The imager will take pictures of the full disk of Earth every 15 minutes — compared to the 30-minute refresh currently available from Chinese satellites — and capture views of localized weather at one-minute intervals.
Fengyun 4A and its follow-on satellites also have space environment sensor packages to aid in space weather forecasts.
Chinese officials said the next two Fengyun 4 satellites — Fengyun 4B and 4C — are scheduled for launch in 2018 and 2020.
Email the author.
Follow Stephen Clark on Twitter: @StephenClark1.