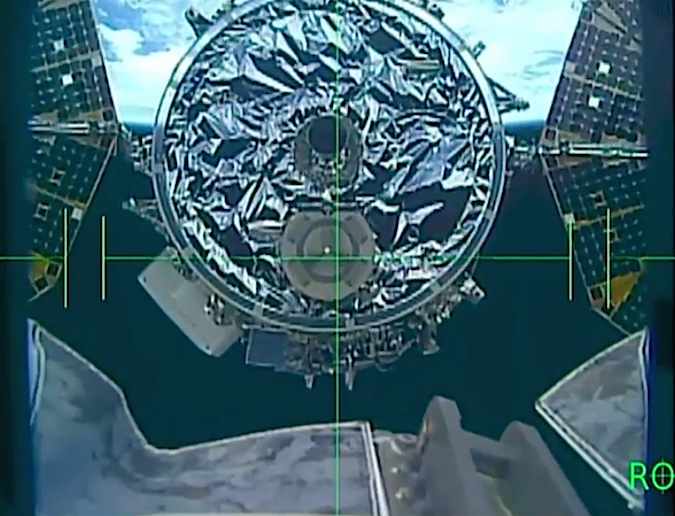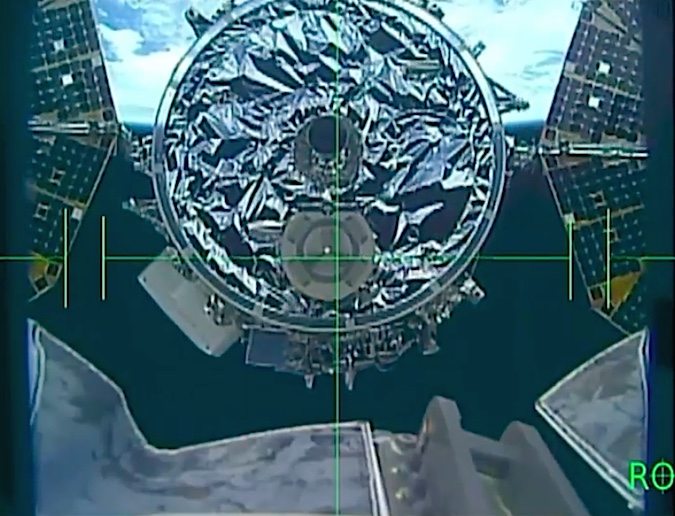 The International Space Station received more than 2.5 tons of fresh supplies and experiments Sunday with the arrival of a commercial Cygnus cargo vessel after an automated laser-guided rendezvous.
The pressurized 21-foot-long (6.4-meter) supply ship, owned and operated by Orbital ATK, wrapped up a five-day pursuit of the orbiting research complex, a trip lengthened by loitering in space to wait for a Soyuz crew capsule to safely dock to the station.
After executing a series of orbit adjust maneuvers since its launch on an Antares rocket Oct. 17 from Virginia, the Cygnus spacecraft closed in on the space station from below, pausing at predetermined hold points to ensure the cargo freighter was properly aligned with its approach corridor.
After it reached a final pause position at a range of around 30 feet, or 10 meters, astronauts Kate Rubins and Takuya Onishi took control of the space station's 58-foot-long (17.7-meter) Canadian-built robotic arm to reach out and grapple the Cygnus spacecraft.
Mission control in Houston confirmed the Cygnus was in the firm grasp of the robot arm at 7:28 a.m. EDT (1128 GMT), as the space station sailed 250 miles above Kyrgyzstan.
"Cygnus capture is complete," radioed Onishi, a Japanese flight engineer. "What a beautiful vehicle."
He thanked ground controllers and engineers responsible for the Cygnus cargo mission, the sixth supply delivery launched by Orbital ATK under a multibillion-dollar contract with NASA.
"Thank you very much for bringing tons of science and supplies to the station," Onishi said. "Capturing a visiting vehicle is like finishing the last 195 meters of a marathon (which spans 42.195 meters)."
Orbital ATK named the Cygnus the S.S. Alan Poindexter in honor of the former space shuttle commander who flew on two assembly and logistics missions to the space station. Poindexter died in a jet ski accident in 2012.
"This vehicle, which is named after our friend Alan Poindexter, added a new page to the history of ISS, so welcome back Cygnus," Onishi said.
Operators on the ground planned to take command of the robot arm later Sunday to position the Cygnus spacecraft on the Earth-facing berthing port on the Unity module. The space station crew will open hatches to the cargo ship later this week to begin unloading more than 5,100 pounds of equipment packed inside.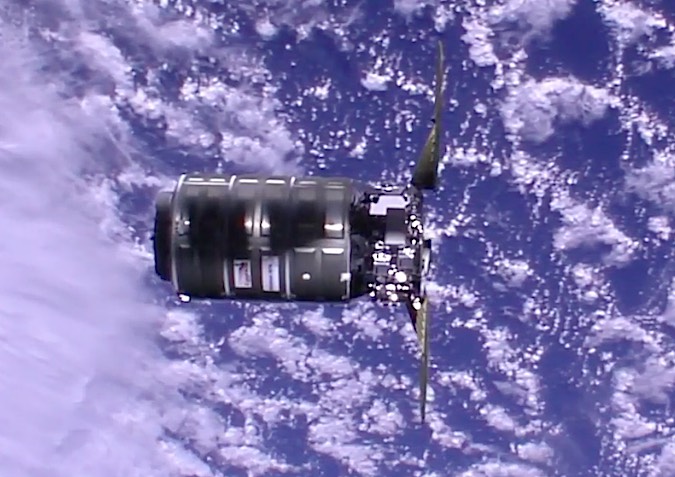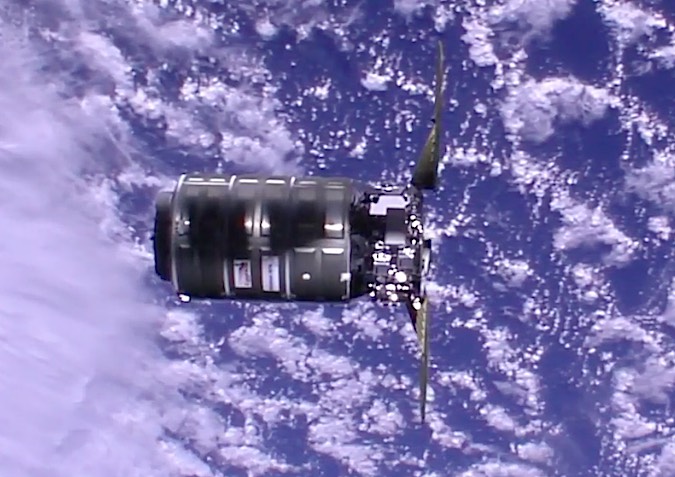 The cargo load includes food and clothing added to the Cygnus supply manifest after SpaceX, NASA's other logistics delivery contractor, grounded its rockets in the wake of an explosion on the launch pad in September. The space agency does not expect SpaceX cargo deliveries to resume until at least January.
Other items to be removed by the station astronauts include computer equipment and experiments to research how flames behave in space and improve how crew members collect personal data on nutrition, sleep, exercise and medications to aid researchers.
The "Cool Flames" experiment will look into how some some types of fuels burn at low temperatures under the effect of microgravity, generating combustion but no visible flames.
The phenomenon, in which some fuels initially burn very hot then appear to go out but keep burning at lower temperatures, has not been duplicated on the ground and has implications for fire safety on spacecraft, according to Jesse Robbins, a systems engineer on the Cool Flames experiment from NASA's Glenn Research Center in Ohio.
The low-temperature burn can cause leftover fuel to re-ignite in bursts of hot flame.
"As you might imagine, you think the fire is out, but it's like one of those trick birthday candles," Robbins said. "You go away, and it bursts into flames (again)."
With the Cool Flames experiment — contained inside a special combustion facility on the station — scientists are sending up substances mimicking transport fuels like diesel and jet fuel to see how they react in microgravity. One hope is that designers could harness the cool flame phenomenon to create more efficient next-generation piston engines, Robbins said.
The Cygnus also delivered the Fast Neutron Spectrometer to monitor high-energy neutrons, a potential radiation hazard for space station crews and future explorers heading deeper into the solar system. Developed by NASA's Marshall Space Flight Center in Alabama, the instrument "studies a new neutron measurement technique that is better suited for the mixed radiation fields found in deep space," according to a fact sheet posted on the agency's website.
New LED lighting units also arrived aboard Cygnus. Astronauts will install the lights, which come with variable intensity and color settings, to replace older fluorescent lighting and see if they can improve living conditions on the station by promoting sleep and alertness at the proper times of day, NASA official said.
The Cygnus' arrival comes during a busy week aboard the space station.
Three new residents docked to with the outpost aboard a Soyuz spaceship Friday. Russian cosmonaut Sergey Ryzhikov, flight engineer Andrey Borisenko and NASA astronaut Shane Kimbrough will remain at the station until around Feb. 26.
Rubins, Onishi and cosmonaut Anatoly Ivanishin are in the final week of their four-month mission. They will strap into another Soyuz spacecraft and undock Oct. 29 for a landing in Kazakhstan.
Three new crew members from Russia, the United States and France will blast off from Kazakhstan Nov. 15 to boost the space station's crew complement back to six.
The unpiloted Cygnus supply ship is scheduled to depart the space station Nov. 18 and spend around eight more days in orbit conducting another fire experiment and deploying four CubeSats for San Francisco-based Spire Global, a startup developing a fleet of tiny commercial weather satellites.
It will re-enter the atmosphere over the South Pacific Ocean in late November, destroying several tons of trash and other unnecessary items stowed inside by the space station's crew.
Email the author.
Follow Stephen Clark on Twitter: @StephenClark1.