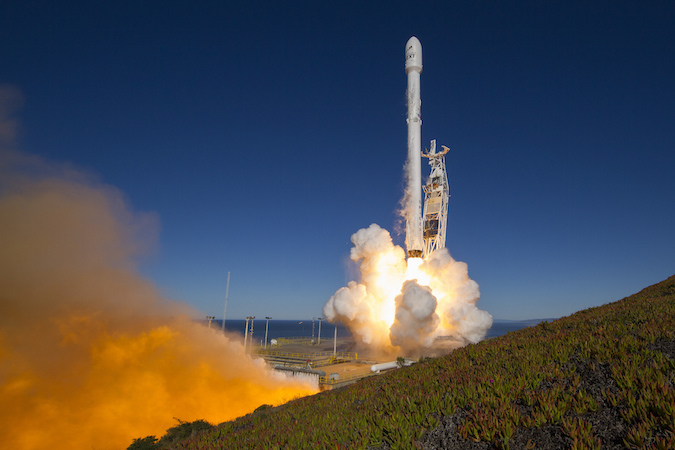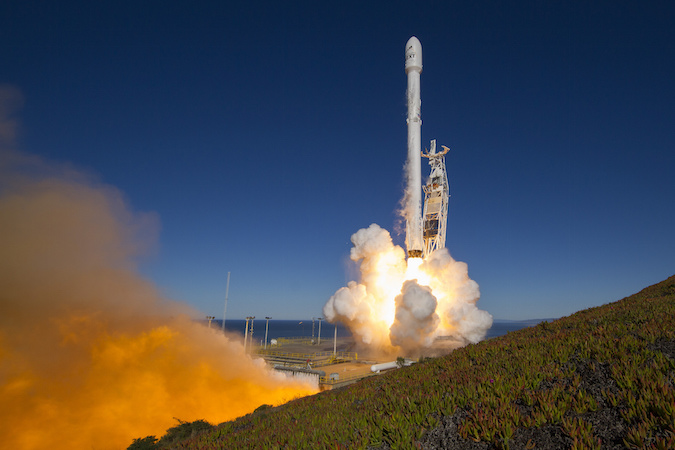 Iridium has secured a launch for five more of its next-generation communications craft in a rideshare arrangement with two U.S.-German research satellites aboard a SpaceX Falcon 9 rocket by early 2018.
The announcement Jan. 31 came two-and-a-half weeks after the first 10 Iridium Next satellites lifted off on a Falcon 9 booster from Vandenberg Air Force Base in California. Another 10 spacecraft are scheduled for launch on a Falcon 9 flight in April.
Iridium will share the Falcon 9's lift and volume capacities on the newly-announced mission — also due to launch from Vandenberg — with two gravity research probes jointly developed by NASA and the German Research Center for Geosciences, or GFZ, of Potsdam, Germany.
The twin research satellites will replace the Gravity Recovery and Climate Experiment — GRACE — spacecraft in orbit since March 2002. The GRACE-Follow On, or GRACE-FO, satellites are being built and tested in Germany by Airbus Defense and Space.
NASA's Jet Propulsion Laboratory is responsible for the overall mission — valued at nearly $400 million — and pays for the construction of the two GRACE-FO spacecraft and a microwave instrument, the centerpiece of the satellites' science payload.
The German government and GFZ are in charge of part of the science payload and arranging launch services for the GRACE-FO mission, roughly one-quarter of the project's overall cost.
The identical GRACE-FO satellites will launch into a polar orbit around 300 miles (500 kilometers) above Earth, and fly around the planet in formation separated by 137 miles (220 kilometers). The microwave ranging instrument will track the distance between the two spacecraft with a precision of 0.002 millimeters, a fraction of the width of a human hair.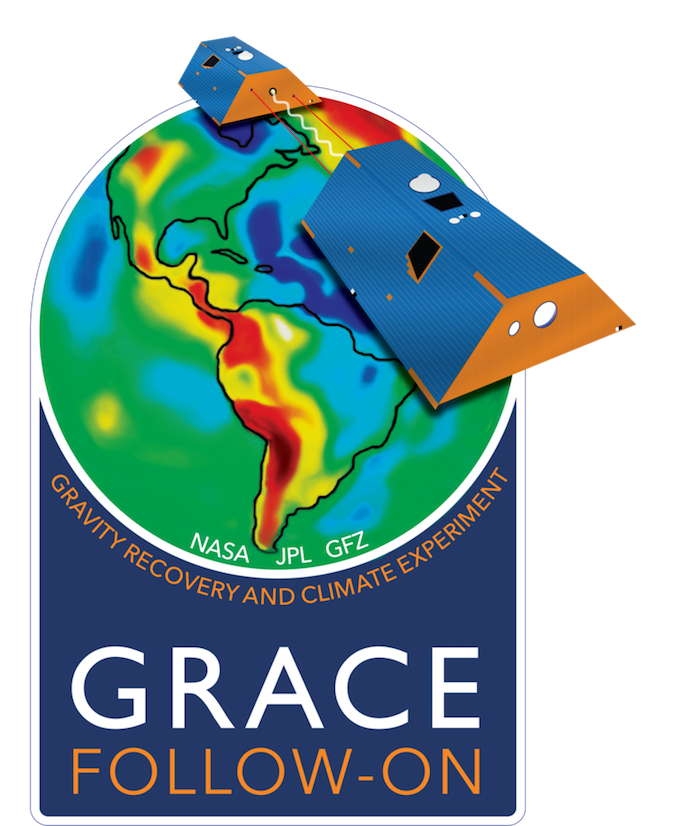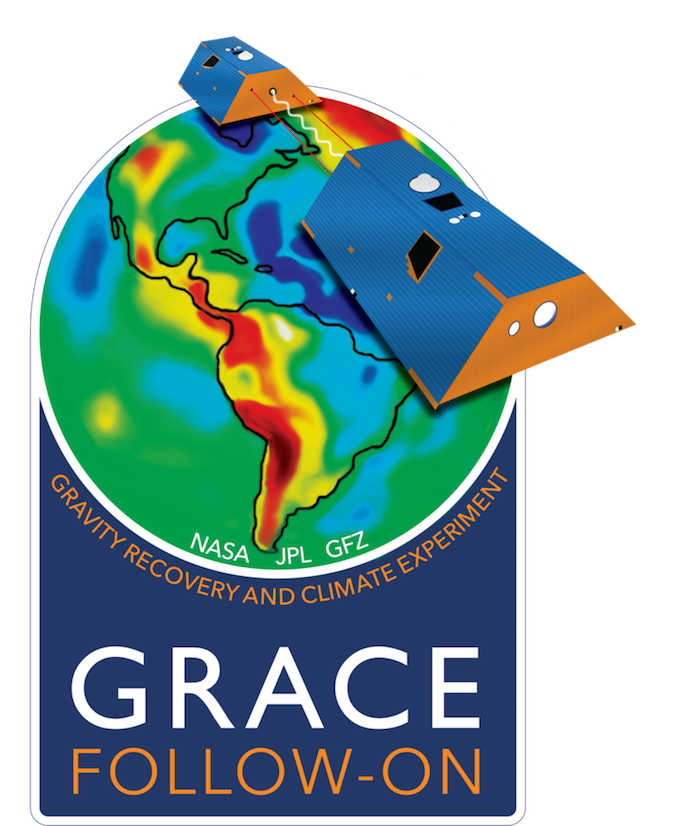 Changes in the range between the satellites will tell scientists about the strength and lumpiness of Earth's gravity field, allowing the ground team to produce a global gravity map every 30 days through the mission's expected five-year lifetime.
GRACE's data archive aids studies of earthquakes and other seismic activity, ocean currents and glaciers, and the structure of Earth's interior.
"GRACE-FO will continue GRACE's legacy of tracking changes in the distribution of Earth's mass over time by creating monthly maps of Earth's gravity field," said Frank Flechtner, project manager of the mission at GFZ. "GRACE is improving our understanding and knowledge of a variety of important Earth system processes such as the terrestrial water cycle and changes in ice sheets, glaciers and sea level or surface and deep-ocean currents. These climate change related measurements provide a unique view of the Earth system and have far-reaching benefits to society."
The original GRACE satellites are low on fuel, and could run out of propellant as soon as this summer, around the time the follow-on craft were originally scheduled for liftoff, according to GFZ.
GFZ and NASA agreed in 2013 to launch the satellites on a Russian-Ukrainian Dnepr rocket provided by Kosmotras in August 2017, but that program's future is in doubt after relations between the two partner countries deteriorated following Russia's annexation of Crimea in 2014.
Iridium also booked two satellites to launch on a separate Dnepr rocket, but the Virginia-based communications company is no longer counting on the converted Soviet-era missile's availability for the mission.
The indefinite grounding of Dnepr left Iridium and GFZ looking for an alternate ride.
Iridium said the rideshare launch with SpaceX offered a "particularly compelling economical solution" through cost-sharing with GFZ.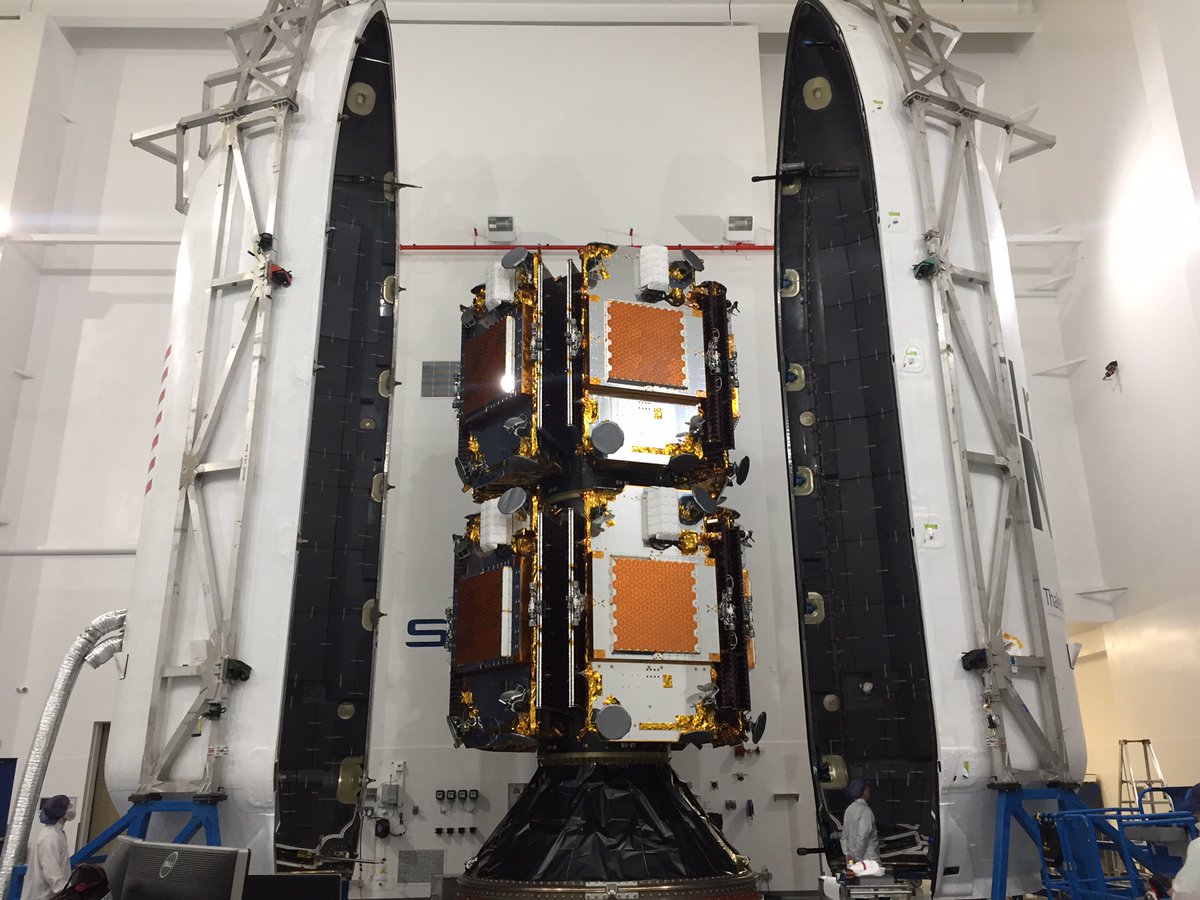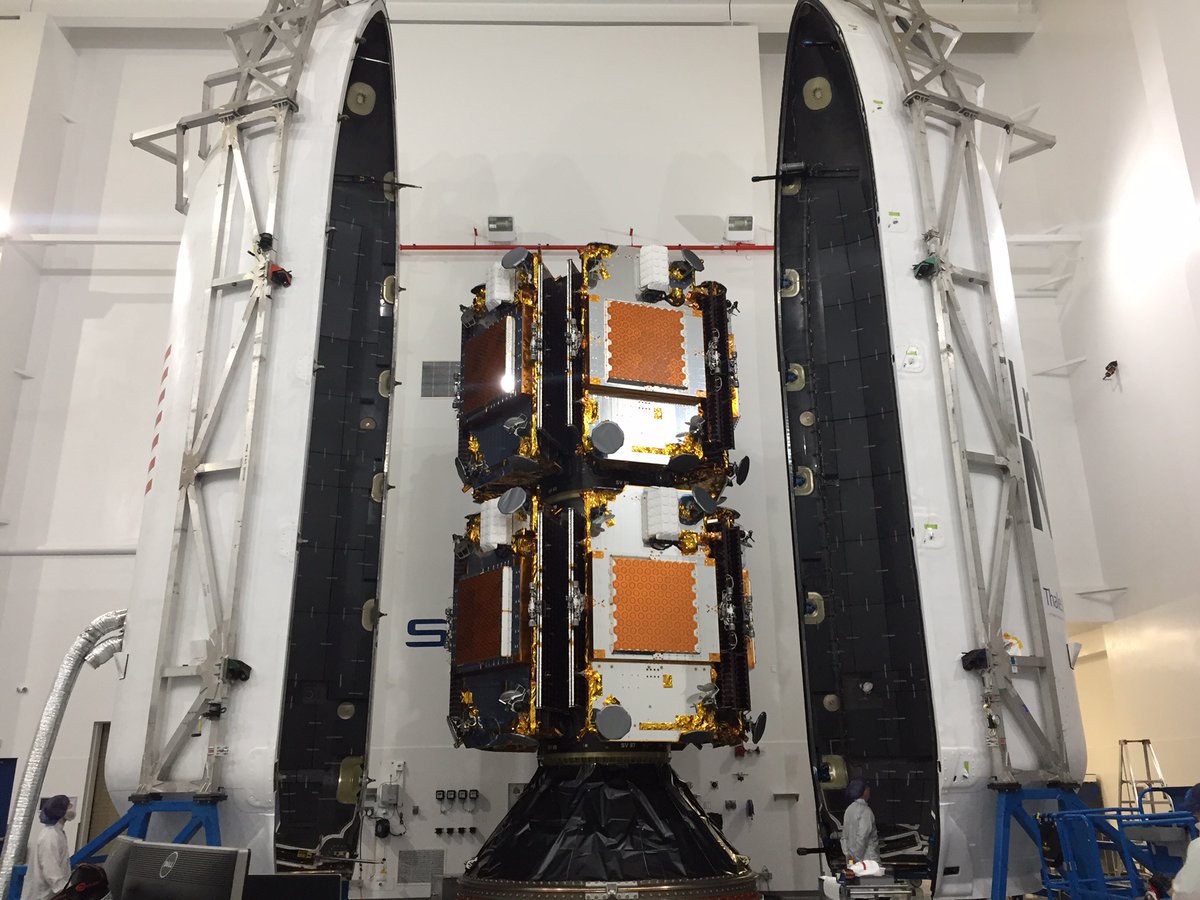 "This is a very smart way to get additional Iridium Next satellites into orbit," said Matt Desch, CEO at Iridium. "This launch provides added resiliency to our network for not much more than we had planned originally to launch 72 satellites, including two with Kosmotras.
"We are pleased to be sharing a rocket with NASA and GFZ German Research Center for Geosciences for this additional SpaceX launch, and GFZ has been a great business partner throughout this process," Desch said in a statement.
Iridium said it will consider future launches with Kosmotras's Dnepr rocket "once approvals are available."
Financial terms of the rideshare SpaceX launch contract were not disclosed.
GFZ said the agreement with SpaceX calls for a launch between December 2017 and February 2018.
Iridium's satellite contractors — Thales Alenia Space and Orbital ATK — are building 81 spacecraft for the new-generation fleet, which replaces the company's aging satellites in orbit since the late 1990s. Iridium booked seven Falcon 9 launches with SpaceX in 2010 — enough to put 70 satellites into orbit — and the latest contract adds five more to that number.
Launch arrangements for the remaining six satellites, considered ground spares, will be announced at a later date. Desch has said previously that Iridium intends to eventually launch all 81 of the satellites.
Iridium's network requires 66 satellites in space spread out in six orbital planes. The rest of the satellites launched will be stored in orbit.
Airbus Defense and Space is building a multi-satellite adapter to accommodate the dual-launch, according to GFZ. SpaceX builds the dispenser for the Iridium satellites.
Email the author.
Follow Stephen Clark on Twitter: @StephenClark1.