STORY WRITTEN FOR CBS NEWS & USED WITH PERMISSION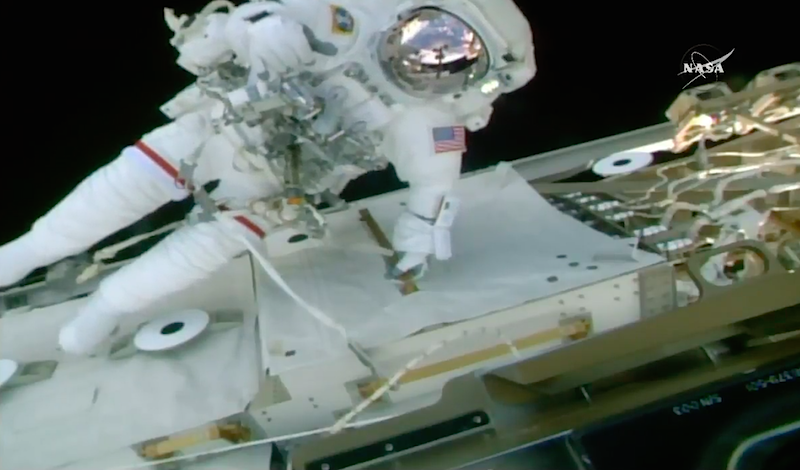 Five days after work to replace the grapple fitting on one end of the space station's robot arm, commander Randy Bresnik and flight engineer Mark Vande Hei ventured back outside the lab complex Tuesday to lubricate the new arm mechanism, to replace a degraded camera and to carry out a variety of lower-priority chores.
Floating in the Quest airlock, they switched their suits to battery power at 7:56 a.m. EDT (GMT-4) to officially begin the excursion. Six hours and 26 minutes later, back in the airlock, the outing came to an end with all objectives accomplished.
Last Thursday, the spacewalkers replaced the grapple fitting on one end of the Canadarm 2 space crane. Today, Vande Hei used a grease gun to lubricate the internal ball-joint screw mechanism in the replacement fitting, which is used to lock the arm onto visiting spacecraft and other components.
Running ahead of schedule, Vande Hei also carried out lubrication of four latches that originally were on the task list for a spacewalk next Thursday.
Lower priority tasks Tuesday included tightening a latch on an external oxygen tank; rotating a spare ammonia pump module to permit venting before it is relocated later; removal of two handrails to clear the way for installation of wireless antennas during a future spacewalk; replacement of a camera lens cover; and several other minor tasks.
"Hey,Sabot, see that bright glow down there on Earth?" Bresnik asked at one point, using Vande Hei's nickname. "Remember, they mentioned that Kirk Shireman, our space station program manager, his birthday's tomorrow? I think once safety heard how many candles were going to be on his cake, I think they mandated a birthday cake lighting practice today to make sure nobody got hurt tomorrow!"
"Ha," Vande Hei laughed. "That must be what it is."
Servicing the station's aging robot arm, or space station remote manipulator system — SSRMS — is is a critical priority given the space crane's central role in lab operations, moving astronauts and equipment to various work sites around the outpost and capturing visiting cargo ships.
Both ends of the seven-joint arm are fitted with latching end effectors, or LEEs, to grapple components, visiting vehicles, spacewalker foot restraints and the station itself. It can move inchworm fashion from one anchor point to another and ride a mobile transporter to reach various worksites along the lab's power truss.
Bresnik and Vande Hei replaced the LEE-A mechanism last Thursday while LEE-B will be replaced during a spacewalk early next year.
"Our primary objective is to make sure we get the SSRMS recovered and fully functional, " said Kenny Todd, space station operations integration manager. "The SSRMS played a critical role in the assembly of station, but it's playing just as critical a role today in the overall execution of the program when it coms to science, when it comes to inspections, when it comes to putting visiting vehicles on station.
"It's just an absolute critical asset that our Canadian partners have contributed. We're very excited about getting out and getting it fully recovered and functional."
If all goes well, Bresnik and Joe Acaba will carry out another spacewalk Oct. 18 to finish the arm lubrication work, to install another group of cameras and to carry out additional maintenance.
This was the 204th spacewalk devoted to station assembly and maintenance since construction began in 1998, the ninth so far this year, the fourth for Bresnik and the second for Vande Hei. Total station spacewalk time now stands at 1,271 hours and 36 minutes, or 53 days.