STORY WRITTEN FOR CBS NEWS & USED WITH PERMISSION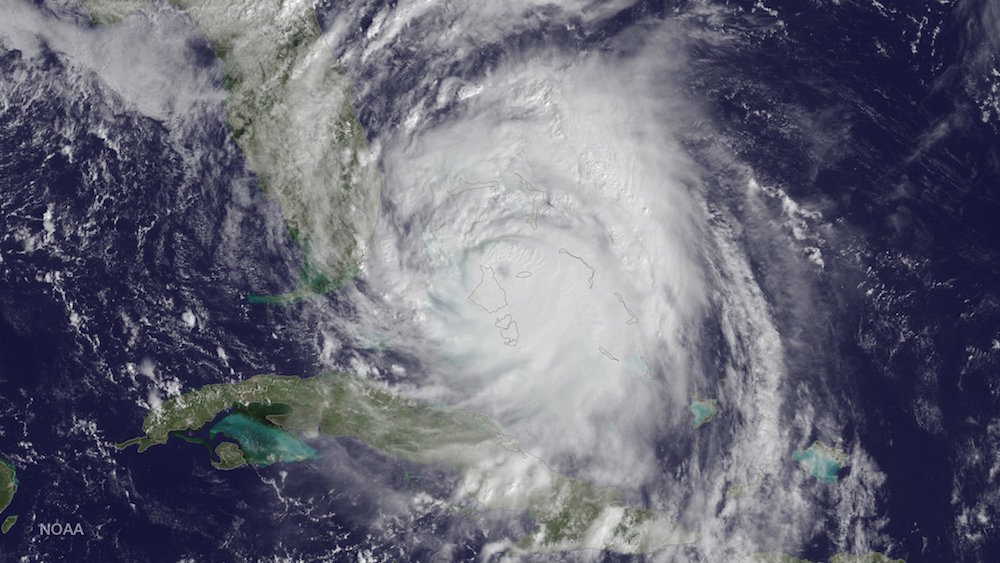 Launch pads and critical facilities at the Kennedy Space Center and the Cape Canaveral Air Force Station are braced for the onslaught of Hurricane Matthew overnight Thursday, one of the most powerful storms to threaten Florida's Space Coast since the dawn of the space age 50 years ago.
The National Hurricane Center is predicting heavy rain, dangerous storm surges and winds gusting up to 140 mph along Florida's east coast with the eye passing just off shore or directly over Cape Canaveral and the Kennedy Space Center.
Satellite observations of Matthew show the hurricane features "a distinct eye surrounded by very deep convection," the National Hurricane Center reported in its 11 a.m. EDT update. "Data from an Air Force reconnaissance plane traversing the eye of the hurricane also indicate that Matthew has strengthened.
"Environmental conditions appear favorable for additional intensification today while Matthew approaches the east coast of Florida."
Hurricane David, a Category 5 storm, passed off shore in 1979, moving along a similar track and slamming into the Savannah, Ga., area as a Category 2 hurricane. But that storm did not cause the level of damage expected from Matthew, which could set new records for wind speed and storm surge along the coast of Florida.
"The Kennedy Space Center is now in HURCON 1 status, meaning a hurricane is imminent," said NASA spokesman George Diller. "Hurricane preparations were completed early last night and remaining employees were sent home."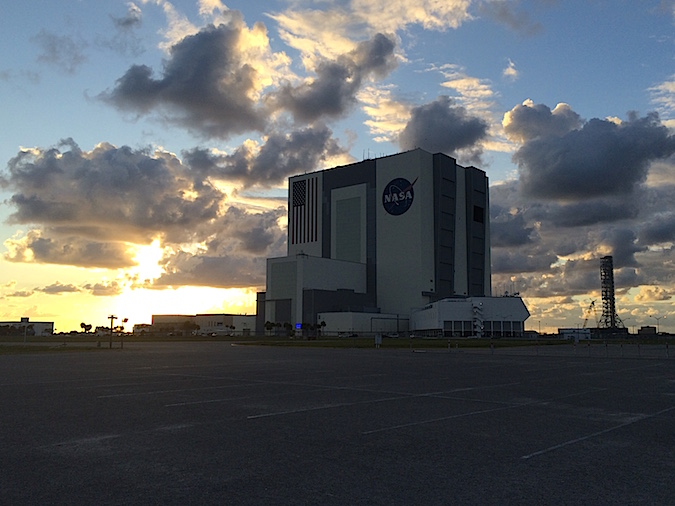 Members of a 139-member "rideout" team will be stationed at various facilities across the space center to monitor critical systems "and report any significant events" to emergency operations personnel in the Complex 39 Launch Control Center where space shuttle launchings were once managed.
"After the hurricane has passed, and winds have dropped below 50 knots, areas around KSC will be assessed and the damage assessment and recovery team will report for duty," Diller said.
A posting on the Brevard County Office of Emergency Management's Facebook page Wednesday warned Space Coast residents to evacuate as soon as possible.
"URGENT — 130 MILE AN HOUR WIND GUSTS are expected in Brevard County along the coast," the post said. "95 to 110 mile an hour sustained winds are expected. Storm surge for barrier islands is estimated to be 5 to 8 feet.
"These are all hurricane force winds, much stronger than any of the 2004 hurricanes where we only received tropical storm force winds in Central Florida. No emergency services will be available anywhere in Brevard County once winds reach 50 miles an hour. All residents are asked to find shelter by 5pm Thursday. Tropical storm force winds should be felt by 3pm Thursday. The area should clear by Saturday."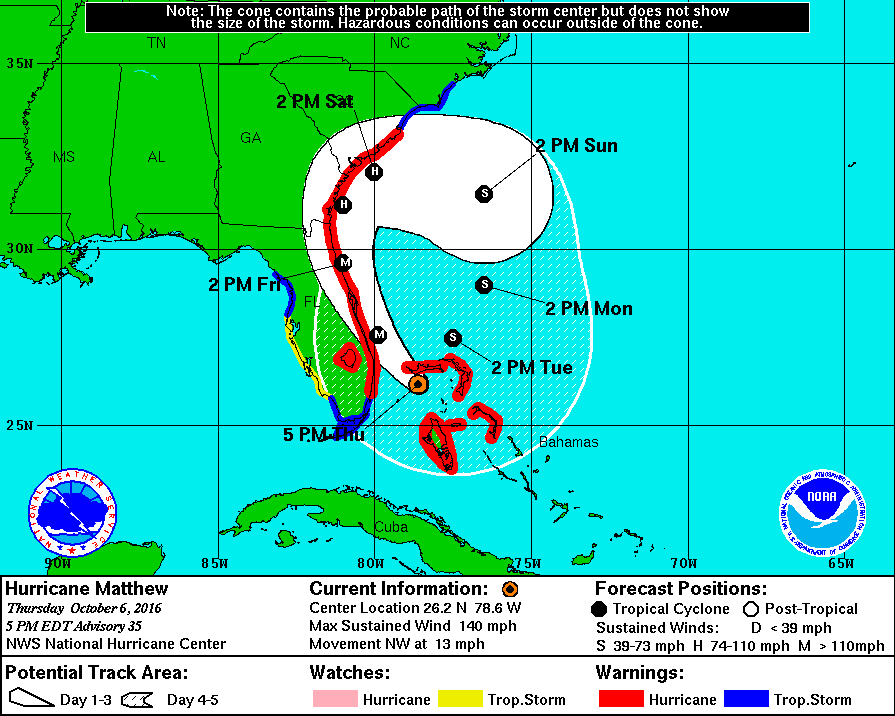 The Kennedy Space Center shut down Wednesday at 1 p.m., with only essential personnel remaining behind to secure critical systems. The cavernous 526-foot-high Vehicle Assembly Building and a towering new 380-foot-tall launch gantry built for NASA's huge Space Launch System rocket were exposed to the storm.
Both structures were designed to withstand hurricane-force winds, but Matthew could cause extensive damage.
NASA's two now-retired shuttle pads, 39A and 39B, are just a few hundred yards from the Atlantic Ocean and the Cape Canaveral beach where potentially high storm surges are possible. Pad 39B is being prepared for use by the new SLS heavy-lift rocket while pad 39A has been taken over by SpaceX and heavily modified for use by the company's Falcon 9 rockets.
"Hurricane Matthew is expected to make its closest approach to the Cape Canaveral/Kennedy area overnight Thursday and into Friday morning, bringing with it the potential for heavy rain, storm surge and hurricane-force winds," Diller warned earlier.
SpaceX is still recovering from a Sept. 1 pre-flight explosion at the nearby Cape Canaveral Air Force Station that destroyed a Falcon 9 rocket and damaged launch complex 40, the company's only operational East Coast pad. Modifications to pad 39A are nearly complete and SpaceX hopes to use the complex when it resumes flights.
How Hurricane Matthew might affect those plans remains to be seen.
Launch pad 41 at the Air Force station is used by United Launch Alliance for its Atlas 5 rockets and pad 37 is used by ULA's Delta 4 family of boosters. No rockets are currently stacked for launch, but support facilities are vulnerable to high winds and storm surge.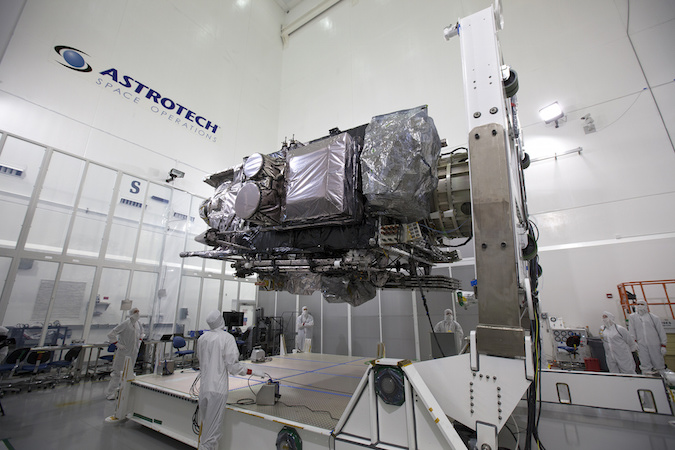 Two costly satellites are in storage awaiting launch.
The National Oceanic and Atmospheric Administration's next-generation GOES-R weather satellite — a spacecraft that, ironically, will greatly aid hurricane tracking — is housed in a clean room at Lockheed Martin's Astrotech processing facility in nearby Titusville. The building was designed to withstand a Category 4 hurricane, according to a report on SpacePolicyOnline.
Another Lockheed Martin-built satellite, the latest Space Based Infrared System, or SBIRS, missile early warning spacecraft, is undergoing processing at a National Reconnaissance Office facility at the Air Force station. Both satellites are said to be well protected.
GOES-R is scheduled for launch atop an Atlas 5 rocket on Nov. 4 and the SBIRS satellite is expected to fly early next year, also aboard an Atlas.