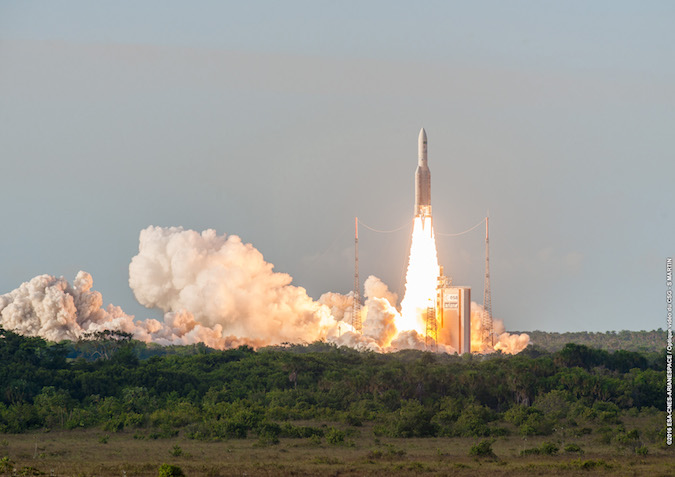 An Ariane 5 rocket lifted two communications satellites to space Wednesday to connect rural Australians with the rest of the world through high-speed Internet and extend television and data services over India, then completed experiments in orbit aimed at helping designers craft Europe's next-generation launcher.
The 180-foot-tall (55-meter) launcher lit its Vulcain 2 main engine at 2030 GMT (4:30 p.m. EDT; 5:30 p.m. local time) Wednesday, completed a computer-controlled readiness check, then sent commands to ignite two large solid rocket boosters.
The twin boosters, consuming pre-packed ammonium perchlorate and powdered aluminum fuel, powered up with an explosive rush of energy to drive the Ariane 5 off its launch pad at the Guiana Space Center, a sprawling facility the size of Martinique on the northern coast of South America.
Arianespace delayed the launch from Tuesday to avoid strong high-altitude winds, which could have blown debris toward populated areas in the event of a failure.
Once it cleared the pad, computers guided the Ariane 5 to the east from the French Guiana launch base, passing the speed of sound in less than a minute before the solid rocket boosters consumed all their propellant at T+plus 2 minutes, 23 seconds.
The boosters peeled away from the Ariane 5's hydrogen-fueled core stage, followed about a minute later by separation of the rocket's Swiss-built nose fairing.
The core stage yielded to an upper stage HM7B engine about nine minutes into the mission, and the Sky Muster 2 and GSAT 18 communications satellites aboard the rocket soared into a high-reaching egg-shaped orbit stretching more than 22,000 miles (about 35,800 kilometers) above Earth.
Moments later, at 2058 GMT (4:58 p.m. EDT), the 14,120-pound (6,405-kilogram) Sky Muster 2 satellite for Australia's National Broadband Network deployed from the Ariane 5's upper stage.
A drum-shaped Sylda dual-payload adapter structure popped off the rocket soon after Sky Muster 2's separation, revealing the smaller 7,504-pound (3,404-kilogram) Indian-built GSAT 18 communications satellite for release at 2102 GMT (5:02 p.m. EDT).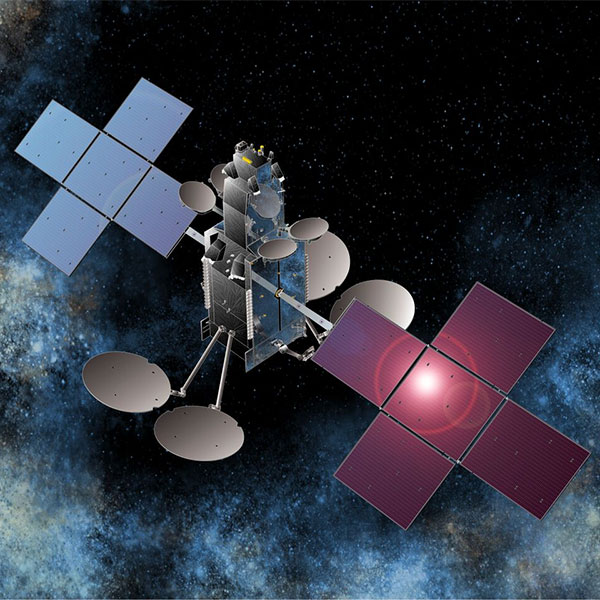 Officials heralded the launch a success, giving the Ariane 5 rocket 74 straight flawless missions dating back to 2003, matching the success record achieved by the Ariane 4 launcher through the 1990s and early 2000s.
"We are delighted to announce that Sky Muster 2 and GSAT 18 have been separated as planned on the targeted standard geostationary transfer orbit," said Stephane Israel, Arianespace's chairman and CEO, in prepared remarks after Wednesday's mission.
"During 14 years of service without any anomaly, Ariane 5 has put into orbit 145 spacecraft for a total weight of more than 623 (metric) tons," Israel said. "I want to pay a tribute and to congratulate all Ariane partners for this outstanding track record."
With the smooth separation of the mission's tandem payloads, the Ariane 5 upper stage moved on to the next phase of its flight: A series of experiments to gather information to help design the second stage of Europe's new Ariane 6 launcher.
The post-launch tests collected data on the behavior of the Ariane 5's super-cold liquid hydrogen fuel in space for engineers working on the Ariane 6 rocket, which will debut a new upper stage engine that can ignite multiple times on a single flight.
The Ariane 5 rocket's HM7B upper stage engine, a carryover from the Ariane rocket family's first flight in 1979, can only fire one time per launch, but the Vinci engine intended to fly on the Ariane 6 can conduct multiple burns, coasting through space for up to several hours between maneuvers.
Engineers from the European Space Agency and Airbus Safran Launchers, the prime contractor for the Ariane rocket program, conceived of the "demo flight" experiments to mimic the longer missions expected once the Ariane 6 enters service by the end of 2020.
"During this time, 65 sensors and a camera inside the liquid hydrogen tank observed the propellant's behavior under microgravity as the stage maneuvered," ESA said in a statement. "The collected data, returned through the New Norcia ground station in Australia, will help in designing the Ariane 6 upper stage."
The test run follows two similar demonstrations after Ariane 5 launches in May 2015 and March that measured the upper stage's response to re-pressurization in space, engine chilldown, and other activities required on future Ariane 6 flights.
Wednesday's launch was the last of the demo flight program.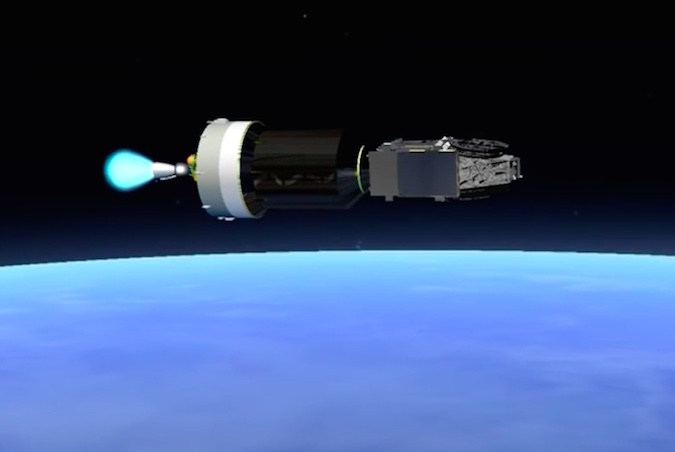 Meanwhile, ground controllers made contact both satellites lofted into orbit by the Ariane 5 rocket, confirming the spacecraft are healthy following launch.
Sky Muster 2 is the second in a pair of satellites ordered for the National Broadband Network, known and branded as nbn, a company backed by the Australian government to ensure every citizen of the country has access to high-speed Internet.
"Today's successful launch of Sky Muster 2 completes the final chapter in delivering our satellite service, which is already revolutionizing the face of regional and rural Australia," said Bill Morrow, nbn's CEO, in a statement. "Our satellites will ensure that no Australian gets left behind by providing access to fast broadband for those who need it the most."
The Sky Muster 1 satellite launched in September 2015 on an earlier Ariane 5 flight and is already operational, broadcasting Internet services across Australia.
"We've already seen how the service can improve healthcare outcomes by connecting remote patients to city specialists, deliver access to a new world of educational opportunities for kids in the bush and increase productivity for farmers by helping them run more efficient businesses," Morrow said.
From their positions 22,000 miles above Earth, the Sky Muster satellites will each broadcast through 101 spot beams covering all of Australia and offshore territories. Users can expect to see download speeds up to 25 megabits per second, and upload rates of up to 5 megabits per second, according to nbn's website.
With two Sky Muster satellites active, the national network will have around 135 gigabits per second of capacity, more than 30 times the capability of existing satellites providing connectivity in rural Australia, officials said.
Once it reaches a final position in geostationary orbit over the equator at 145 degrees east longitude, Sky Muster 2 will help connect 400,000 Australian homes and businesses over its 15-year mission, according to nbn.
"Today is a special day for us as it really marks Australia's confirmation as a key world player in the delivery of broadband via satellite," said Jean-Baptiste Rousselot, nbn's chief network and operations officer.
The $1.2 billion broadband-from-space project, including two satellites built by Space Systems/Loral, launch services and 10 ground stations in Australia, was completed on time and on budget, Rousselot said.
"Sky Muster 1 and 2 deliver broadband to the outback, which Australians have a very special cultural link to," Rousselot said. "The outback, while sparsely populated, contributes huge prosperity to the country, and nbn services will help the primary insdustries in the outback to operate more profitably and more successfully. New services will be able to be offered in business, in education, in health and in social services."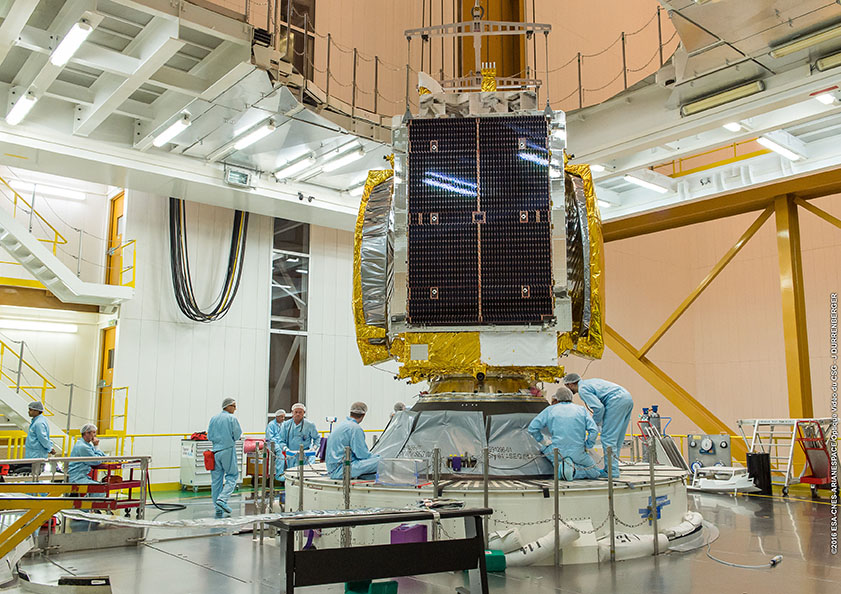 India's GSAT 18 satellite launched with Sky Muster 2 is heading for a geostationary orbit slot at 74 degrees east longitude, where its 48 C-band and Ku-band transponders will replace communications coverage offered by some of the country's aging relay spacecraft.
The communications satellite mission is valued at $153 million, including launch costs, and will support television, digital news gathering, data and other telecommunications services during its 15-year mission.
GSAT 18 was the 20th Indian satellite launched by an Ariane rocket, and ISRO has two more communications craft booked for Ariane 5 flights next year.
The GSAT 18 satellite was originally assigned to launch in July with the Japanese Superbird 8 payload, a hybrid commercial and military communications platform. But Superbird 8, also named DSN 1, was damaged during shipment from its Mitsubishi Electric Corp. factory in Japan to the French Guiana launch site, and officials expect repairs to take more than one year to complete.
Sky Muster 2 took Superbird 8's place, but the mishap during the satellite's air transport forced GSAT 18 to wait for launch three months longer than anticipated.
The next Ariane 5 launch is scheduled for Nov. 17 on the heavy-lifter's first mission for Europe's Galileo navigation system, an analog to the U.S. military's GPS constellation.
Four Galileo satellites will get a boost from the Ariane 5, twice as many as can be launched on the medium-lift Russian Soyuz rocket from French Guiana.
The rocket tailored to launch the Galileo spacecraft will have a restartable hydrazine-fueled Aestus upper stage engine, a configuration named the Ariane 5 ES, to place the satellites into a circular orbit more than 14,000 miles (23,000 kilometers) in altitude.
The liftoff on Nov. 17 is set for 1306 GMT (8:06 a.m. EST; 10:06 a.m. French Guiana time), a rare morning launch for the Ariane 5.
The seventh and final Ariane 5 launch of the year is on track for Dec. 20 with the Star One D1 and JCSAT 15 communications satellites for commercial customers in Brazil and Japan.
Email the author.
Follow Stephen Clark on Twitter: @StephenClark1.