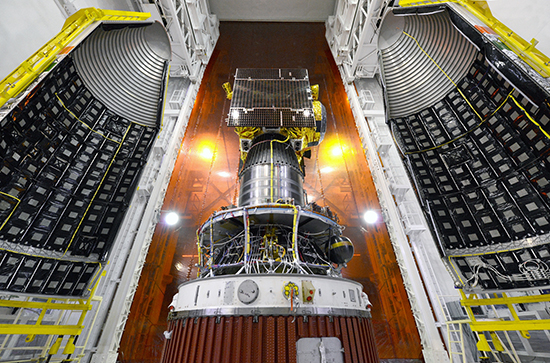 The launch of a satellite for India's indigenous navigation network has been postponed to resolve a problem with one of the spacecraft's radio transmitters, officials said Wednesday.
The spacecraft was scheduled to lift off March 9 aboard India's Polar Satellite Launch Vehicle, codenamed PSLV-C27, but a glitch surfaced during electrical testing after the payload was fueled and enclosed inside the rocket's nose cone, the Indian Space Research Organization said in a statement.
"During the integrated electrical checks of (the) launch vehicle along with (the) satellite after the closure of heat shield on March 3, 2015, an anomaly was observed in one of the telemetry transmitters of the satellite," ISRO said. "In order to resolve the technical anomaly through further test, simulation and analysis, the launch of PSLV-C27 with IRNSS 1D has been postponed."
ISRO is not announce a new target launch date for the mission, which will blast off from the Satish Dhawan Space Center on Sriharikota Island along India's east coast.
The 3,142-pound (1,425-kilogram) spacecraft is the fourth member of the Indian Regional Navigation Satellite System, a new network to provide positioning data to users across India and within 900 miles of its borders independent of other systems, such as the U.S. GPS constellation or Russia's Glonass satellite fleet.
India's regional navigation system will consist of seven satellites when finished — three satellites in equatorial geostationary orbits and four spacecraft in inclined orbits that swing up to 29 degrees north and south of the equator.
The first three IRNSS platforms launched in July 2013, April 2014 and October 2014.
India says the navigation service will aid marine traffic, emergency response officials, vehicle tracking applications, mobile communications, mapping, and civilian drivers.
Positioning data available to the public should provide a user's location with an accuracy of less than 20 meters, or about 65 feet, ISRO says. There is also an encrypted service for the Indian military and other authorized users.
Follow Stephen Clark on Twitter: @StephenClark1.