Updated Tuesday @ 1600 GMT with new acreage and containment numbers; adding IR maps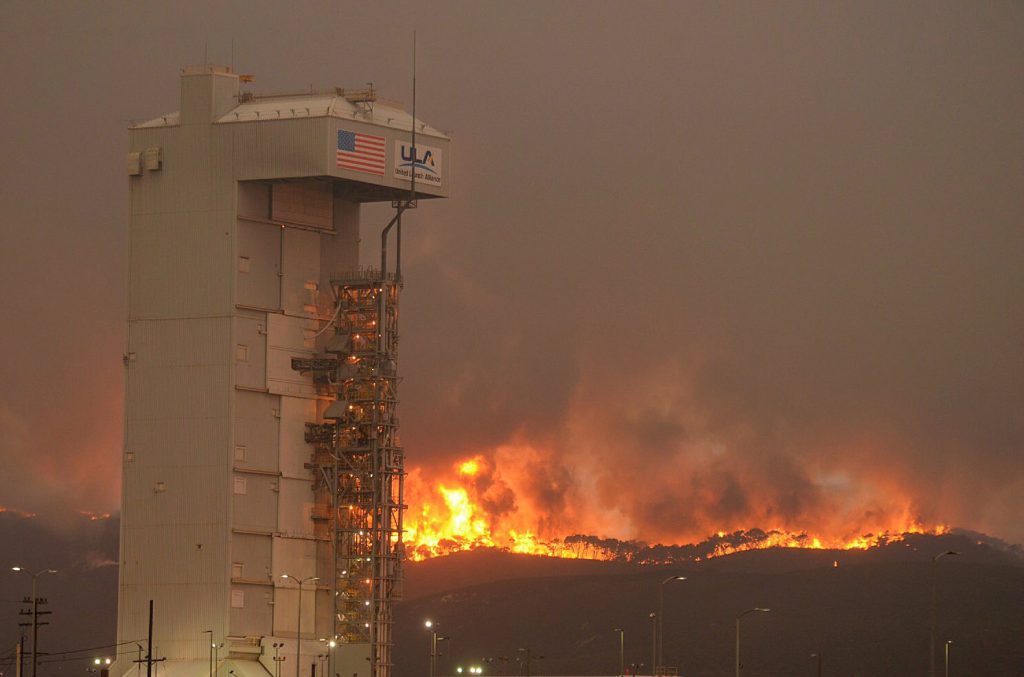 The escalating wildfire at California's Vandenberg Air Force Base grew even larger Monday despite the round-the-clock efforts of firefighters trying to bring the blaze under control before it threatens United Launch Alliance and SpaceX launch pads used by Atlas 5, Delta 4 and Falcon 9 rockets.
Firefighters on the ground and in the air have been battling for days to gain control of the fire, which was 18 percent contained Tuesday morning and had consumed 10,542 acres, up from 6 percent contained and 6,000 acres late Monday.
An unknown cause sparked the fire around 5:20 p.m. Saturday in a remote canyon on South Base. It led officials to cancel Sunday morning's Atlas 5 launch to deliver the commercial WorldView 4 Earth-imaging satellite into space for DigitalGlobe so that fire crews could remain in place.
South Base is home to several active launch pads — Space Launch Complex 3-East where the Atlas 5 currently stands, Space Launch Complex 4 where 10 Iridium mobile communications satellites are being prepped for a SpaceX Falcon 9 rocket launch and Space Launch Complex 6 where United Launch Alliance Delta 4 rockets are flown.
There's also SLC-8 at the foot of SLC-6 that has been used for Orbital ATK's small Minotaur boosters.
ULA technicians secured the Atlas 5 and WorldView 4 following Sunday's launch postponement, which came at the request of the Air Force leadership. The gantry doors were sealed to cocoon the rocket within its protective mobile service tower.
"Bird and S/C are secured. USAF firefighters have resources nearby should they be needed," ULA CEO Tory Bruno tweeted Tuesday morning. "I feel well protected by the outstanding USAF Operations and Firefighting teams."
Liftoff was delayed until Sept. 26, at the earliest, due to Range scheduling conflicts.
The Iridium satellites were shipped to Vandenberg from their Arizona factory to be readied for launch, but that flight is on hold due to the Falcon 9 rocket explosion at Cape Canaveral earlier this month.
The fire has been classed a "high priority" fight by Vandenberg, U.S. Forestry Service, CalFire and Santa Barbara County firefighters due to the assets on South Base.
But the fire moved towards the southern base boundary and the Sudden Ranch area on Monday morning. By the afternoon, officials said it was expanding in all directions.
Difficult terrain made direct fights against the flames a challenge.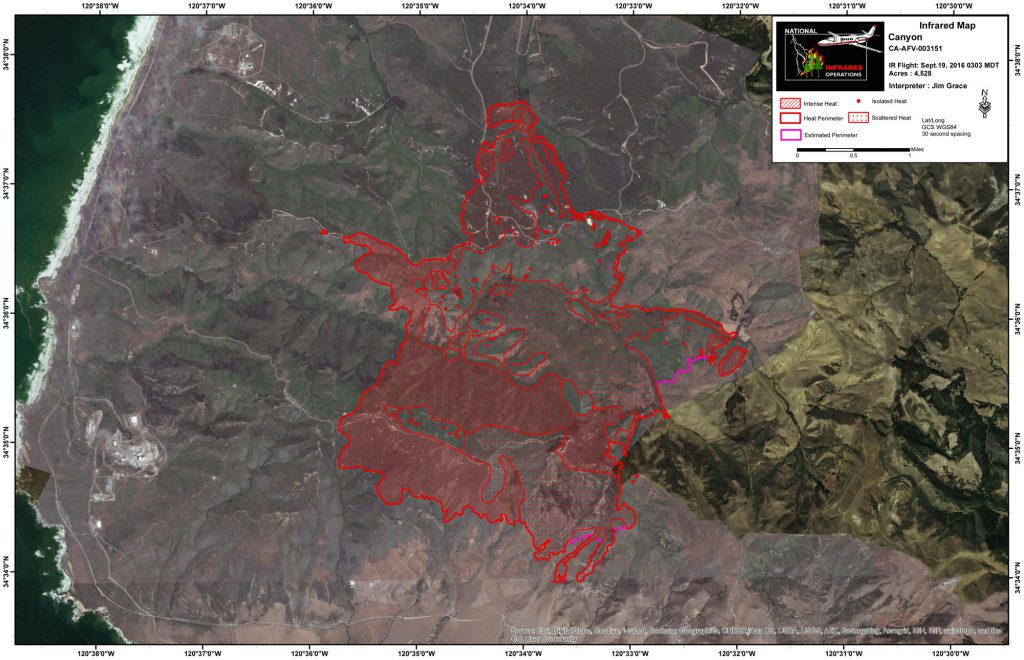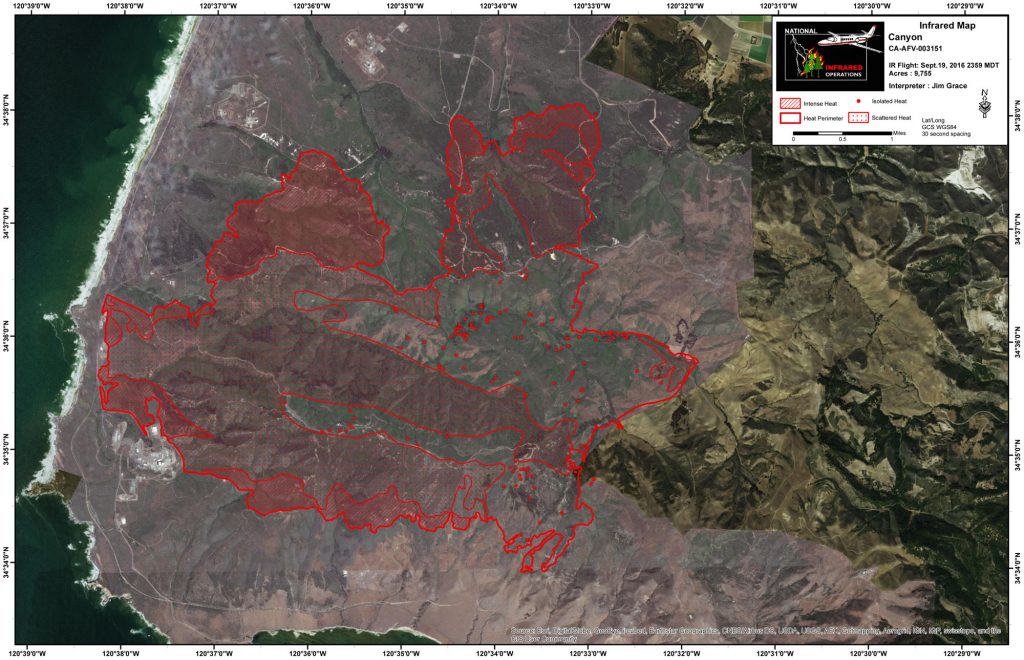 As of Monday evening, officials said no structures had been harmed by the fire, and resources were deployed to protect facilities from the fire's advancements.
The fire has severed power to several facilities on South Base, requiring generator power to kick in.
Two injuries were reported in the efforts on Sunday evening. They were transported to a local hospital in Lompoc for treatment, according to the Santa Barbara County Fire Dept.
Hundreds of personnel are fighting the fire on the ground with air support from tanker aircraft and helicopters. Reinforcements are expected on Tuesday.
Extremely dry vegetation and warm temperatures are fueling the fire. It began in an area that had not burned in nearly 40 years, making the drought-stricken area ripe for the blaze.
The 30th Medical Group is monitoring the air quality at Vandenberg's North Base. As of 5:20 p.m. Monday, the air quality was normal, the Air Force said.
Individuals sensitive to smoke including children, pregnant women, the elderly, and individuals with heart and respiratory conditions should limit their exposure to the outdoors.
The Air Force says teams early Monday used a helicopter to map fire lines and better understand the precise boundaries of the wildfire to more effectively distribute fire personnel and resources.
Vandenberg fire and security forces continue to investigate possible causes of the blaze.
On Monday, access to South Base was restricted to emergency personnel only. It has been limited to mission-essential workers.
See earlier WorldView 4 coverage.
Our Atlas archive.