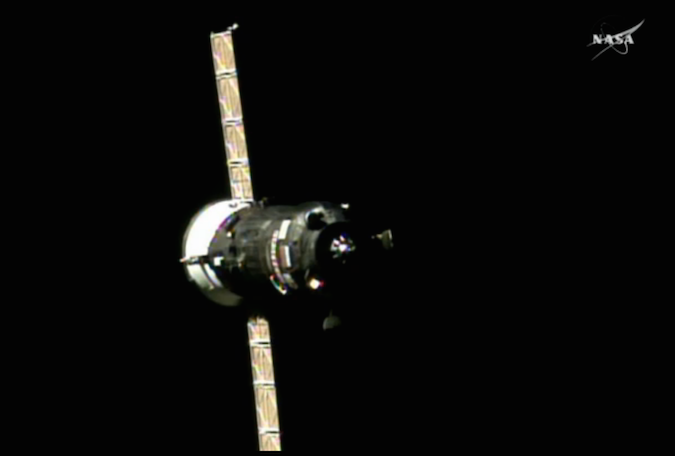 A Progress refueling and resupply freighter linked up with the International Space Station's Pirs docking compartment Monday, two days after blasting off from Kazakhstan with more than 2.6 tons of cargo, propellants and water.
The automated spaceship completed a radar-guided docking at 0020 GMT Tuesday (8:20 p.m. EDT Monday) as the Progress MS-03 cargo craft and space station sailed 254 miles over Chile.
The Progress MS-03 spacecraft is the first of two unpiloted logistics missions due to arrive at the space station this week. A SpaceX Dragon supply ship launched early Monday from Cape Canaveral, on course to reach the research lab Wednesday.
The space station has never had back-to-back cargo deliveries in such proximity before.
Russia's Progress MS-03 spacecraft carried about 5,302 pounds of cargo, fuel, water and air to the space station, according to a manifest released by Roscosmos, the Russian space agency.
Since its launch Saturday aboard a Soyuz-U rocket, the Progress freighter unfurled its power-generating solar panels, extended its navigation antennas, and executed multiple rocket firings to set up for Monday's docking.
Cosmonauts planned to open hatches leading to the newly-arrived Progress spacecraft later this week and begin unpacking 2,712 pounds (1,230 kilograms) of food, waste containers, sanitary items, medical gear and experiments from the ship's pressurized compartment.
The Progress will pump 1,554 pounds (705 kilograms) of rocket propellants into the space station's fuel tanks, and add 926 pounds (420 kilograms) of water to the outpost's reserves. The mission also delivered 110 pounds (50 kilograms) of oxygen and air to revitalize the station's atmosphere.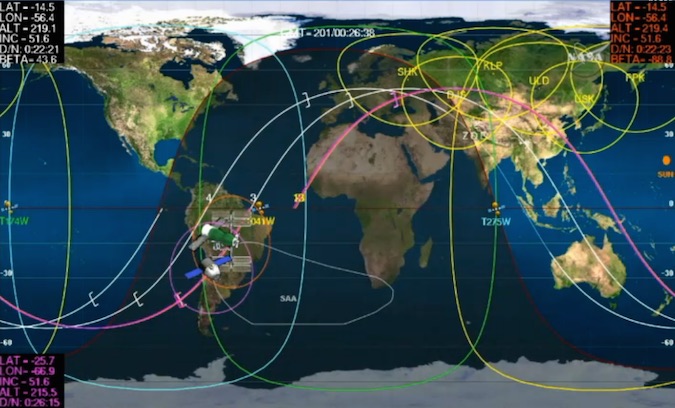 The Progress MS-03 mission, known as Progress 64P in the space station's schedule of visiting vehicles, is the third flight of a modernized Russian cargo craft with upgrades to its navigation and communications systems. The improvements include an upgraded command and telemetry system, a new type of Kurs rendezvous radar, digital communications equipment for better video links with the space station, and backup motion control system for the Progress spacecraft's manual control system, which cosmonauts on the station would use to take over if its autopilot failed during docking.
A radio link with Russian data relay satellites in geostationary orbit is also installed on the new generation of Progress vehicles, allowing better communications between the spacecraft and ground controllers even when it is flying outside the range of ground stations on Russian territory.
The spaceship's navigation system, space debris shielding and spotlight also see improvements, along with the mechanism that firmly latches the cargo capsule to the space station after docking.
The Progress MS-03 cargo craft will remain at the space station until January, when it will detach and head for a destructive re-entry over the South Pacific Ocean to dispose of trash.
Email the author.
Follow Stephen Clark on Twitter: @StephenClark1.