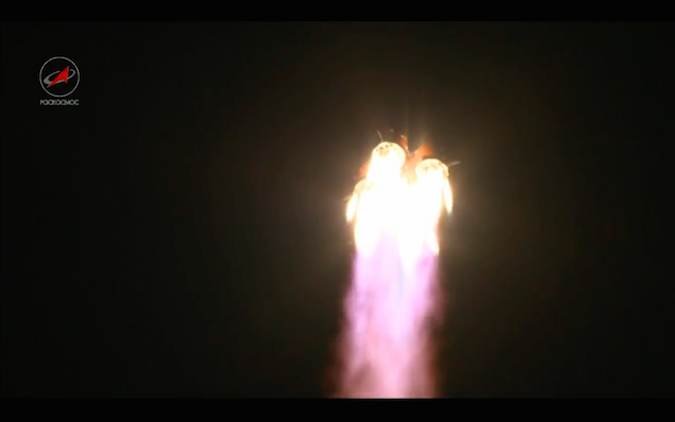 A Russian Progress cargo spacecraft laden with 5,300 pounds of fuel and supplies blasted off from the Baikonur Cosmodrome in Kazakhstan on Saturday, riding a Soyuz rocket smoothly into orbit on the first of two resupply launches heading for the International Space Station in the next two days.
The Progress MS-03 supply ship, known as Progress 64P in the space station's visiting vehicle manifest, launched at 2141:45 GMT (5:41:45 p.m. EDT) Saturday aboard a Soyuz-U rocket, soaring east-northeast from the Kazakh spaceport in line with the space station's flight path.
A clear predawn sky at Baikonur afforded views of the Soyuz booster climbing into the stratosphere, then releasing four liquid-fueled strap-on first stage boosters at an altitude of 30 miles, or about 50 kilometers.
The Soyuz rocket's core stage continued firing until about T+plus 4 minutes, 58 seconds, then an RD-0110 third stage engine ignited to propel the Progress spacecraft into a preliminary orbit.
The third stage engine shut off at T+plus 8 minutes, 45 seconds, followed moments later be separation of the 8-ton (7.3-metric ton) Progress cargo carrier. Russian ground controllers confirmed the unpiloted ship's solar panels and navigation antennas unfurled as planned.
Several engine burns Sunday and Monday will fine-tune the spacecraft's flight to the space station, with docking to the research lab's Pirs module set for 0022 GMT Tuesday (8:22 p.m. EDT Monday).
The Progress MS-03 spacecraft is loaded with more than 2.4 metric tons — about 5,302 pounds — of cargo to the space station.
Here is a breakdown of the cargo manifest provided by Roscosmos, the Russian space agency:
2,712 pounds (1,230 kilograms) of dry cargo
1,554 pounds (705 kilograms) of rocket propellant to refuel the station
926 pounds (420 kilograms) of water
110 pounds (50 kilograms) of air and oxygen
Rocket propellant allocated to the Progress cargo craft's own engines is not included in the above tally.
Items in the Progress spacecraft's pressurized compartment include 701 pounds (318 kilograms) of food rations, solid waste containers and other sanitary equipment, personal hygiene and medical gear, hardware for the Russian segment's power and thermal control systems, maintenance tools and experiments.
The cargo package published by Roscosmos also includes about 48 pounds (22 kilograms) of supplies for NASA.
Meanwhile, a SpaceX ground crew at Cape Canaveral is prepping for a middle-of-the-night launch of a Falcon 9 rocket with another space station supply ship at 0445 GMT (12:45 a.m. EDT) Monday.
It will carry nearly 5,000 pounds — about 2,257 kilograms — of supplies, experiments and other equipment to the research lab inside a SpaceX-owned Dragon cargo craft.
The Dragon spacecraft is due to reach the International Space Station for a grapple by the outpost's robotic arm early Wednesday.
The Dragon supply ship set for liftoff early Monday is the ninth space station cargo delivery mission launched by SpaceX under a 2008 contract with NASA. SpaceX is now on the hook for at least 26 station resupply missions through 2024 under the terms of the 2008 agreement, which has been extended multiple times, and a follow-on contract signed earlier this year.
Email the author.
Follow Stephen Clark on Twitter: @StephenClark1.