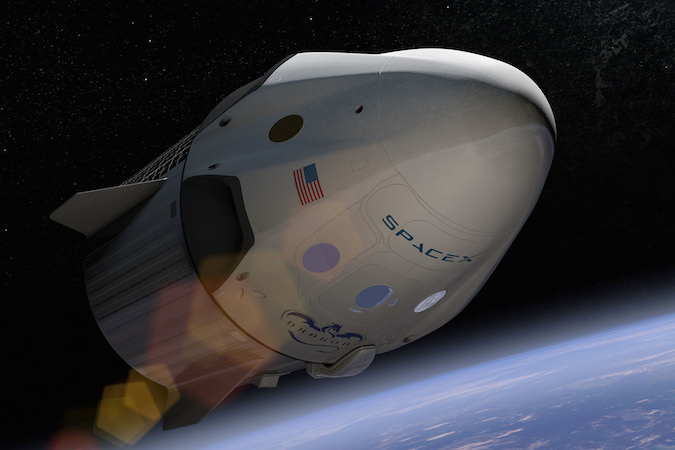 SpaceX is on schedule to fly two NASA astronauts on a test flight to the International Space Station by the end of 2017, but there is a lot of work to do to ensure the company's new Crew Dragon spaceship is up to the task and ready in time, a SpaceX manager said Tuesday.
Benjamin Reed, director of SpaceX's commercial crew program, said Tuesday that construction workers will install a crew access arm and other infrastructure for human spaceflights at Kennedy Space Center's launch pad 39A this summer.
The seaside launch facility — last used for the final space shuttle launch in 2011 — is being leased by SpaceX to support flights by the company's future Falcon Heavy rocket, commercial satellite launches and piloted space sorties, which will blast off on the smaller Falcon 9.
Meanwhile, SpaceX has finished qualification of the company's own docking system to connect the Crew Dragon to Boeing-made docking adapters on the space station, and began testing of the capsule's propulsion system, according to a presentation by Reed at the Space Congress 2016 industry conference in Cape Canaveral.
Still to come: Full-up integrated tests of the Crew Dragon's environmental control and life support system, qualification of the capsule's four-parachute recovery system, and qualification of the spacesuits to be worn by astronauts flying on the SpaceX craft.
"We've got a lot to do by next year, but we're looking good," Reed told reporters Tuesday. "We're on track."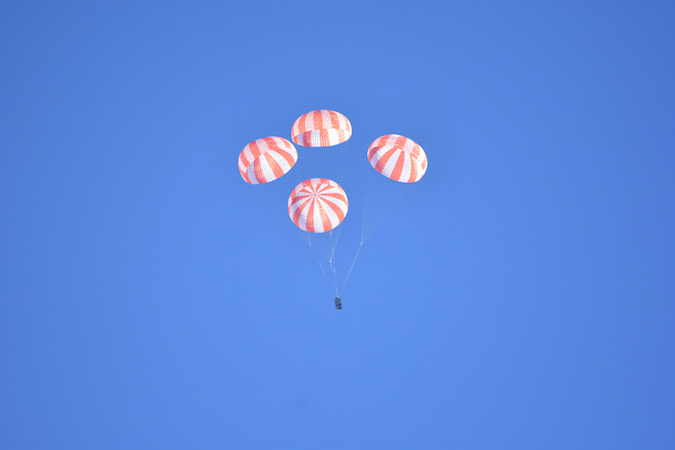 NASA awarded Boeing and SpaceX contracts in 2014 to complete development of the CST-100 Starliner and Crew Dragon spacecraft to ferry astronauts to and from the space station, eyeing a start of operational flights by the end of 2017.
Boeing won up to $4.2 billion for the effort, which will send astronauts to space on CST-100 capsules from Florida atop United Launch Alliance Atlas 5 rockets and return them to landings in the Western United States, likely in New Mexico or Utah, with the aid of parachutes and airbags.
SpaceX's contract has a maximum value of $2.6 billion.
Each contractor is guaranteed at least two "post-certification" missions after they complete two orbital test flights to the space station, one without astronauts and one with two crew members. Boeing and SpaceX could each receive firm orders for up to six missions under the guidelines of the contracts.
So far, NASA has ordered the first two operational crew rotation missions from Boeing, and one from SpaceX. The CST-100 and Crew Dragon capsules will carry at least four astronauts on normal revenue-earning crew rotation flights, and they will stay docked with the complex for up to 210 days.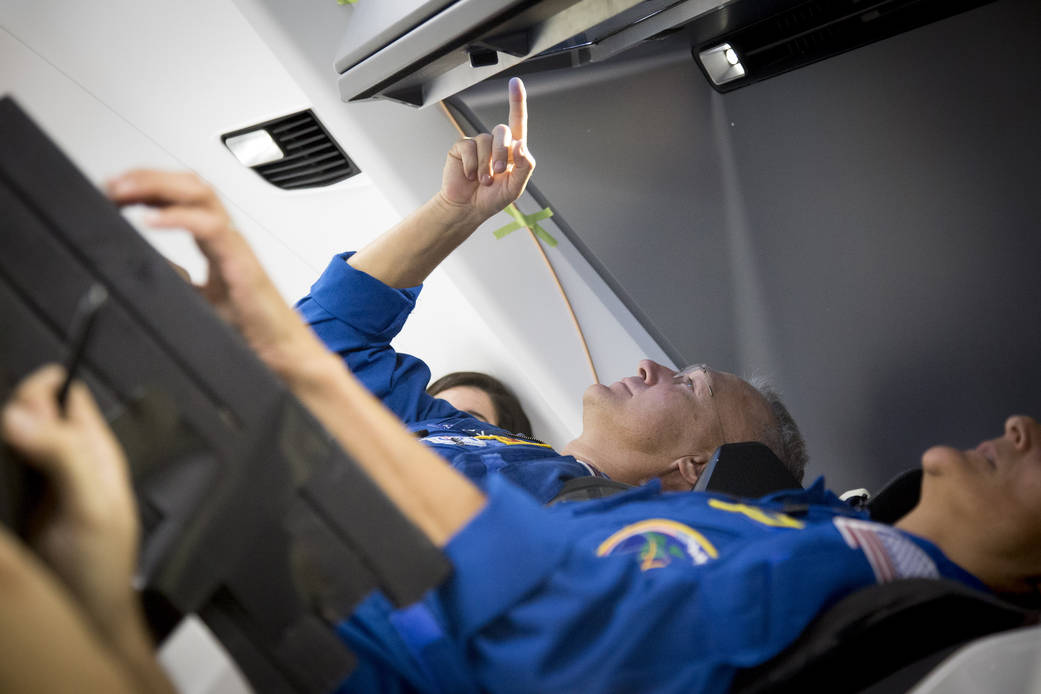 Boeing announced earlier this month that its first piloted CST-100 Starliner flight with two test astronauts on-board has slipped from October 2017 to February 2018. That will be preceded by an abort test using the capsule's pusher escape engines at White Sands, New Mexico, in October 2017 and a trip to the space station by an unoccupied CST-100 in December 2017, Boeing officials said.
Reed was less specific Tuesday on a timetable for Crew Dragon test flights.
Earlier this year, SpaceX quietly delayed its initial Crew Dragon mission without astronauts from late 2016 to May 2017. A NASA official confirmed the updated schedule in a March presentation to the agency's advisory council.
SpaceX demonstrated the Crew Dragon's ability to rapidly dispatch astronauts away from a catastrophic mishap on the launch pad in May 2015. The company plans an in-flight abort demo next year some time after the uncrewed orbital test flight, using the same vehicle after it returns from space.
"This time, we'll put the Dragon test vehicle on top of a Falcon 9, launch it and then do an abort mid-ascent," Reed said.
"Then of course, the biggie, Demonstration No. 2 to ISS with crew," Reed said. "Two of the members of the NASA cadre will be on-board, and we're looking forward to bringing them up and bringing them home safely."
NASA has named astronauts Robert Behnken, Eric Boe, Douglas Hurley and Sunita Williams as the first four crew members to train for CST-100 and Crew Dragon missions. The agency has not announced the astronauts who will fly on each spacecraft.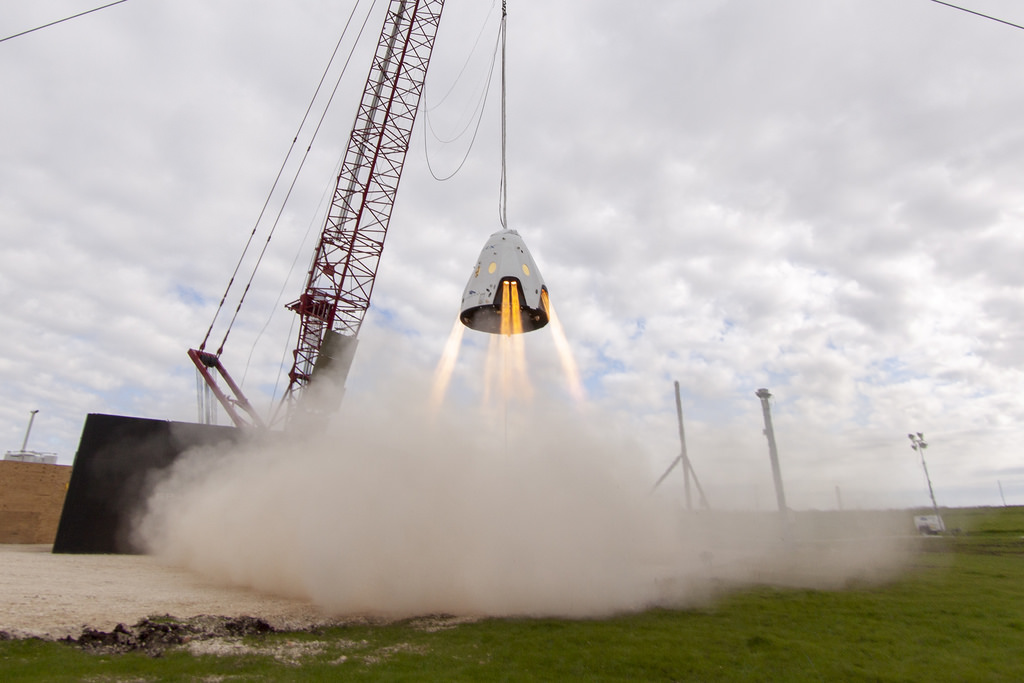 Reed said SpaceX hopes to certify the Crew Dragon's propulsive landing capability, which will allow for helicopter-like touchdowns on a landing pad, some time after spacecraft begins flying astronauts.
"That's certainly the plan, and we'll work closely with NASA to decide the right time to introduce propulsive landing," Reed said.
The initial missions in 2017 will return to Earth to an ocean splashdown like the cargo version of Dragon, but with an extra fourth parachute to carry the added weight of the human-rated capsule.
SpaceX released a video in January of a five-second hover test using the Crew Dragon's powerful hydrazine-fueled SuperDraco jetpack at a development facility in Central Texas.
The propulsive landing technique is a key enabler for a commercial robotic "Red Dragon" mission SpaceX intends to launch to Mars in 2018.
"We're still working (on propulsive landing) right now, but the first thing is to make sure were certified to get the crew up and bring them back safely," he said.
Email the author.
Follow Stephen Clark on Twitter: @StephenClark1.