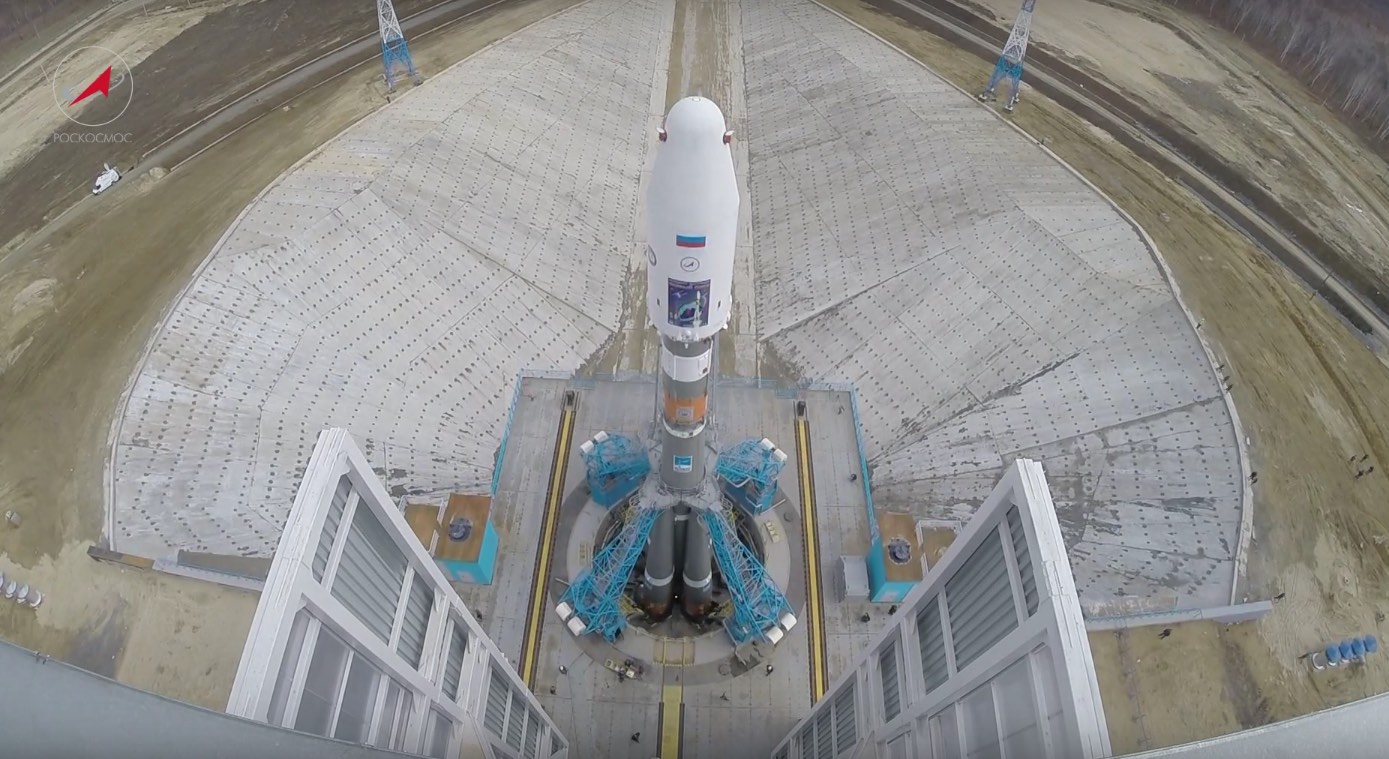 A Soyuz rocket counted down to launch from Russia's new Vostochny Cosmodrome early Wednesday, but computers aborted the flight about 90 seconds before liftoff, the Russian space agency said.
The historic liftoff has been rescheduled for the same time Thursday — 11:01 a.m. local time at the Siberian spaceport, or 0201 GMT (10:01 p.m. EDT Wednesday), Roscosmos said in a brief statement.
Engineers are investigating the cause of the automatic abort, Roscosmos said. The countdown stopped after computers took control of the launch procedures in the final few minutes before liftoff, when the Soyuz rocket's fuel tanks were already filled with kerosene and liquid oxygen propellants.
The Soyuz-2.1a rocket and its Volga upper stage will place three civilian research satellites into a polar orbit.
The flight marks the first launch from the Vostochny Cosmodrome, a $3 billion facility in Russia's Amur region near the Chinese border. Construction at the site in Russia's Far East began in 2011 as a priority project of Russian President Vladimir Putin, who attended Wednesday's launch attempt.
A statement issued by the Kremlin said Putin was briefed on upcoming construction at the Vostochny Cosmodrome, including the installation of a second launch pad for Russia's new Angara rocket by 2021. Long-term plans call for crewed space missions to blast off from Vostochny, perhaps as soon as 2023.
The Kremlin said the Soyuz launch was delayed for a day due to a failure in the flight control system.
Vostochny will reduce Russia's reliance on the Baikonur Cosmodrome in Kazakhstan and move more launches to its own territory.
The first launch from Vostochny was supposed to occur before the end of 2015, but officials delayed the mission to April after construction mishaps and widespread corruption clouded development of the multibillion-dollar spaceport.
The satellites aboard the Soyuz-2.1a rocket include a 645-kilogram (1,422-pound) spacecraft named Mikhailo Lomonosov to study the universe in gamma rays and cosmic rays, the experimental Aist 2D Earth observation satellite, and a CubeSat built and operated by Russian university students.
The Siberian launch pad gives the Soyuz rocket four home bases — Baikonur, Vostochny, the Plesetsk Cosmodrome in northern Russia, and a launch facility at the European-run Guiana Space Center in South America.
Wednesday's aborted countdown was the second time in less than three days that a technical fault scrubbed a Soyuz rocket launch.
A Soyuz countdown in French Guiana about an hour before a launch attempt Sunday due to a failure in the rocket's guidance system. Technicians replaced the faulty component in time for a successful liftoff Monday.
Variants of the Soyuz rocket have flown nearly 1,900 times since the 1950s, and Soyuz launches are rarely delayed.
Email the author.
Follow Stephen Clark on Twitter: @StephenClark1.