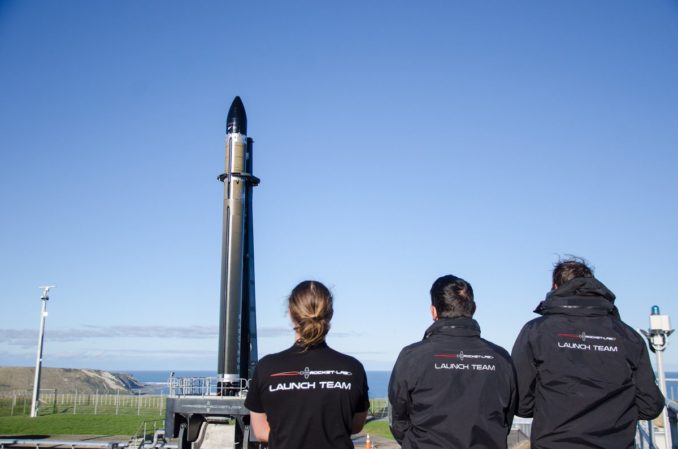 Rocket Lab will bypass its current launch window to resolve a recurring problem with a motor controller on the company's light-class Electron rocket, officials said Thursday, likely postponing its first commercial satellite launch at least a few weeks.
The indefinite delay is the second time the U.S.-New Zealand launch company, which is on the cusp of commencing commercial launch services after two test flights, has given up on a two-week launch window to examine the motor controller issue.
"The team is standing down from this launch window to take a closer look at the motor controller behavior again. We're still not happy with the data, and as we all know, the only metric that counts in the launch business is 100% mission success," Rocket Lab tweeted Thursday.
Peter Beck, Rocket Lab's founder and CEO, tweeted that the mission "will be back on the pad shortly" at the company's launch site at Mahia Peninsula, located on New Zealand's North Island.
A motor controller for one of the Electron rocket's engines displayed unusual behavior during a countdown rehearsal in April. Rocket Lab called off plans to launch the Electron rocket that month to study the issue, before proceeding with a fresh two-week launch window which opened June 22, U.S. time.
The launch attempt June 22 (June 23 in New Zealand) was scrubbed due to a problem with a downrange tracking station in the Chatham Islands. Rocket Lab skipped launch opportunities over the following three days due to poor weather, then tried again Tuesday, U.S. time, before engineers identified the motor controller issue.
"The motor controller behavior was similar to that previously identified during wet dress rehearsal operations in April," Rocket Lab said in a statement. "This issue was analyzed and corrective measures in place, however a similar issue presented during (Tuesday's) pre-launch operational checks."
Rocket Lab officials said all systems on the rocket performed normally during a countdown rehearsal earlier this month. The successful countdown test apparently gave the launch team confidence to proceed with a launch this month.
"A motor controller is a device that governs commands given to selected hardware and software systems throughout the launch vehicle," Rocket Lab said in a statement.
"Our test program was about making it to orbit and deploying our first customer satellites," Beck said. "Having achieved that and moved into commercial operations, mission assurance is our focus for every customer flying on Electron.
"There's only one measure that matters in the launch industry and that's 100 percent mission success," Beck said in a statement. "We'll take some time to review the data and tweak whatever we need to ahead of a new launch window to make sure we achieve that."
Before the opening of this month's launch window, Beck said in an interview that engineers concluded the motor controller issue identified in April was "not a hardware issue," but a "process issue with production."
Rocket Lab's next launch is set to be the third flight of the company's privately-developed 55-foot-tall (17-meter) Electron rocket, a kerosene-fueled, two-stage launcher sized to lift nanosatellites and microsatellites into orbit for less than $5 million per mission.
The first Electron launch in May 2017 fell short of orbit due to a ground tracking error, which caused safety officials to prematurely terminate the mission. The second test flight in January successfully placed several small spacecraft in orbit, prompting Rocket Lab to declare the start of commercial service with the third launch, nicknamed "It's Business Time."
Two of satellites awaiting launch on the next Electron rocket are owned by Spire Global, a San Francisco-based company which builds and operates a fleet of CubeSats collecting weather data and tracking maritime traffic. Another California-based company, GeoOptics, is also launching a small satellite for its own commercial weather monitoring constellation.
The Electron rocket will also launch a German-built craft to test an aerodynamic drag sail that could be used to de-orbit future satellites and help clear space junk out of orbit. A CubeSat named Irvine01 built by Southern California high school students is also set for liftoff on the Electron rocket.
Before the latest delay, Beck said Rocket Lab aims to ramp up the Electron launch rate to around one flight per month by the end of the year. Rocket stages and payloads for the fourth Electron launch are nearing the end of their test and assembly campaigns, in preparation for liftoff on a mission contracted by NASA with multiple U.S.-owned experimental CubeSats.
Email the author.
Follow Stephen Clark on Twitter: @StephenClark1.