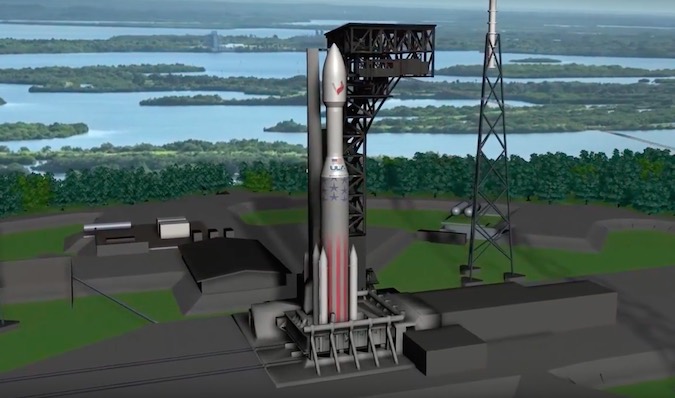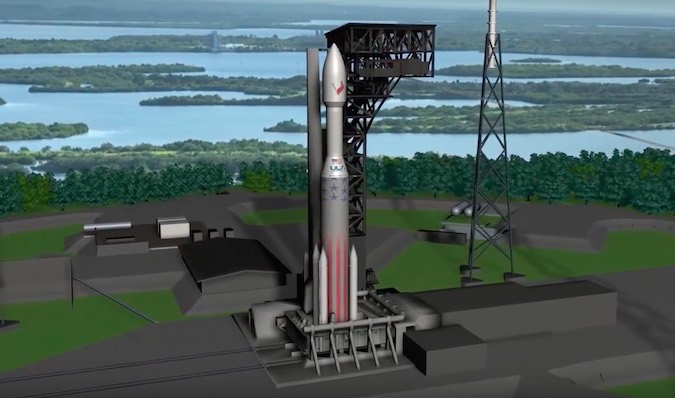 United Launch Alliance plans to introduce a new payload fairing design on the next-generation Vulcan rocket, which will fly with composite parts made by Switzerland-based Ruag Space, the company's chief executive said Wednesday.
Ruag already builds 5.4-meter (17.7-foot) diameter nose cones in Switzerland for the Atlas 5 rocket's 500 series, while ULA manufactures the smaller 4-meter (13.1-foot) fairing at its own facility in Harlingen, Texas.
A new agreement signed by ULA and Ruag, announced this week, calls for all Vulcan payload fairing production to be based at ULA's rocket factory in Decatur, Alabama.
Ruag Space said in a statement Wednesday that flight hardware production in Alabama will begin in 2018, and the new fairings will be ready in time for the first flight of the Vulcan rocket at the end of 2019.
Like the Atlas 5, the Vulcan launcher's clamshell-like fairings will come in two designs — 5-meter and 4-meter sizes — depending on the dimensions of the payload assigned to each flight.
"Starting in 2019, Ruag will supply a second type of payload fairing that will be smaller than the one it currently delivers," Ruag said. "Both fairings are to be used on ULA's new Vulcan launcher as well. Located at the tip of the launcher, the payload fairing houses the satellites, gives the rocket its aerodynamic shape and protects the delicate cargo."
The Atlas 5's metallic 4-meter fairing will be phased out with the Vulcan rocket, and the new Ruag-built nose cones may also fly on Atlas 5s before that launcher's retirement in the early 2020s, according to Tory Bruno, ULA's president and CEO.
Bruno said Ruag Space is "going to take on all of our composite structures work, and they're going to bring some very advanced composite manufacturing technologies that they have in their factory in Switzerland, they're going to bring all of that to Decatur."
---
Spaceflight Now members can read a transcript of our full interview with Tory Bruno. Become a member today and support our coverage.
---
Orbital ATK and Ruag Space currently produce most of the composite structures for ULA's Atlas and Delta rocket fleets.
Bruno said ULA's Harlingen site will continue fabricating other metallic structures for the Atlas 5 and Vulcan.
The composite 4-meter fairing to be made by Ruag is similar to the design of the Atlas 5's existing 5-meter nose cone.
"It's definitely going to cut in on Vulcan Centaur," Bruno said Wednesday in an interview with Spaceflight Now at the 32nd Space Symposium in Colorado Springs. "It may cut in on Atlas. We haven't decided yet if there's a good place to bring it in."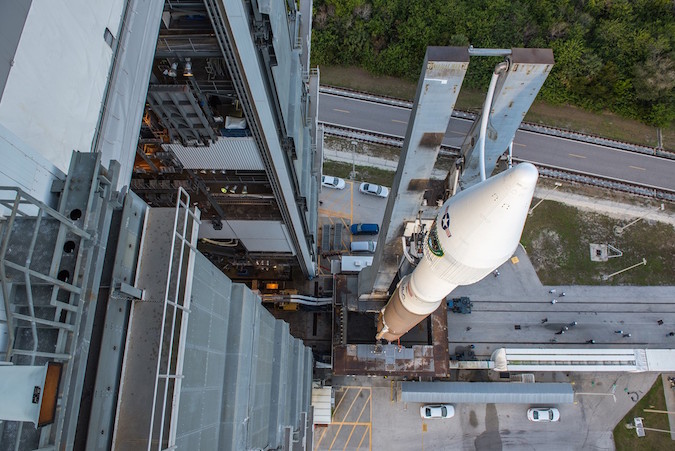 The modified fairing has several advantages, Bruno said.
"I'd like to be able to (fly the composite 4-meter fairing on Atlas 5) because the reason its shape is different is because it has more internal volume, so we can accommodate a greater set of spacecraft within that fairing than we can within our current metallic 4-meter fairing, and the smaller fairing is less expensive than the 5-meter fairing," he said.
The new fairing is also lighter, so the rocket can lift more payload mass into orbit.
Atlas rockets have flown with metallic 4-meter fairings since the Atlas 1 rocket started flying in 1990. The metallic design stayed with the Atlas rocket through several upgrades, ending with the Atlas 5.
Ruag Space will continue to produce similar composite payload fairings for Europe's Ariane and Vega rocket families in Switzerland.
Bruno said ULA is shuffling its supplier base for the Vulcan rocket, moving the production of some items in-house.
"We're also working on an intitiative to be a little bit more vertical than we are now. We call it thickening. So we've been looking through our supply chain to where we have an opportunity to do that work with lower cost ourselves, or do it more reliably," Bruno told Spaceflight Now.
"Sometimes, you have suppliers that look inexpensive when they proposed to us, but as time went by their performance turned out to be poor, and you end up spending a lot of money helping them fix their problems, or accommodating their problems, and in reality you realize those suppliers are not as inexpensive as you thought they were going to be. Things like that, where were have capabilities, are also coming in-house."
He said most of components to be manufactured internally will be structural pieces of ULA's launchers.
Email the author.
Follow Stephen Clark on Twitter: @StephenClark1.