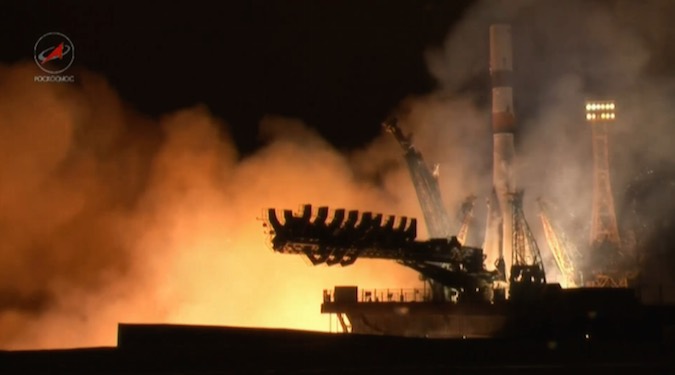 A Soyuz rocket launched Thursday with a Progress cargo freighter carrying more than 5,300 pounds of fuel, water, and supplies for the International Space Station's six-person crew.
The Progress MS-02 spacecraft blasted off at 1623:57 GMT (12:23:57 p.m. EDT) Thursday from the Baikonur Cosmodrome in Kazakhstan, setting off on a two-day pursuit of the massive orbiting research complex.
The three-stage Soyuz-2.1a booster propelled the robotic logistics freighter through a low cloud deck over the historic launch base, then accelerated into low Earth orbit less than nine minutes after liftoff.
The Progress MS-02 cargo capsule deployed from the Soyuz rocket's third stage, then unfurled navigation antennas and two power-generating solar array wings seconds later, according to NASA spokesperson Rob Navias.
The cargo capsule is heading for an automated linkup with the space station's Zvezda service module at around 1800 GMT (2 p.m. EDT) Saturday.
The mission is the 63rd Progress cargo craft to launch toward the International Space Station, and it will be the second supply ship to arrive at the outpost in a week after an Orbital ATK Cygnus spacecraft delivered a load of experiments and provisions March 26.
Russian ground crews packed 5,346 pounds (2,425 kilograms) of fuel, water, air and supplies into the Progress MS-02 spaceship for the journey to the space station, according to a manifest posted online by Roscosmos, the Russian space agency.
The cargo craft's pressurized section carries 3,126 pounds (1,418 kilograms) of equipment. That includes 762 pounds (346 kilograms) of sanitary supplies and waste containers, 729 pounds (331 kilograms) of food rations, and packages of towels, napkins, clothing, water filters, air filters, batteries, carbon monoxide and smoke detectors, medical gear, maintenance tools, scientific experiments, and a nanosatellite that will be deployed by hand on a future Russian spacewalk.
The Progress supply freighter will also refuel the space station's Zvezda propulsion and service module with 1,190 pounds (540 kilograms) of propellants. The rocket fuel would be used to help steer the space station out of the way of space junk and reboost its orbit.
Tanks inside the cargo capsule will also take 926 pounds (420 kilograms) of fresh water and 103 pounds (47 kilograms) of oxygen and air to the space station.
A previous Progress supply ship departed the space station Wednesday to clear the Zvezda module's aft port for the arrival of the fresh cargo craft Saturday. The Progress M-29M spaceship is loaded with trash and will re-enter Earth's atmosphere April 8 for a destructive re-entry over the South Pacific Ocean.
The Progress MS-02 vehicle will remain docked to the space station until October.
The complex is scheduled to receive its third cargo delivery in 15 days on April 10, when SpaceX's Dragon spacecraft is due to arrive. SpaceX commercial supply ship is currently set to launch from Cape Canaveral on April 8 aboard a Falcon 9 rocket.
Email the author.
Follow Stephen Clark on Twitter: @StephenClark1.