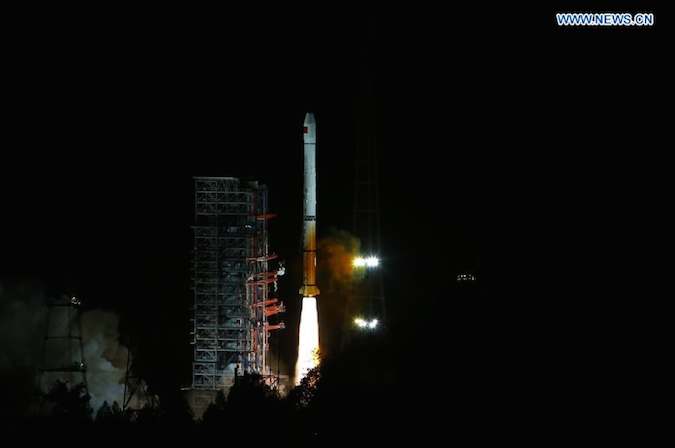 China's Beidou navigation system received a new addition Tuesday with the successful launch of a fresh satellite aboard a Long March 3A rocket.
The 172-foot-tall (52-meter) launcher blasted off at 2011 GMT (4:11 p.m. EDT) Tuesday from the Xichang space center in southwest China's Sichuan province, according to the state-run Xinhua news agency.
The launch occurred at 4:11 a.m. Beijing time Wednesday.
The hydrazine-fueled first stage produced more than 665,000 pounds of thrust to drive the Long March 3A skyward, then two more rocket stages took over to guide the mission's Beidou navigation payload into an elliptical transfer orbit.
The satellite was expected to separate from the Long March 3A's hydrogen-burning third stage less than a half-hour after liftoff, and U.S. military tracking data show the spacecraft in an orbit ranging in altitude between 124 miles (200 kilometers) and 22,243 miles (35,798 kilometers), very close to preflight predictions.
Xinhua, the official Chinese news agency, declared the mission a success.
The spacecraft will use its own engine to reach an inclined geosynchronous orbit more 22,000 miles high with an inclination of about 55 degrees, putting the satellite in range of navigation users at high latitudes.
"The satellite, after entering its designed work orbit and finishing in-orbit testing, will join others already in orbit and improve the stability of the system, preparing for (Beidou) to offer global coverage," Xinhua reported.
The craft launched Tuesday is the Beidou system's 22nd satellite, and the second new spacecraft to join the fleet this year.
China aims for the Beidou network to be ready for global navigation services in 2020, joining the U.S. Air Force's Global Positioning System, Russia's Glonass service and Europe's Galileo navigation satellites — which is still in its initial deployment phase — as worldwide providers.
Beidou managers say the constellation will provide positioning services with an accuracy of about 33 feet, or 10 meters, speed estimates within less than one foot per second, and time measurements within 10 nanoseconds.
The Chinese military will be a primary user of the Beidou navigation services, but Chinese officials tout many civilian applications, including personal navigation, aviation routing and disaster relief.
The fully operational Beidou system will consist of 35 satellites in three types of orbits: Geosynchronous orbit over the equator and two high-latitude orbits circling 22,236 miles (35,786 kilometers) and 13,376 miles (21,528 kilometers) above Earth.
Nearly 20 more Beidou satellites are due for launch over the next three years, Chinese officials said.
Email the author.
Follow Stephen Clark on Twitter: @StephenClark1.