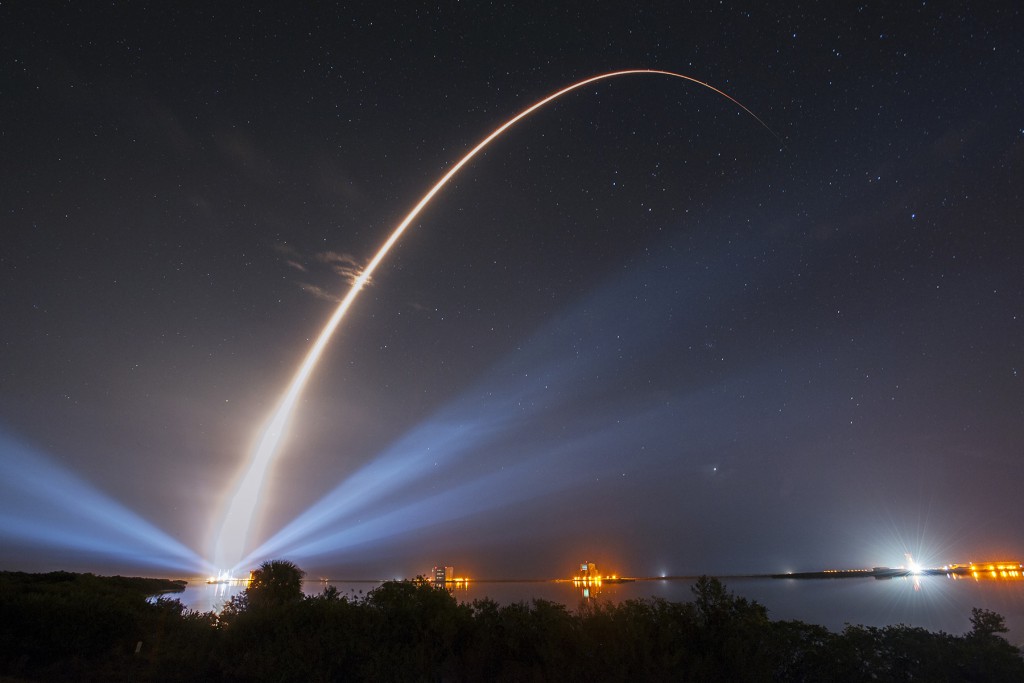 The U.S. Defense Department's internal watchdog has opened a probe into whether the Pentagon's contracts with United Launch Alliance were properly awarded after a former ULA executive implied the government rigged a recent procurement in favor of the company.
The investigation inside the Pentagon is the latest twist in one of the space industry's leading storylines in recent years — the contentious rivalry between ULA, the sole launch services provider for the U.S. government for nearly a decade, and newcomer SpaceX led by billionaire tycoon Elon Musk.
The Defense Department's inspector general is looking into assertions made by Brett Tobey, ULA's former vice president of engineering, during a March 15 seminar at the University of Colorado-Boulder.
Tobey discussed ULA's decision last year not to bid in a head-to-head competition with SpaceX for the launch of a Global Positioning System navigation satellite. At the time, ULA said it did not submit a proposal for the launch due to restrictions on the use of Russian engines on the Atlas 5 rocket and because it lacked accounting systems required in the structure of the Air Force's request for bids.
Tobey told attendees in Boulder that ULA elected to sit out the competition last year to avoid a "cost shootout" between the company, a 50-50 joint venture owned by Boeing and Lockheed Martin, and SpaceX, which he said offers launches at less than half the cost of the Atlas 5.
"ULA opted to not bid that," Tobey said. "The government was not happy with us not bidding that contract because they felt that they had bent over backwards to lean the fill to our advantage."
An audio recording of the University of Colorado event was published by Space News.
"We saw it as a cost shootout between us and SpaceX, so now we're going to have to figure out how to bid these things at a much lower cost," he said. "The government can't just say, 'ULA has a great track record, they've done 105 launches in a row with 100 percent mission success, and we can give it to them on a silver platter even though their costs are two or three times as high.'"
Tobey's statement came before Tuesday's Atlas 5 launch, ULA's 106th successful mission since the company's formation in 2006.
ULA repudiated Tobey's comments, and the engineering executive resigned from the company March 17.
"These ill-advised statements do not reflect ULA's views or our relationship with our valuable suppliers," wrote Tory Bruno, ULA's chief executive, on Twitter. "We welcome competition."
The no-bid decision effectively handed the contract for the launch of a GPS 3 navigation satellite in 2018 to SpaceX, the only other company certified to deliver the spacecraft to orbit.
It was the first of nine launches the Air Force planned to open up to competition between ULA and SpaceX this fiscal year, which runs through Sept. 30.
A March 22 letter from Randolph Stone, the Pentagon's deputy inspector general for for policy and oversight, obtained by Spaceflight Now said the inspector general's office has opened an investigation into the contracting practices between the military and ULA at the request of Secretary of Defense Ash Carter.
The investigation will focus on assertions made by Tobey "relating to competition for national security space launch and whether contracts to ULA were awarded in accordance with DoD and federal regulations," Stone wrote.
Musk has long criticized what he sees as an improperly close relationship between ULA and the government, raising questions over lobbying and job placements, but SpaceX has expanded its own lobbying operation in Washington in recent years.
Congress passed a ban on the use of Russian RD-180 engines for future U.S. national security launches in the wake of Russia's annexation of Crimea in 2014, but a provision in a new Pentagon budget passed last year lifted the restriction, freeing up the Atlas 5 for future competitions.
Despite the successful track record and the current availability of the RD-180, the price disparity still tilts in SpaceX's favor.
SpaceX's website lists a Falcon 9 rocket launch for $61.2 million, while ULA can bid it the basic version of its Atlas 5 rocket for about $125 million "on our best day," Tobey said. That does not include infrastructure costs paid through a separate annual support contract from the Pentagon.
Tobey said he suspects SpaceX is losing money by offering launches at such costs.
Gwynne Shotwell, SpaceX's president and chief operating officer, said last year that unique requirements levied by the Air Force for national security launches would raise the price of a Falcon 9 rocket flight to between $80 million and $90 million.
Email the author.
Follow Stephen Clark on Twitter: @StephenClark1.