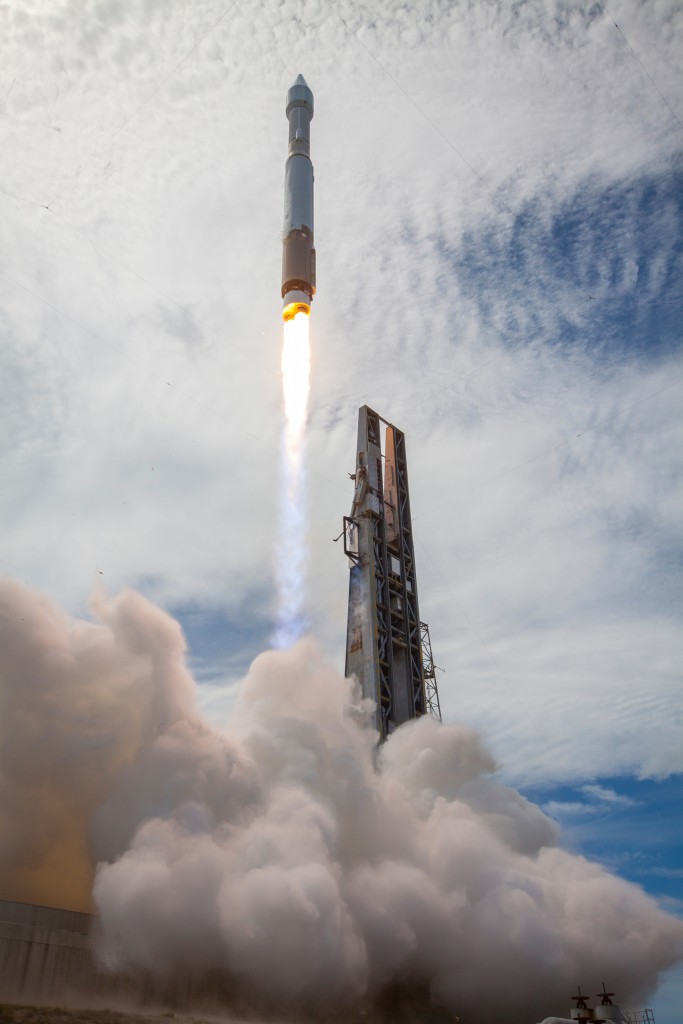 CAPE CANAVERAL — Expanding a single instant in time to 30 minutes, the upcoming United Launch Alliance Atlas 5 rockets with Cygnus cargo-delivery freighters bound for the International Space Station will have an unprecedented opportunity available to launch each day.
The first of two such launches in a 100-day span from Cape Canaveral, known as the OA-4 mission for Orbital ATK, is scheduled for Dec. 3. The pair of flights will deliver over 15,000 pounds of supplies to the outpost.
The timing for a launch to the station, flying 250 miles above the Earth, is dictated by getting into the orbital plane of the complex for a rendezvous.
"Instantaneous launch windows are the standard way to accomplish a rendezvous mission with a low-earth object like the ISS, and this approach can significantly limit the probability of an on-time launch," said Jim Sponnick, ULA's vice president for Atlas and Delta programs.
"A mission like this needs to be delivered to the right orbit, including precise timing relative to the ISS, to enable a timely rendezvous between the Cygnus and the ISS."
The SpaceX Falcon 9, Russian Soyuz, European Ariane 5 and Japanese H-2B rockets all have instantaneous launch windows for space station missions, giving them a split second each day to fly or else scrub.
The now-retired space shuttle had 10 minutes and the Orbital ATK Antares rocket has had between five and 10 minutes.
That leaves little time to wait for a stray rain shower to pass by, a technical gremlin to be resolved or a boat in restricted waters to be chased away.
But it will be a bit different for the Dec. 3 flight of the Atlas 5 from Cape Canaveral and another cargo mission for the rocket coming up March 10.
The performance of the Atlas 5 will produce a 30-minute launch window each day.
"It is all about available energy to steer you to the right place," said Dan Tani, a former astronaut who spent 120 days living and working aboard the station on Expedition 16 and now Orbital ATK's manager of mission and cargo operations.
"There is an ideal launch moment, and that's what SpaceX targets. A lot of other launch vehicles use excess performance to not have to hit a moment and use that energy to steer to the right place.
"Atlas has so much available energy that they can accommodate what I consider a very large, off-nominal time of launch — 15 minutes early, 15 minutes late. That is a lot of steering, but they have that capability and they are the ones that came to us and asked if they could have that margin. And it gives them a lot of flexibility around weather, around the unknowns."
Sponnick added: "The ULA team always strives to implement longer launch windows in our mission designs, to maximize the probability of a first-day launch for our customers. We have been enhancing our mission design capabilities and operational processes for years in order to make good use of the launch vehicle performance to provide the flexibility to accomplish launch window objectives.
"These enhancements include the development of steering algorithms to compensate for the rotation of the Earth relative to the orbital target."
The launch window on Dec. 3, based on current projections, opens at approximately 5:55:41 p.m. EST (2255:41 GMT). That will be updated based on radar tracking of the International Space Station and determination of its precise orbit.
"For the OA-4 mission, the ULA mission design team has worked very closely with the Orbital ATK team to provide a design approach that enables a longer launch window. The OA-4 launch design approach accounts for the fact that the ISS orbit can change shortly before the launch, if either an overall orbit adjustment or evasive debris mitigation maneuver is required," Sponnick explained.
"Considering the capabilities inherent in the Atlas design, the late changes that can occur in the ISS orbit, and the close coordination with the Orbital ATK Cygnus rendezvous design, we have implemented a 30-minute long window, which will occur within a bounding 50-minute-long window that accounts for the potential late orbital changes for the ISS."
Taking everything into account, the launch team will set five discrete launch opportunities — one at the opening of the launch window and four other shots spaced at 7.5 minute intervals.
* 5:55:41 p.m. EST
* 6:03:11 p.m. EST
* 6:10:41 p.m. EST
* 6:18:11 p.m. EST
* 6:25:41 p.m. EST
*times are approximate
"We target the first launch opportunity. We've made that decision because there is no benefit in waiting for the middle of the window," Tani explained.
"Since they have the energy, we aren't losing anything, they don't drop us off lower (in altitude) at the edges of the window than at the middle of the window. They drop us off at the same place. So it's in our interest to get flying as soon as possible, so we're targeting the beginning of the window."
And getting off the ground as soon as possible has other considerations, too.
"December is an extremely busy time for the space station. There's a lot of comings and goings with the Russian vehicles. So that restricts our ability to approach. Right now, launch dates of (Dec.) 3rd, 4th, 5th and 6th are fantastic. Anything after that we would really have to do some head-scratching and some desk-pounding to figure out when we would approach the space station," Tani said.
December 3
Launch: 5:55:41 p.m. EST
ISS arrival: Dec. 6
December 4
Launch: 5:33 p.m. EST
ISS arrival: Dec. 7 or 8
December 5
Launch: 5:10 p.m. EST
ISS arrival: Dec. 9
December 6
Launch: 4:44 p.m. EST
ISS arrival: Dec. 19
One other scenario is, if the flight is delayed, the Cygnus could launch later and then hang around in orbit for a couple of weeks before the rendezvous.
"We have a couple weeks of loiter capability, so that's in our box of tricks. But right now, if we miss the 6th, we would have to wait almost a month to get to the station," Tani said.
One of the Russian Soyuz capsules at the station will relocate from one docking port to another on Dec. 11. Three new residents launch aboard another Soyuz on Dec. 15 and a Progress cargo ship goes up Dec. 21 and docks Dec. 23. Three station residents undock Dec. 21 for landing.
There's also a solar-angle blackout period for the Cygnus to launch from Christmas Eve through Jan. 3.
See earlier Cygnus OA-4 coverage.
Our Atlas archive.