CAPE CANAVERAL — An Atlas 5 rocket successfully launched another Cygnus cargo freighter for Orbital ATK Tuesday night, fulfilling the booster's role of reestablishing America's resupply link to the International Space Station.
If all goes well over the next three days, the Cygnus will intercept the station on Saturday to deliver 7,485 pounds of food, spare parts and scientific research gear for the resident crew.
"The space station is really the critical piece in figuring out how we are going to go to Mars and further," said Dan Tani, former space shuttle and station astronaut and now the senior director for mission and cargo operations at Orbital ATK.
"And even though it seems simple that all we do is bring food and clothing and experiments up to the space station, it is a difficult task. And without (supply missions) we wouldn't be able to have six people on the space station."
The Atlas 5 was called upon to restore the station's supply chain from U.S. providers that was interrupted by the failures of Orbital ATK's Antares rocket in October 2014 and the SpaceX Falcon 9 in June 2015. The commercial firms were hired by NASA to carry cargo to the outpost after retirement of the space shuttles.
Orbital ATK purchased the two rides on Atlas rockets from United Launch Alliance as gap-fillers, carrying more than 15,000 pounds of station cargo combined, while getting its own Antares booster back on track.
"I am happy to Uber Cygnus anytime she wants," ULA CEO Tory Bruno said.
The Antares with new, modernized main engines is set to launch this summer and SpaceX plans to return its Dragon cargo craft to flight with a mission to the station in the coming weeks.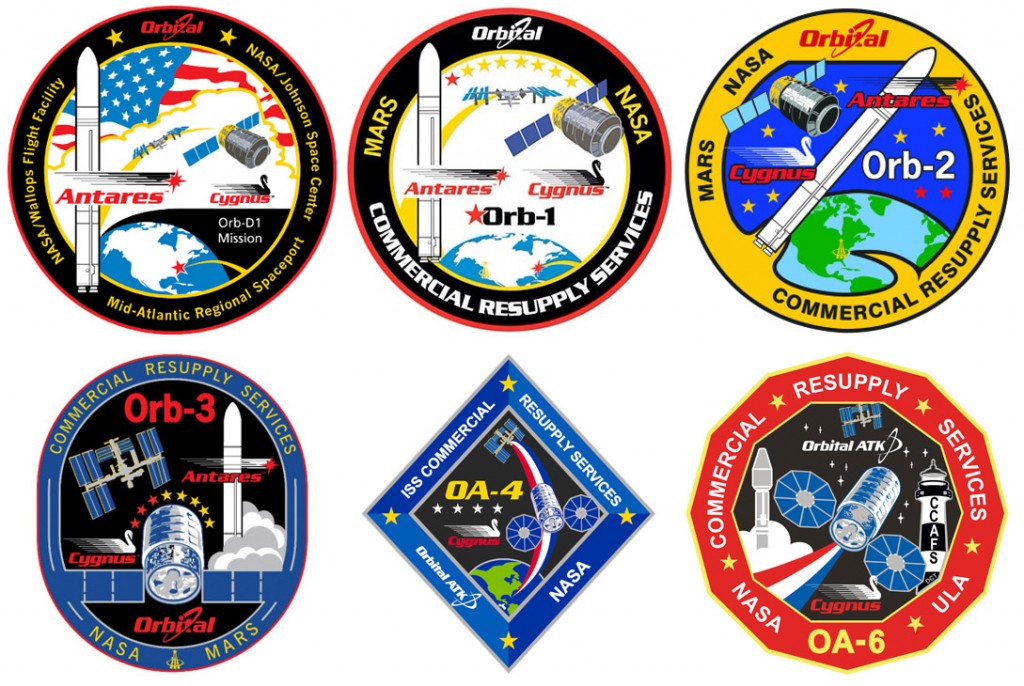 ** CYGNUS FLIGHT HISTORY **
Demo (SS G. David Low) Launched Sept. 18, 2013
CRS-1 (SS C. Gordon Fullerton) Launched Jan. 9, 2014
CRS-2 (SS Janice Voss) Launched July 13, 2014
CRS-3 (SS Deke Slayton I) Launched Oct. 28, 2014 *Failure
CRS-4 (SS Deke Slayton II) Launched Dec. 6, 2015
** DRAGON FLIGHT HISTORY **
Demo Launched May 22, 2012
CRS-1 Launched Oct. 8, 2012
CRS-2 Launched March 1, 2013
CRS-3 Launched April 18, 2014
CRS-4 Launched Sept. 21, 2014
CRS-5 Launched Jan. 10, 2015
CRS-6 Launched April 14, 2015
CRS-7 Launched June 28, 2015 *Failure
But the pair of Atlas 5 boosters did what was asked of them, launching on Dec. 6 and again Tuesday night, just three months apart, and delivering both Cygnus vessels into precise orbits to rendezvous with the station.
The latest flight began with a 11:05:52 p.m. EDT (0305:52 GMT) blastoff from Cape Canaveral at the opening of a 27-minute launch window.
"Clearly, this team was ready to go do this launch tonight. Absolutely flawless countdown," said Kenny Todd, director of space station integration and operations.
The rocket put its steering skills to use, gliding into the orbital plane of the station that didn't cross over the launch pad for another 15 minutes.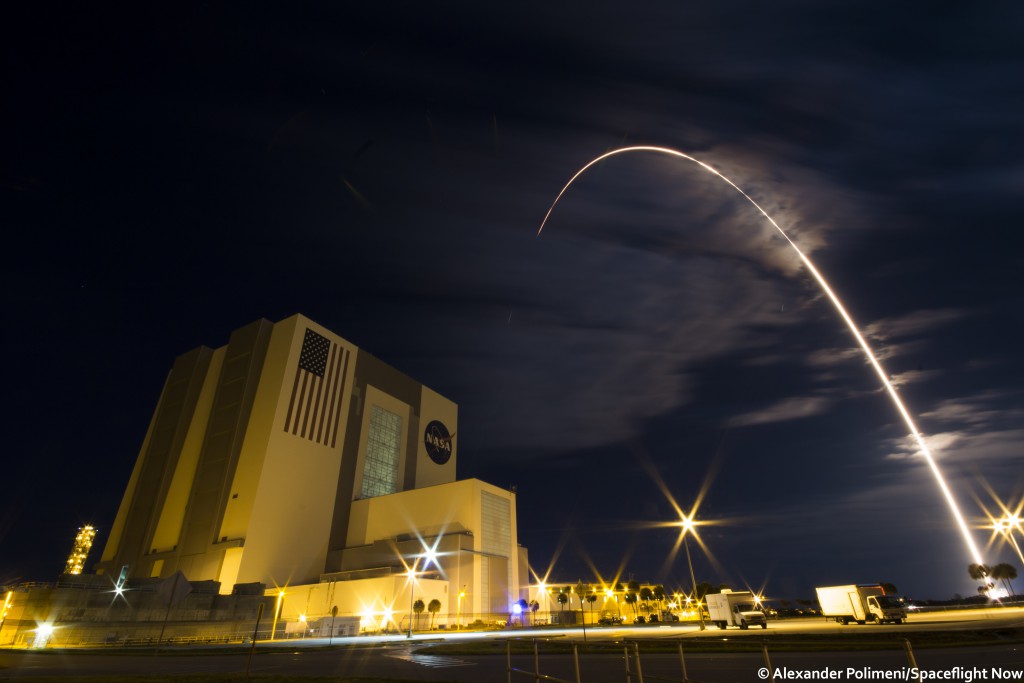 Atop 860,000 pounds of thrust, the 194-foot-tall vehicle headed to the northeast to parallel the Eastern Seaboard on the way to orbit. The Centaur upper stage was lit four-and-a-quarter minutes into the ascent for a firing that injected the payload into a 143-statute-mile circular orbit at 51.6 degrees inclination.
Spacecraft separation came 22 minutes after liftoff to mark the 133rd successful launch in a row for the Atlas program spanning more than two decades and 62nd for an Atlas 5.
The 16,500-pound spacecraft will begin consuming its 1,825-pound hydrazine fuel supply starting about seven hours after launch with orbit-raising maneuvers to chase down the International Space Station.
Eight large burns over the next three days will use the main engine that produces 100 pounds of thrust. The craft also has 32 tiny thrusters.
Cygnus will rendezvous with the space station on Saturday when NASA astronaut Tim Kopra, awaiting at the controls of the Canadarm2, will reach out and grab the freighter around 6:40 a.m. EDT (1040 GMT). It will be berthed to the Unity connecting module for unloading.
"The crew onboard the station gets involved about two hours before they actually grapple Cygnus," Tani said. "Their job is to watch the vehicle as it's coming in and command the Cygnus to go into free-drift. This means it cannot control itself. That way, when they do grapple it, the spacecraft won't be fighting the force of the arm."
The cargo carrier contains:
Crew supplies: 2,511 pounds
* 169 Bulk Overwrap Bags of food
* 6 Bulk Overwrap Bags of U.S. food for Russian crew
* Hygiene towels for Russian crew
* Printer ink and paper
Vehicle hardware: 2,443 pounds
* Multiplexer-demultiplexer circuit cards
* Charcoal, brine and bacteria filters for ECLESS
* Water sampling kit
* Toilet inserts, urine receptacle with hose, toilet paper
Science utilization: 1,713 pounds
* Canadian Space Agency: MARROW experiment to study effect of microgravity on bone marrow, Vascular Echo to monitor changes in arteries and veins during spaceflight
* European Space Agency: Airway Monitoring experiment to study nitric oxide in exhaled air aboard the International Space Station atmosphere, Astronaut's Energy Requirements for Long Term Spacefight (ENERGY) experiment, Fluid Science Laboratory for fluid physics research in microgravity
* Japan Aerospace Exploration Agency: Cell Biology Experiment Facility 1G centrifuge, Bio Rhythms 48Hrs is an electrocardiogram to gauge long-term microgravity exposure on heart function, JEM Small Satellite Orbital Deployer (J-SSOD), Exposed Facility Unit adapter with the GPS Wheel Demo
* NASA: Advanced Research Thermal Passive Exchange (ARTE) heat pipe experiment, Fluids and Combustion Facility resupply, Human Research Facility resupply, Miniature Exercise Device (MED 2) demonstration, Meteor Composition Determination (METEOR) to make space-based observations of meteors entering Earth's atmosphere, STRATA experimental facility to study behavior of regolith simulants in prolonged microgravity, personal carbon dioxide monitors, Radiation Environment Monitor, SPHERES Universal Docking Port to autonomously dock and undock the small objects, Additive Manufacturing Facility to produce parts out of thermopolymers, six NanoRacks minilab modules, Spacecraft Fire Experiment (SAFFIRE I) flame growth experiment
EVA gear: 346 pounds
* Legs, boots, arms and Hard Upper Torso for spacesuit
* Socket caddy assembly
* METOX canisters for carbon dioxide removal
* Contamination detection kit
Computer resources: 216 pounds
* New ZBook laptop and printer
* 160GB hard drive for IBM ThinkPad
* Canon XH camcorder, Ghost camera, Nikon cameras, 50mm lens, USB card reader
* Assorted cables
Cygnus is 21 feet tall and 10 feet in diameter, clad in its silver-metallic shielding.
The last Cygnus and this one will have delivered about 7.5 tons of cargo to the space station in a hundred days.
"It is fantastic. Before we launched OA-4 in December, the space station was doing what it never wanted to do, which was figure out how many more months of food it had before you'd have to bring people home," Tani said.
"That's no longer a discussion point. We are relieved about that, and now we're just trying to fill in the backlog. Our vehicle is optimized to bring pressurized cargo and that's really what the crew needs to do their science and live."
In keeping with Orbital ATK's tradition of naming the Cygnus spacecraft for fallen astronauts, the one is christened the S.S. Rick Husband for the commander of the astronaut crew lost aboard the shuttle Columbia accident in 2003.
"Rick and his crew were heros to all of us and did fantastic work in orbit before being lost during re-entry," said Frank Culbertson, former shuttle and station commander and now Orbital ATK's Space Systems Group president.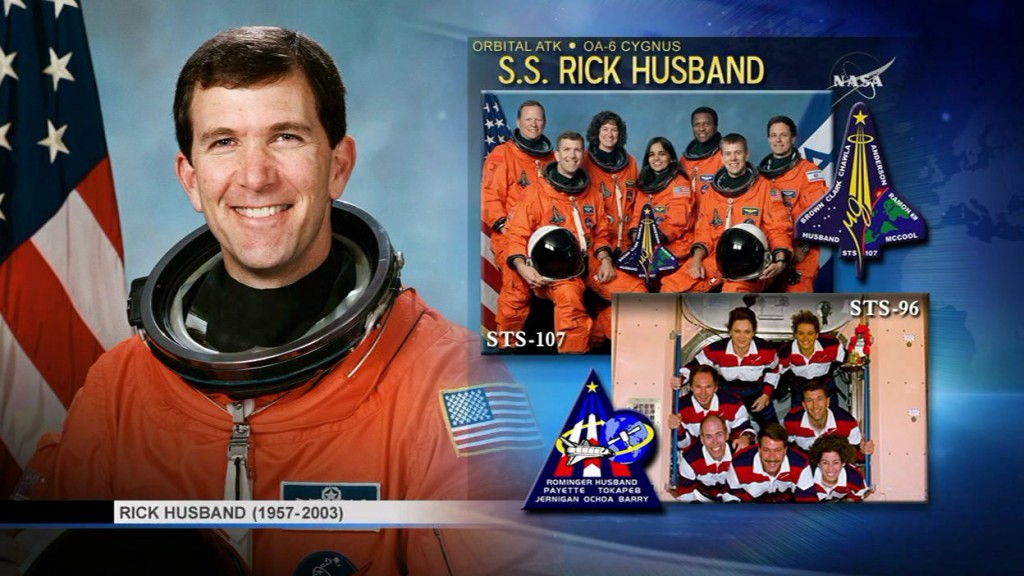 "On his first flight, he was the pilot on STS-96, which was the first shuttle to dock with the space station…The commander for that flight was Kent Rominger, (now) a vice president with Orbital ATK in Utah. So we have a very personal connection with the company to Rick," said Tani.
"This marks the first time we'll be honoring a Cygnus spacecraft with somebody who has actually been to the space station and contributed to its construction. We are very proud of that."
Husband's wife Evelyn and two children attended Tuesday's launch.
It marked the 106th successful flight for United Launch Alliance and third this year. Next up is military mission in May — deployment of the Navy's MUOS 5 spacecraft using an Atlas 5 on May 5 from Cape Canaveral. That will be followed by back-to-back launches for the National Reconnaissance Office in June using a Delta 4-Heavy and another Atlas 5.
See earlier Cygnus OA-6 coverage.
Our Atlas archive.