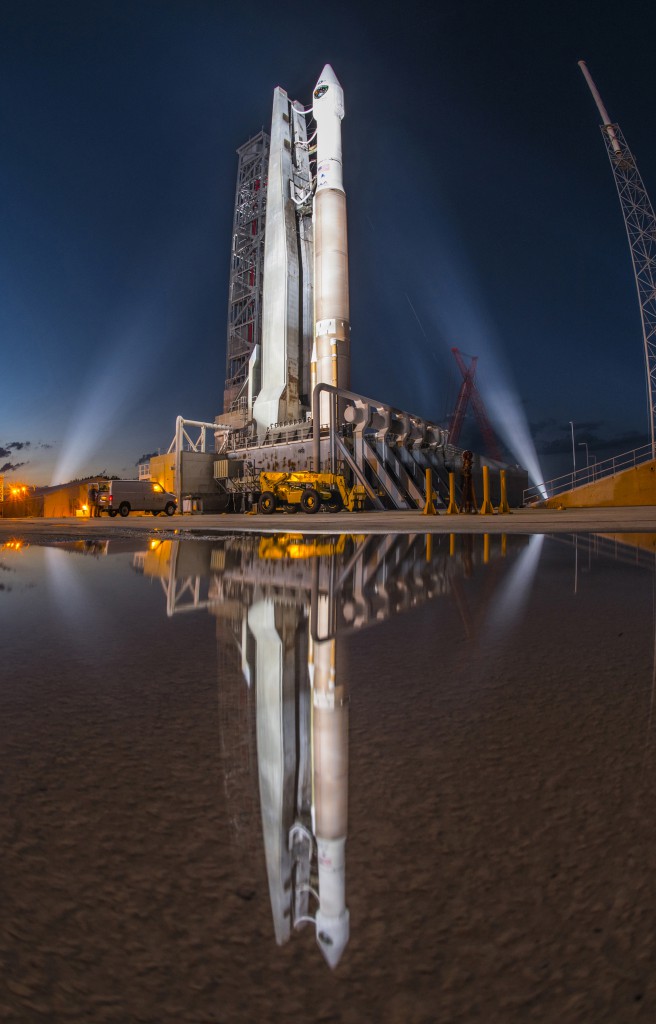 CAPE CANAVERAL — Mission managers today granted approval to proceed with Wednesday's rollout of the Atlas 5 rocket and Thursday's launch to deliver the commercial Cygnus cargo ship into orbit to resupply the International Space Station.
The Launch Readiness Review was conducted with senior officials to assess the status of the rocket, payload, ground systems and weather in preparation for the flight. The meeting culminated with the consensus to proceed on.
Rollout from the Vertical Integration Facility to the pad at Cape Canaveral's Complex 41 is planned for Wednesday morning at 10 a.m. EST (1500 GMT).
Thursday's liftoff of the United Launch Alliance rocket is targeted for 5:55 p.m. EST (2255 GMT) at the opening of a 30-minute launch window.
"These guys have so much performance they can go 15 minutes out of plane, which is unbelievable to me," said Dan Tani, a former astronaut and now senior director of mission and cargo operations at Orbital ATK.
"It's a lot of power and a lot of sterring capability. It's really impressive how they are able to target so far off the nominal point."
Weather forecasters, keeping a close watch on a passing cool front, predict a 60 percent chance of favorable conditions for launch. Cloud cover will be the main worry.
The launch is timed to put Cygnus into a 143-mile orbit and on a course to rendezvous with the International Space Station on Sunday.
Built by Orbital ATK, the freighter is loaded with 7,745 pounds of materials for the station and its resident crew.
NASA astronauts Scott Kelly and Kjell Lindgren on Monday continued training for the rendezvous and capture of Cygnus using the station's Canadian-made robotic arm. They will be at the controls on Sunday morning.
"We haven't flown the Cygnus for a year, so we are really excited to get back to orbital operations and the real business of delivering cargo to the space station. It really means a lot to us," Tani said.
Although there is no fruit or other perishables on board the Cygnus, it is carrying special items for the crew members.
"I did see some of the bags are crew care packages, so I anticipate there are probably some Christmas presents on there from their families and other kind of special treats for them. But the majority of it is provisions that they need, science equipment, spare parts, that kind of thing," Tani said.
Among the cargo items:
Crew supplies: 2,604 pounds
* Clothing for Scott Kelly, Tim Kopra, Tim Peake and Jeff Williams
* 144 Bulk Overwrap Bags of food
Vehicle hardware: 2,220 pounds
* Cycle ergometer, control panel and seat cushion
* Air, water, surface sampling kits
* Acoustic dosimeter
* Carbon dioxide monitor
* C2V2 communications gear
Science utilization: 1,867 pounds
* Canadian Space Agency: Vascular echo exercise band
* European Space Agency: Biolab
* Japan Aerospace Exploration Agency: Cassette, valve, disk drive and cables
* NASA: Gases and liquids behavior experiment, a flame suppression test, a new space life science facility and the first NanoRacks microsatellite to be deployed from the station
EVA gear: 500 pounds
* New SAFER spacewalk jetpack
* Legs and gloves for spacesuit
* Tethers, filters, batteries, velcro and tool bags
* Airlock Cooling Loop Recovery Kit
Computer resources: 192 pounds
* New T61P laptop, hard drives and USB cables
* Canon XH G1 and XF305, Nikon D4 cameras
"We are excited and thrilled to get back into space. Working with ULA has been fantastic, they have been the model of a commercial launch (operation)," Tani said.
"They've flown a hundred times with an incredible success record and we're really honored to fly with them and we feel very good about our chances of getting to the station."
See earlier Cygnus OA-4 coverage.
Our Atlas archive.