A suborbital rocket booster built by Blue Origin, an entrepreneurial space firm founded by Internet tycoon Jeff Bezos, streaked into space in the skies over West Texas and descended to a pinpoint propulsive touchdown on a landing pad, the company announced Tuesday.
The landing makes the New Shepard rocket, named in honor of Mercury astronaut Alan Shepard, the first commercial vehicle to blast off under its own power, reach the edge of space, and return to Earth intact.
Bezos said Blue Origin plans to fly the booster again after a review of data from the test flight, which took off at 1723 GMT (12:23 p.m. EST) Monday from the company's rocket facility in West Texas.
The New Shepard rocketed into space on the power of a single BE-3 engine, burning a mixture of liquid hydrogen and liquid oxygen propellants. The top speed on Monday's flight was Mach 3.72, and a prototype crew capsule carried on the launch reached a maximum altitude of 329,839 feet, or 100.5 kilometers), just beyond the internationally-recognized boundary of space.
---
Spaceflight Now members can read a transcript of a media conference call with Jeff Bezos after Monday's historic rocket flight. Become a member today and support our coverage.
---
The crew capsule, which had no passengers Monday, separated from the top of the booster after the BE-3 engine turned off. It parachuted to a landing 11 minutes after liftoff.
Meanwhile, the New Shepard's trajectory arced up to about 329,500 feet (100.4 kilometers), Bezos said, and it began a supersonic fall back to the remote West Texas desert.
The rocket's BE-3 engine, designed to adjust thrust levels to control its descent rate, restarted at an altitude of 4,896 feet (about 1,500 meters), and guidance software pivoted the engine's thrust vector to steer it toward a landing pad, kicking up dust and debris as it settled on the touchdown zone at at a final velocity of 4.4 mph at 1729 GMT (12:29 p.m. EST).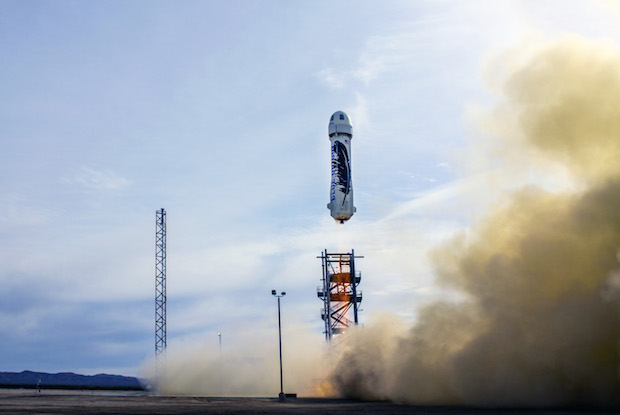 "I can assure you here in mission control in West Texas, there wasn't a dry eye in the house," Bezos told reporters Tuesday. "It was one of the greatest moments of my life, and my teammates here at Blue Origin I could see feel the exact same way."
Like other well-heeled technology pioneers, such as Elon Musk and Paul Allen, Bezos established a space company after making billions helping foster the 1990s tech boom.
Founded in 2000, Blue Origin has often been secretive about its progress, but the firm has opened up in recent months as it has taken lease of a disused Atlas launch pad at Cape Canaveral, partnered with United Launch Alliance to build engines for the powerhouse space company's new Vulcan booster, and closed in on its initial goal of operating a suborbital spacecraft to carry tourists into space.
Monday's achievement is a key step on the road to fielding a fully reusable rocket booster — the "Holy Grail" of modern rocketry, Bezos says — after a test flight of the New Shepard in April ended with a crash landing after an otherwise successful launch.
Bezos addressed his company's budding rivalry with SpaceX, which was founded by Musk, who congratulated Blue Origin on the successful rocket recovery on Twitter, then compared the achievement to SpaceX's work in the reusable rocket arena with its orbital Falcon 9 rocket.
It is, however, important to clear up the difference between "space" and "orbit", as described well by https://t.co/7PD42m37fZ

— Elon Musk (@elonmusk) November 24, 2015
Getting to space needs ~Mach 3, but GTO orbit requires ~Mach 30. The energy needed is the square, i.e. 9 units for space and 900 for orbit.

— Elon Musk (@elonmusk) November 24, 2015
SpaceX has attempted to land its Falcon 9 first stage on an ocean-going barge offshore Cape Canaveral on several operational satellite launches. While the results have been promising to SpaceX engineers — the 14-story booster has reached the landing ship intact on each attempt — the rocket has not yet nailed a landing without toppling over.
Another landing attempt is planned by SpaceX on the Falcon 9's next launch in December, its first flight since a launch failure grounded the rocket in June.
Bezos' Blue Origin is working on an orbital launch vehicle expected to begin test flights before the end of the decade from Cape Canaveral, and it will employ the same vertical takeoff and landing concept proven Monday, he said.
Like the Falcon 9 return concept, Blue Origin's orbital launcher will come down on a barge in the ocean. Blue Origin has not released other design details of the two-stage rocket.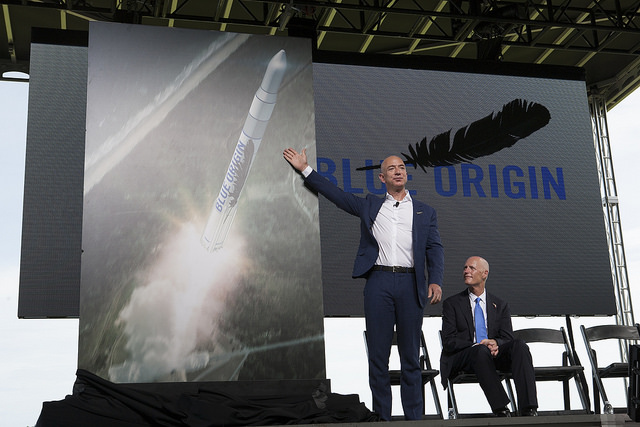 Bezos said any rocket booster stage returning to Earth comes back from suborbital velocity, so the conditions experienced by SpaceX's Falcon 9 and Blue Origin's New Shepard are comparable.
"Keep in mind that the booster stage of all rocket systems is suborbital, and in fact, one of the things that you can do — and this is done by SpaceX today — is you can do an in-space deceleration burn, and that burn actually makes the re-entry environment very benign," Bezos said. "In fact, you can make those entry environments (more benign) than what we've already done and demonstrated with our New Shepard booster."
Bezos said it would be "a number of weeks" before the New Shepard booster is ready to fly again, but that turnaround timeline will be tightened as engineers gain experience.
Eventually, after a series of test flights, Blue Origin will begin crewed suborbital demo missions from West Texas in a couple of years, Bezos said, before launching commercial service.
"What we have demonstrated with this flight of New Shepard is a complete reuse of a booster stage, and that architecture, one of the things that I love about the vertical takeoff, vertical landing architecture, is it is scaleable to very large size," Bezos told reporters Tuesday.
"(For) our orbital plans, we've leased pad 36 at Cape Canaveral, and we're building an orbital system, but the first stage — the booster stage of that — will be architecturally identical to the vehicle that we just flew because the environments and everything else are very, very similar, and having demonstrated that, we've basically validated that architecture with this flight," he said.
Reusability has been a goal of aerospace designers for decades.
The partially reusable space shuttle turned out to be costly and time-consuming to ready for flight, and reusable space planes like the U.S. military's X-15 and SpaceShipOne, designed by legendary aerospace engineer Burt Rutan, needed carrier planes to reach altitude before firing off into space and returning to runway landings.
The vertical landing concept favored by Blue Origin and SpaceX was demonstrated in the 1990s with low-altitude test flights by the DC-X booster, a testbed from McDonnell Douglas with backing from the Pentagon and NASA.
SpaceX's Grasshopper rocket, a modified Falcon 9 first stage with legs, successfully flew up to 2,440 feet (744 meters), and a upgraded vertical takeoff and landing test craft reached up to 3,280 feet (1,000 meters) on flights before self-destructing on a test flight in 2014 over the company's test site in McGregor, Texas.
DC-X's top altitude in its career was 8,202 feet, or 2,500 meters.
Bezos said the new era of spaceflight, in which privately-held companies are taking bigger roles, is a new "golden age" in space exploration.
"I think the first golden age was the '60s, and I think we have been treading water for a long time," Bezos said Tuesday. "What you're beginning to see now is some new things are coming out, and I'm very excited about that. We got stuck.
"Now you're starting to see some new architectures come online," Bezos said. "To be able to do a vertical landing with a fully reusable booster stage is a really big deal. It is the Holy Grail — to get full reuse — to kind of refuel and fly again, real operational availability, and to eventually get to something that's much closer to aircraft-type operations. That has the be the vision."
The new focus on reusability has caught the attention of established aerospace companies like United Launch Alliance, which plans to recover Blue Origin-built engine pods from its next-generation Vulcan rocket for refurbishment beginning in the 2020s.
Airbus Defense and Space, builder of Europe's Ariane rocket family, has also experimented with reusable rocket technology.
"If (Apollo rocket pioneer Wernher) von Braun came back from the dead today and looked around at our current fleet of rocket vehicles, he would recognize them all," Bezos said. "There would be very few surprises for him. He'd say, 'Oh, you're still throwing them in the ocean. I thought by now you'd be reusing them.' It is time for us to do that, and we have the tools and the technologies."
Email the author.
Follow Stephen Clark on Twitter: @StephenClark1.