Updated with details.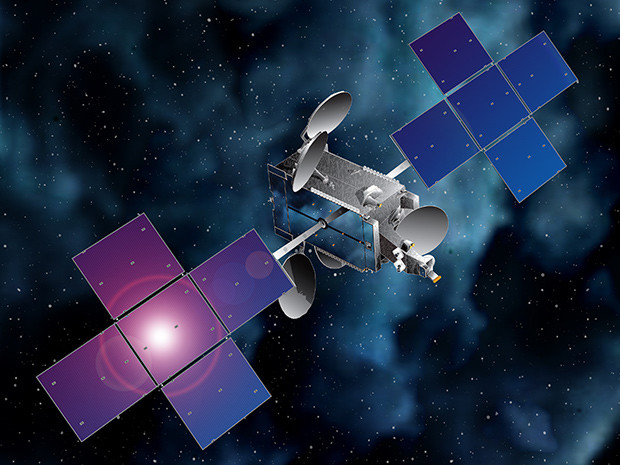 Paris-based satellite operator Eutelsat plans to launch a spacecraft for video broadcasting and broadband connectivity over Latin America aboard a dedicated Ariane 5 rocket in early 2016, several months earlier than planned, on a rare commercial single-payload flight of the workhorse launcher, Eutelsat's chief executive said Wednesday.
The Eutelsat 65 West A telecom satellite, in final testing at Space Systems/Loral's factory in Palo Alto, California, will be the sole passenger on an Ariane 5 launch in the first quarter of 2016, according to Eutelsat.
A source familiar with the Ariane 5's manifest next year said Arianespace targets another single-payload Ariane 5 launch in early 2016 with the Boeing-built Intelsat 29e spacecraft, a commercial satellite that will debut Intelsat's all-digital high-power "Intelsat Epic" system designed for secure, jam-proof communications services.
Michel de Rosen, Eutelsat's chief executive officer, told investment analysts Wednesday the decision to fly Eutelsat 65 West A alone was made after trouble securing a co-passenger satellite for an Ariane 5 launch in the second half of 2016.
Eutelsat 65 West A and Intelsat 29e are large spacecraft sized to ride in the upper berth of the Ariane 5's dual-payload payload accommodations.
As for Eutelsat 65 West A, engineers initially planned to pair it with a smaller telecom satellite to fly in the Ariane 5's lower position, but it turned out a suitable companion was not available. Details of the rationale behind Intelsat 29e's manifesting were not immediately available.
Switching to a dedicated Ariane 5 launch allowed Eutelsat to move up its launch from the second half of 2016 until the first quarter of the year, the company said.
"The cause of the delay with Ariane 5 was with a co-passenger with that launch," de Rosen said. "We discussed with Arianespace and negotiated for the opportunity to make it an early launch ahead of our previous plan. We're (now) a single passenger launch."
Eutelsat officials did not identify the co-passenger.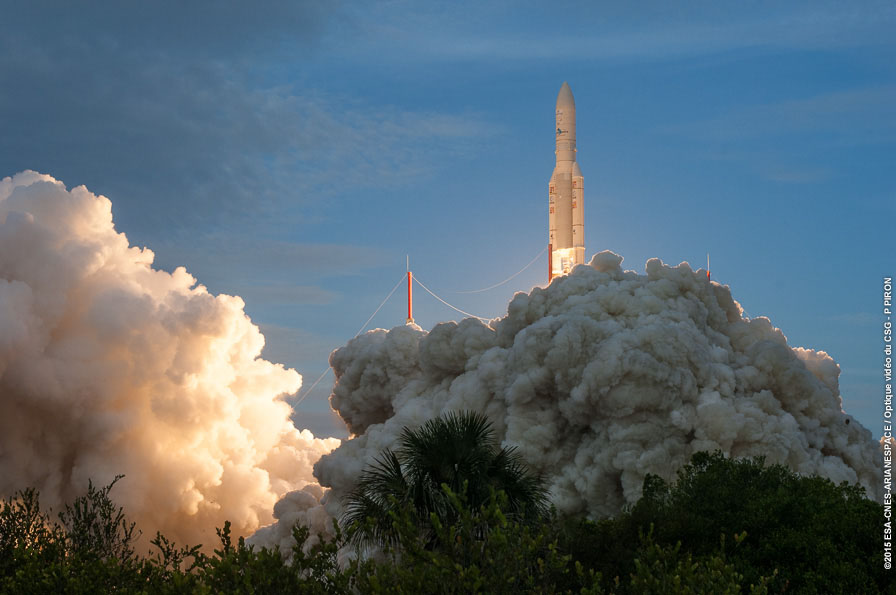 Arianespace typically flies two communications satellites per launch to fill the Ariane 5's lift capacity and spread its cost among two customers. Eutelsat's de Rosen said going alone on an Ariane 5 results in some extra cost.
"We tried to negotiate as much as possible, but there is some cost," he said, adding the company identified savings elsewhere to make up the extra cost and stay within its projected capital expenditure levels.
Intelsat 29e will open Arianespace's Ariane 5 manifest with a launch in late January, followed by Eutelsat 65 West A in late February or early March, a launch industry official said.
The flights will be the first dedicated Ariane 5 launches for commercial customers since July 2009.
Eutelsat 65 West A hosts a tri-band communications payload in C-band, Ku-band and Ka-band. From its perch in geostationary orbit at 65 degrees west longitude, the craft will broadcast video and high throughput Ka-band broadband Internet services across Latin America, plus provide limited coverage of North America and Western Europe.
The French telecom operator also updated investors on two other upcoming launches.
The Eutelsat 9B broadcasting bird, previously projected to launch in late 2015, will now fly in the first quarter of 2016. The multipurpose Eutelsat 117 West B communications satellite, featuring all-electric propulsion, is also now expected to launch in the first quarter of 2016 instead of late 2015.
Eutelsat said both delays are attributed to schedule impacts rippling from Proton and Falcon 9 rocket failures earlier this year. Eutelsat 9B and Eutelsat 117 West B are contracted to fly on Proton and Falcon 9 rockets, respectively.
The company also announced it exercised an option for a future Arianespace launch, giving Eutelsat four Ariane 5 flights in the coming years, including Eutelsat 65 West A.
Eutelsat revealed it has also secured a multi-launch agreement with International Launch Services for several Proton launches beyond Eutelsat 9B. The agreement, which is conditional, covers the years 2016 through 2023, officials said.
Email the author.
Follow Stephen Clark on Twitter: @StephenClark1.