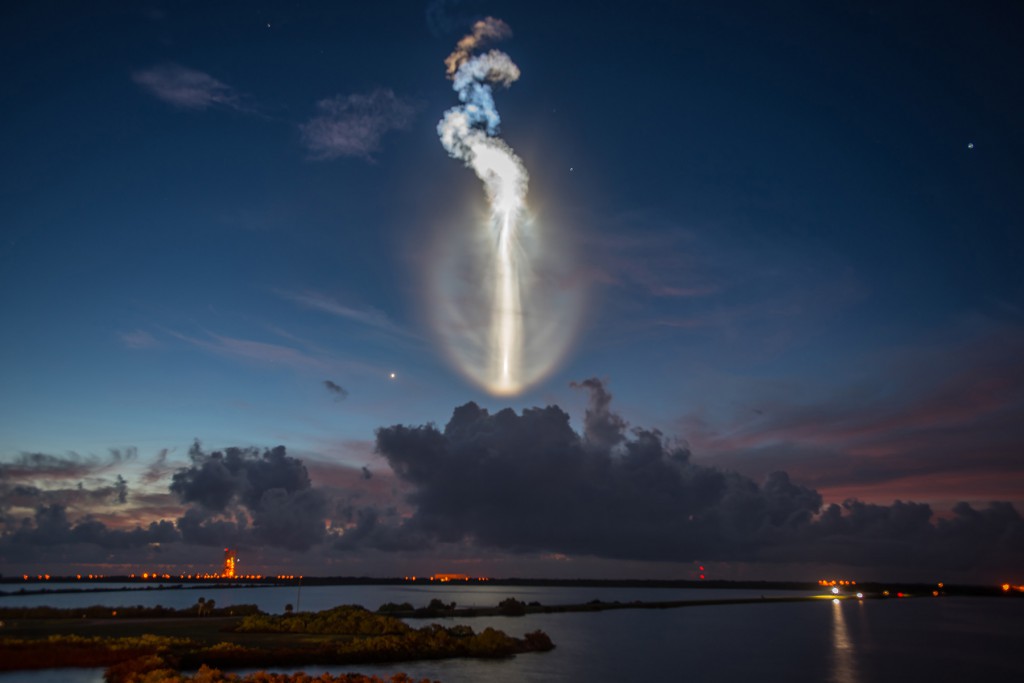 CAPE CANAVERAL — In a breath-taking display at daybreak today, an Atlas rocket powered an enormous U.S. Navy satellite into space to close the last remaining gap and give global reach to the military's new mobile communications system.
At about 15,000 pounds, the Mobile User Objective System satellite No. 4 was a mere 60 pounds lighter than the all-time heaviest Atlas cargo, a mark set earlier this year with MUOS 3.
It required the highest-performing Atlas 5 rocket in the stable to do the lifting this morning, powering off the launch pad on two-and-a-half million pounds of thrust from the kerosene-fueled main engine and five strap-on solid boosters.
Liftoff came at 6:18 a.m. EDT (1018 GMT) to cap an overnight countdown at the Cape, adding yet another flight to the Atlas' string of 23 consecutive missions to fuel-and-launch on the first attempt.
Three hours later, after three firings by the Centaur upper stage, the silver and black satellite, built by Lockheed Martin, was released into space to complete the 56th Atlas 5 ascent and the 127th successful Atlas program launch in a row spanning more than two decades.
It also marked United Launch Alliance's 99th successful flight since December 2006, the eighth this year and third for the U.S. military in just the past six weeks.
"Space launch is an inherently risky enterprise and we must never become complacent. Many thousands of things need to go right during the launch and we don't get a second chance once the rocket lifts off," said Dr. Walt Lauderdale, MUOS 4 mission director from the Air Force's Space and Missile Systems Center.
Destined for geosynchronous orbit 22,300 miles high, MUOS 4 will enter service over the Indian Ocean. It is the last piece needed in the Navy's constellation of strategically-placed satellites that now will offer coverage around the world.
"This fourth launch represents the completion of the operational constellation of the MUOS capability…Once we have this satellite in position and operational, we will have worldwide coverage for MUOS," said Navy Capt. Joe Kan, MUOS program manager.
"This narrowband system is critical for warfighting missions. Narrowband communications is used by every combatant commander, every ship, submarine and aircraft, and on ground vehicles as well as troops in the field."
The fifth and final MUOS launch — an on-orbit spare satellite — is scheduled for July 2016 on Atlas. It, too, will be positioned over the Indian Ocean.
MUOS 1 was launched Feb. 24, 2012 aboard an Atlas 5 and serves as the Pacific Ocean satellite. MUOS 2 launched July 19, 2013 aboard another Atlas 5 and serves as the continental U.S. satellite. MUOS No. 3 went up atop an Atlas 5 on Jan. 20 to cover the Atlantic Ocean region.
MUOS is the nation's next-generation narrowband tactical satellite communications system, providing 3G cellphone features to warfighters on the move.
"It's really providing a smartphone-like service to troops all over the world. It enables them to talk, text and share mission data seamlessly," said Army Col. Jim Ross, program manager for tactical radios.
"It gives that reach for any soldier to talk to the higher headquarters no matter where they are or where they are challenged in terms of operating environments — mountains, jungles or urban environments."
"Having experienced the MUOS voice communications, it is better than your cellphone," said Iris Bombelyn, Lockheed Martin's vice president for narrowband communications.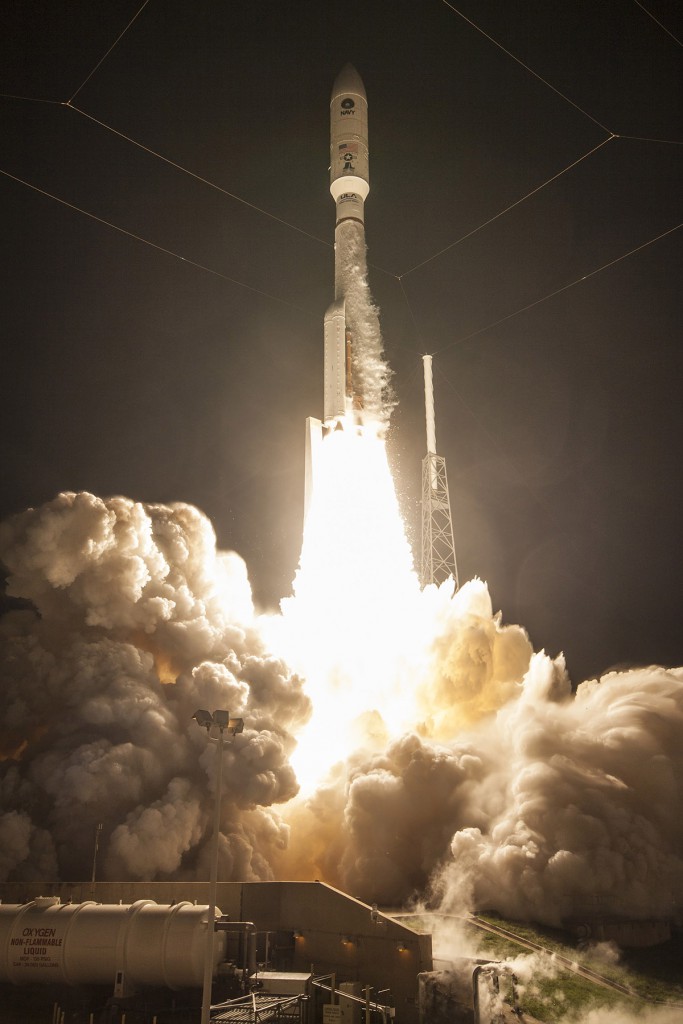 Eight orbital raising burns are expected over the next eight days, followed by antenna and appendage deployments and then a test program that Lockheed Martin will perform. The military will take control of the satellite in about 90 days to conduct its own acceptance evaluation before the craft enters service.
Up next for United Launch Alliance is the company's milestone-setting 100th flight. It will have an Atlas 5 rocket launching from Cape Canaveral on Oct. 2 for a purely commercial flight to deliver Mexico's Morelos 3 communications satellite into space. The launch window is 6:09 to 6:28 a.m. EDT.
That will be followed six days later by another Atlas 5 from Vandenberg Air Force Base in California on Oct. 8 with the classified National Reconnaissance Office NROL-55 payload. The unclassified launch period is 5 to 9 a.m. Pacific Time (8 a.m. to 12 noon EDT). The exact launch time is secret for now.
The hectic October for Atlas 5 continues back at the Cape with the Global Positioning System 2F-11 navigation satellite. That launch is planned for Oct. 30 between 12:17 and 12:35 p.m. EDT.
See earlier MUOS 4 coverage.
Our Atlas archive.