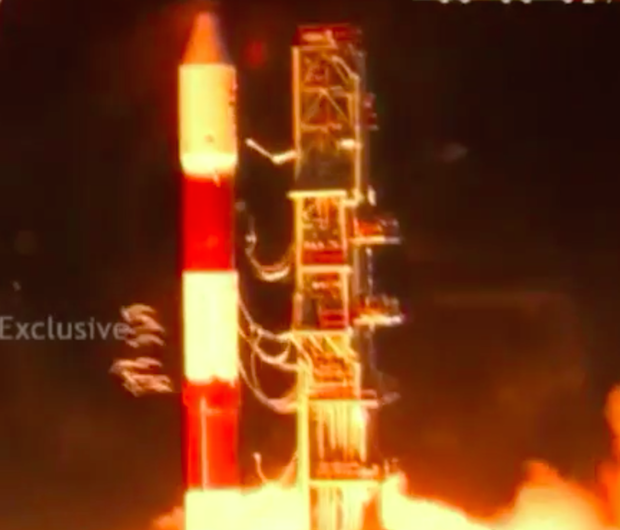 Five satellites made in Britain to track the expansion of Chinese cities and demonstrate a new sail design to clean up space junk blasted off Friday on top of an Indian Polar Satellite Launch Vehicle.
Making its 30th flight since 1993, the PSLV ignited a solid-fueled first stage and a quartet of strap-on boosters at 1628 GMT (12:28 p.m. EDT; 9:58 Indian time) and quickly fired away from the Satish Dhawan Space Center on India's east coast.
Two more solid rocket boosters ignited moments later to give the 14-story rocket an extra kick. A hydrazine-fueled Vikas second stage engine and a third stage motor took over several minutes into the mission, then a fourth stage maneuvered the PSLV's five payloads into a near-ciruclar polar orbit.
The flight targeted an orbit 647 kilometers, or 402 miles, above Earth at an inclination of approximately 98 degrees. The Indian Space Research Organization, which operates the PSLV, declared the launch a success about 20 minutes after liftoff.
"It's been a wonderful mission," said A.S. Kiran Kumar, ISRO's chairman. "We have had an extremely successful mission, which carried for the customers one of the heaviest payloads for the PSLV."
The five satellites weighed 1,440 kilograms, or 3,174 pounds — the heaviest commercial package ever launched on a PSLV, according to ISRO. The passengers included three Earth observation satellites for the British-owned, Chinese-leased DMC3 constellation, plus a technology demo craft for Surrey Satellite Technology Ltd. based in Guildford, England.
A shoebox-sized CubeSat named DeorbitSail also rode into space on Friday's launch. British scientists at the Surrey Space Center at the University of Surrey built DeorbitSail, which will unfurl a 16 square meter (172 square foot) Kapton sail to test the device's ability to bring a satellite down from orbit.
"With this success, PSLV has reached a track record of 29 continuous successful launches," said ISRO's mission director for the flight, designated PSLV-C28 in the rocket's launch sequence. "The performance of the PSLV-C28 vehicle has been excellent, and all five of our customer's satellites have been injected into orbit as demanded by the customer."
The rocket followed a carefully-choreographed deployment sequence to ensure the five satellites did not collide after separation from the fourth stage.
"This mission had a certain uniqueness," ISRO's mission director said.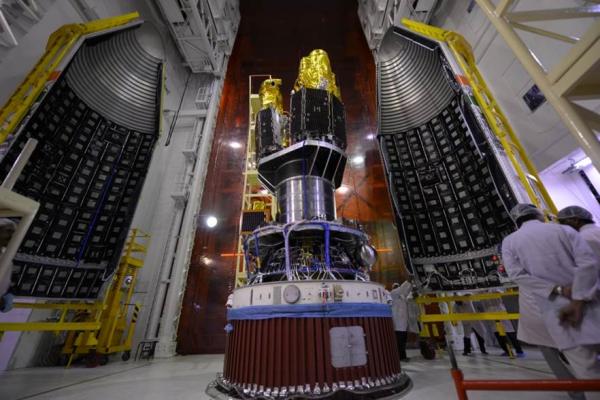 The three DMC3 Earth observation satellites deployed from the PSLV's fourth stage 220 milliseconds apart, then the rocket turned to release DeorbitSail and CBNT-1, SSTL's pathfinder satellite.
SSTL officials said they established radio contact with one of the DMC3 satellites shortly after launch via a ground station in Svalbard, Norway. The other two DMC3 spacecraft and CBNT-1 radioed home later Friday, according to SSTL.
An amateur radio operator in Oregon also received data packets from DeorbitSail, indicating it was functioning after launch, according to Surrey Space Center.
The DMC3 satellites were manufactured under contract to DMC International Imaging, or DMCii, a subsidiary of SSTL. DMCii coordinates a network of Earth observation satellites owned operators based in the UK, China, Spain and Nigeria for commercial imagery sales and humanitarian emergencies.
The acronym DMC stands for Disaster Monitoring Constellation, and DMCii is based in Guildford, near SSTL's headquarters.
DMCii ordered the three new satellites after it struck a deal with Beijing-based 21AT, which sells imagery to the Chinese government to monitor urban growth, land and water resources, pollution and natural disasters. Under the terms of the agreement, 21AT is leasing 100 percent of the imaging capacity of the three DMC3 satellites over their seven-year design lifetimes, while DMCii will own and operate the spacecraft.
Officials said the structure of the deal gives 21AT access to high-resolution imagery without the complexity of flying its own satellites.
Each DMC3 spacecraft weighs 447 kilograms, or 985 pounds, at liftoff and uses an electric xenon-fueled propulsion system for attitude control and orbital maneuvers.
Once the satellites are in space, ground controllers will spread the spacecraft 120 degrees apart along a single orbital plane. Together, the satellites will observe up to a million square kilometers — nearly 400,000 square miles — per day by pointing up to 45 degrees off their ground tracks to image targets, SSTL officials said.
The satellites carry electro-optical cameras with one-meter (3.3-foot) resolution in black-and-white mode, the highest-resolution Earth observing spacecraft ever built by SSTL.
The three-satellite Earth observing network can image the same place on Earth at least once per day, officials said.
The 91-kilogram (200-pound) CBNT-1 satellite aboard Friday's PSLV flight will test new Earth observation capabilities and new avionics. A spokesperson with SSTL told Spaceflight Now the company's engineers assembled the spacecraft using new "rapid-build processes."
"We took advantage of some extra space on the rocket to get some valuable in-orbit validation for some of our R&D (research and development)," said Joelle Sykes, an SSTL spokesperson. "CBNT-1 is just an internal acronym, it doesn't mean anything to the wider world."
Funded by a European Commission grant, DeorbitSail aims to verify sails are an effective way to clear busy orbital pathways of space junk.
Proponents of solar sail technology often point to it as a way to explore the solar system by using solar photons, or light particles, to propel spacecraft to tremendous speeds. The same type of device could pull old satellites from space back into the atmosphere with drag.
The CubeSat is supposed to open the sail some time after launch — Surrey officials have not said when — and it should take about six months for drag to tug the spacecraft out of orbit for a destructive re-entry.
Email the author.
Follow Stephen Clark on Twitter: @StephenClark1.