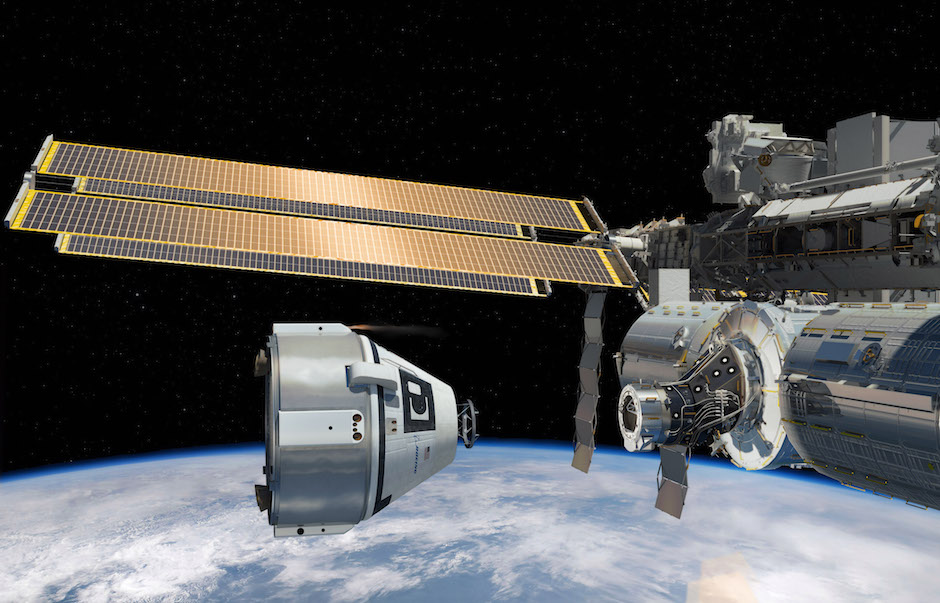 NASA has placed an order with Boeing for the first operational mission to ferry a crew to the International Space Station in a new era of commercial human spaceflight.
The flight is expected to occur in late 2017 after Boeing's CST-100 capsule completes unmanned and crewed orbital test flights and wins final certification from NASA for regular crew rotation missions.
"This occasion will go in the books of Boeing's nearly 100 years of aerospace and more than 50 years of space flight history," said John Elbon, vice president and general manager of Boeing's space exploration division. "We look forward to ushering in a new era in human space exploration."
Boeing has a Commercial Crew Transportation Capability, or CCtCap, contract worth up to $4.2 billion to finish development of the CST-100 crew capsule and fly astronauts to the space station.
The deal does not ensure Boeing will be the first to fly a crew rotation mission to the space station. NASA said SpaceX, which is also under contract to build a human-rated crew capsule, is expected to receive a similar order later this year, and officials will decide which company will launch the first operational flight at a later date.
SpaceX's CCtCap deal is valued at up to $2.6 billion.
NASA officials said Boeing and SpaceX each received the money the companies said they needed for the work.
Both companies are guaranteed at least two full-up crew rotation missions after their initial demonstration flights in orbit, with options for up to six operational launches under the existing contracts.
Kelly Kaplan, a Boeing spokesperson, said the company was eligible to receive the mission task order — a milestone also called authority to proceed — after completing a certification baseline review and a critical design review.
The design review "demonstrates the (CST-100) transportation system has reached design maturity appropriate to proceed with assembly, integration and test activities," NASA said in a press release.
"We're on track to fly in 2017, and this critical milestone moves us another step closer in fully maturing the CST-100 design," said John Mulholland, vice president of Boeing's commercial programs. "Our integrated and measured approach to spacecraft design ensures quality performance, technical excellence and early risk mitigation."
Boeing plans an unpiloted test flight of the CST-100 capsule into Earth orbit in April 2017, followed by a two-person crewed demo mission in July 2017.
SpaceX is due to hold a critical design review for its Crew Dragon capsule by the end of the year.
NASA says it must place orders two to three years ahead of time to provide time for Boeing and SpaceX to procure components and manufacture and assemble their launch vehicles and spacecraft. Final authority to fly the crew rotation missions will come after each company completes certification and safety reviews.
The CST-100 crew capsule can carry up to seven astronauts — or a mix of crew and cargo — to the space station. It is designed to blast off on top of United Launch Alliance Atlas 5 rockets and return to Earth with airbag-cushioned landings on the western United States.
NASA says a standard crew rotation flight will carry four NASA astronauts plus 220 pounds of pressurized cargo.
The Boeing and SpaceX capsules will remain attached to the space station for up to 210 days, serving as lifeboats back to Earth in case of an emergency aboard the outpost.
The start of commercial space taxi missions operated by U.S. companies will end NASA's sole reliance on Russian Soyuz spacecraft to transport crews back and forth to the space station. It will also allow NASA to add another permanent resident to the lab's crews, raising its crew size to seven.
Both companies say they will be ready to launch astronauts in 2017, but NASA warned Wednesday that it needs full funding for the commercial crew program to keep the CST-100 and Crew Dragon projects on schedule.
NASA proposed more than $1.2 billion from Congress for fiscal year 2016 to pay Boeing and SpaceX. A House funding bill would provide $1 billion to the commercial crew program, $243 million shy of NASA's request.
The Senate has not released a draft of its funding plan for NASA.
Email the author.
Follow Stephen Clark on Twitter: @StephenClark1.