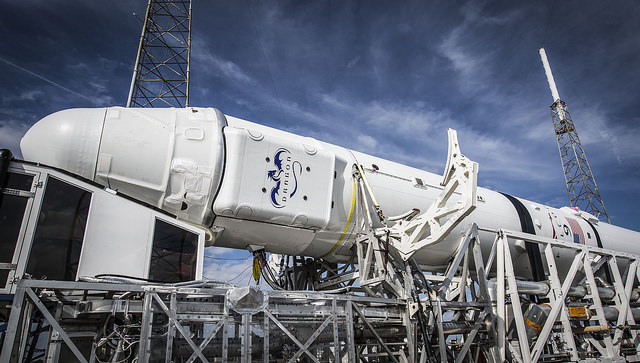 The launch of SpaceX's next resupply run to the International Space Station has been rescheduled for April 13, officials said Tuesday.
The Falcon 9 rocket's liftoff from Cape Canaveral was due for no earlier than April 10, but the launch date has been delayed to April 13. Officials did not provide a reason for the delay.
Blastoff from Cape Canaveral's Complex 40 launch pad is set for 4:33 p.m. EDT (2033 GMT). The 20-story rocket will have one second to lift off when the space station's orbital path passes over Florida's Space Coast.
The mission will send SpaceX's Dragon supply ship into orbit in pursuit of the space station. The Dragon capsule will carry several tons of provisions and experiments to the complex, where the lab's Canadian-built robot arm will grapple the SpaceX-owned spaceship after a laser-guided final approach.
The Dragon spacecraft will stay at the space station about one month, then return to Earth in May with a parachute-assisted splashdown in the Pacific Ocean, returning research specimens and other equipment to scientists and engineers on the ground.
The April 13 flight will be SpaceX's fourth Falcon 9 launch of the year, and the company's sixth operational logistics mission to the space station.
SpaceX won a $1.6 billion contract in 2008 for 12 resupply flights to the outpost. NASA recently awarded a contract extension to SpaceX, giving the company 15 flights through 2017.
SpaceX shuffled the order of its upcoming launches earlier this month to inspect rockets at Cape Canaveral for leaky helium pressurization systems after discovering a problem in the Falcon 9 factory in Southern California.
The launch of a European-built communications satellite for the government of Turkmenistan was supposed to take off March 21, but SpaceX opted to delay the mission to around April 24, allowing the space station resupply flight to launch next in the queue.
The launch for Turkmenistan — with a satellite named TurkmenAlem52E/MonacoSat — is apparently still on track for late April.
SpaceX's cramped manifest continues in May with a planned test of an abort system for a human-rated version of the Dragon spacecraft expected to loft astronauts into orbit by the end of 2017.
Follow Stephen Clark on Twitter: @StephenClark1.