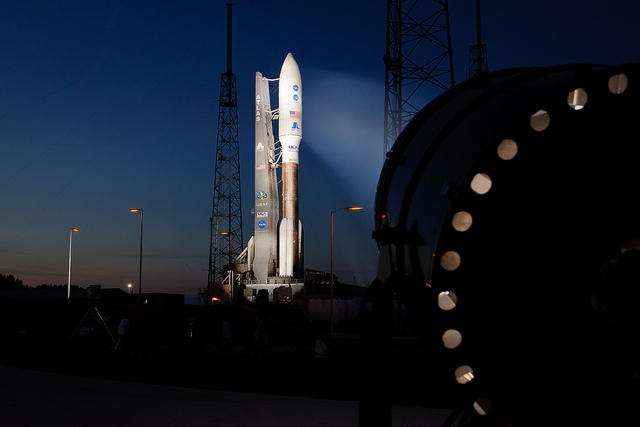 Eagle? Freedom? GalaxyOne? United Launch Alliance wants public input in the naming of a next-generation launcher designed to replace the historic Atlas and Delta rocket lines in the 2020s.
The top three finalists were selected from more than 400 names submitted by ULA's 3,400 employees and space enthusiasts, the company said in a statement.
"ULA's new rocket represents the future of space — innovative, affordable and reliable," said Tory Bruno, ULA's president and CEO. "More possibilities in space means more possibilities here on earth. This is such a critical time for space travel and exploration and we're excited to bring all of America with us on this journey into the future."
ULA's new rocket — called the Next Generation Launch System for now — is scheduled for its first flight in 2019. It will replace the Atlas 5 and Delta 4 rocket families in the early 2020s.
ULA has set up an online poll for voters to share their opinion on which name should be assigned to the new launcher.
Voters can also text 22333 to submit a vote for their favorite name. (Text and data rates may apply)
The following key can be used to text a vote:
• ULA1 for "Eagle"
• ULA2 for "Freedom"
• ULA3 for "GalaxyOne"
"Space launch affects everyone, every day, and our goal in letting America name its next rocket is to help all Americans imagine the future of endless possibilities created by affordable space launch," Bruno added.
Bruno says the company plans to retire the Delta 4's medium-lift version when it finishes its already-scheduled launches around 2019. Legislation passed last year prohibits ULA from using Atlas 5 rockets with Russian-made RD-180 engines to launch U.S. national security satellites beyond its current contractual commitments, which run until 2019.
ULA is lobbying for a change in the law to allow Atlas 5s to continue flying with Russian engines while the company's new launcher is being certified to carry expensive U.S. government payloads into space, ensuring competition in the national security launch market with newcomer SpaceX's Falcon 9 and Falcon Heavy rockets.
The Falcon 9 is months away from achieving certification for national security military satellite launches, giving SpaceX access to a large portion of the market. The Falcon Heavy would be needed to launch the military's heavier satellites, and the larger booster has not flown yet.
ULA is working with Blue Origin, a closely-held aerospace firm founded by Amazon.com's Jeff Bezos, to develop a new methane-fueled rocket engine to power the first stage of ULA's new rocket.
Two BE-4 engines designed by Blue Origin would fit on the bottom of the NGLS booster, each generating approximately 550,000 pounds of thrust. Such a larger methane-burning rocket engine has never flown before.
ULA says the BE-4 engine has been in development with commercial funding for three-and-a-half years, giving it a head start over other new propulsion systems. As a backup, ULA has an agreement with experienced propulsion provider Aerojet Rocketdyne for a new kerosene-fueled booster engine in the same class as the BE-4.
Formed in 2006 as a 50-50 joint venture between Boeing and Lockheed Martin, ULA is facing pressure from SpaceX to cut costs and stay competitive for lucrative launch contracts with the U.S. military and NASA. ULA says the NGLS design will cost less than the existing Atlas and Delta rockets, and Bruno has hinted that some components could be reusable.
More details on the next-generation launcher, including its design, name, and upper stage engine, will be revealed April 13 at the Space Symposium, an annual space industry convention in Colorado Springs, Colorado.
Follow Stephen Clark on Twitter: @StephenClark1.